Shaw Foundation Symphony Stage Singapore
In the middle of Singapore's botanical Gardens, there is a large lake called Symphony Lake. It is just west of the visitor centre, the viewing terrace and the cascade garden.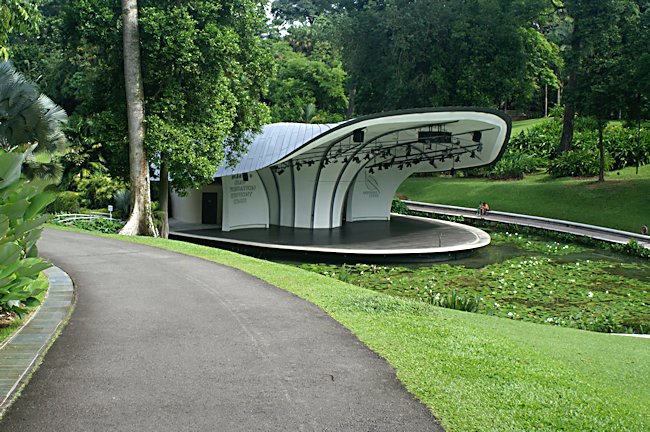 It is situated in the bottom of the valley surrounded by trees, except in the South where there is a lawned amphitheater just before Palm Valley. The grass area provides a place to sit for visitors who come to listen to concerts at the Shaw Foundation symphony stage.
This is a large white building in the middle of the lake that initially looks like the underneath of the white mushroom, but its roof is grey and shaped like the shell of a turtle. The water surrounding the stage acts like a moat. It is full of water lilies, many of which are in flower at different times of the year. The tall green luscious trees act as a wonderful natural backdrop for this concert venue. They also keep the sound enclosed within the valley and keep the noise from the city out.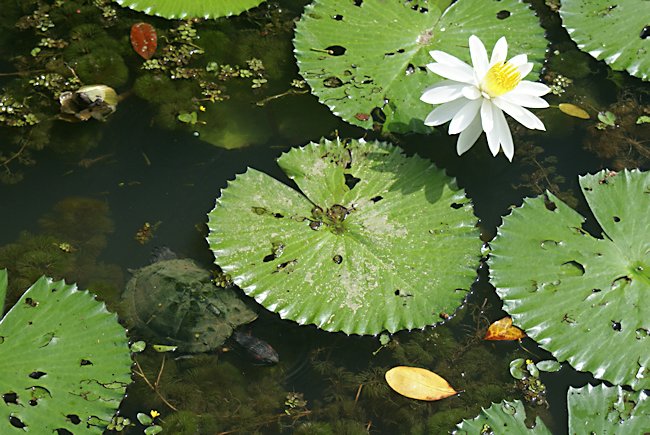 If you look carefully in the water, swimming underneath the water lilies, you will see large carp fish and families of turtles. Sometimes the turtles will crawl out onto a rock, a lily pad or lake bank to sunbathe. In the northern section of the lake there are turtle food dispensing machines. It is a great way to pass the time trying to feed the turtles whilst avoiding the hungry carp, who float a few inches below them and try to snatch the food first. The turtles are outnumbered and have to be crafty to have a decent meal.
If you have a good telephoto lens on your camera or have a pair of binoculars with you, look on the central island for sunbathing water monitor lizards. Some of them can be over 2 feet long. You might even be lucky to see one swimming.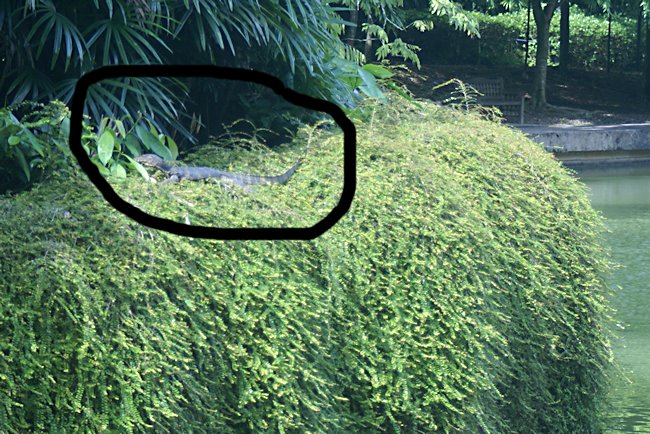 Travel books