Beach Road in the Arab Quarter
The wonderful thing about Singapore's ethnic shopping areas like Little India, Arab street and Chinatown is that they contrast with the central business district giant skyscrapers. They transport you different places on the globe. The Arab street Muslim quarter can be found between Victoria Street and Beech Road in the Kampong Glam area.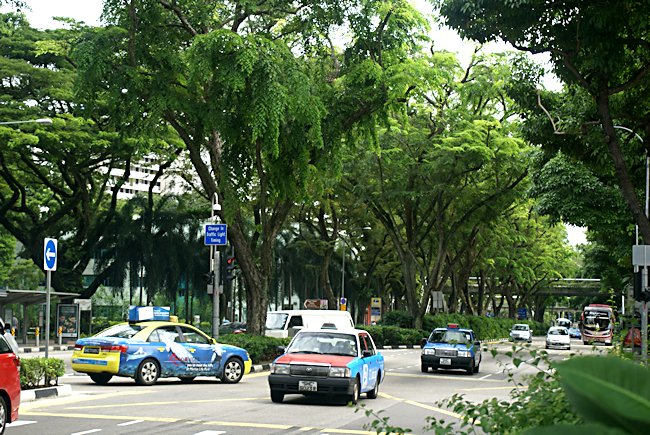 Once you have looked around Little India and had breakfast, I would recommend you get a taxi to the Concourse shopping centre on Beach Road. The best part of the Moroccan Arab quarter in Singapore is the southern end of Arab street.
The reason why I have said to take a taxi to this location is so you can walk down the attractive tree-lined Beach Road on your way to Arab street. This dual carriageway has tall luscious tropical trees on both sides and in the middle central dividing island. Even the pedestrian covered foot bridges are covered in foliage and flowers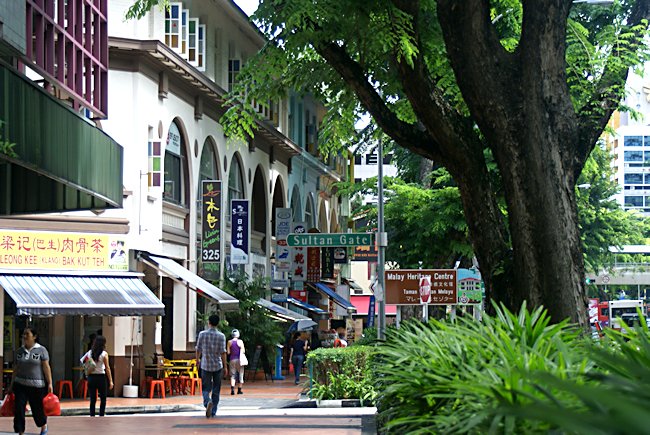 The tall avenue trees give welcome shade from the hot Singapore Sun. The only problem is that they drop leaves throughout the year. The shop owners use powerful water jet hoses to push them off their roofs. Watch out you do not get wet. It is such a pleasant place to stroll. It is amazing what the simple thing of planting an avenue of trees can do to soften the harsh lines of a concrete jungle. many capital cities around the world could learn from the Singapore approach to town planning
There are some interesting shops to explore. These range from household china, sport fishing tackle shops to commercial fishing trawler supply shops that sell large fishing nets, which is rather bizarre. If you like fishing then Beach Road must defiantly be on your list of places to visit. The prices charged for equipment were not expensive.
Travel books