Important Porto Travel Tips
Consider flying out to Porto with TAP Portugal's National Airline. You start your holiday with a taste of Portugal. Unlike Ryanair or Easyjet you are served with a snack and a glass of local wine or beer. Soft drinks are available. They use modern Airbus aircraft.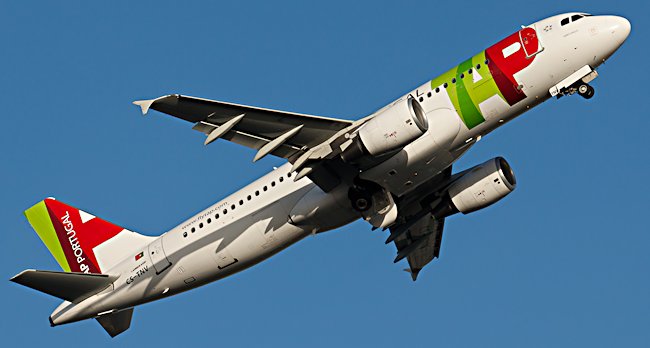 TAP Portugal's National Airline fly to Porto
Tourists with Breathing Problems
Porto can damage your health. If you have any respiration breathing disorder like COPD think hard before you decide to come to Porto. The hills are very long and steep. There are also a lot of them. Your only option to avoid climbing them would be to spend a lot of money hiring taxis. There is a funicular railway that runs from the river bank to the cliff top but that will also start to become expensive and is not open 24hrs.
The Graffiti blight of Porto
As you walk around Porto you will see lots of graffiti daubed on walls. It makes the place look scruffy and uncared for. I did spot a Porto Council anti-graffiti team in action. They were equipped with high pressure water blasters and cover up paint. There is hope that action is being taken but they have a big job in front of them.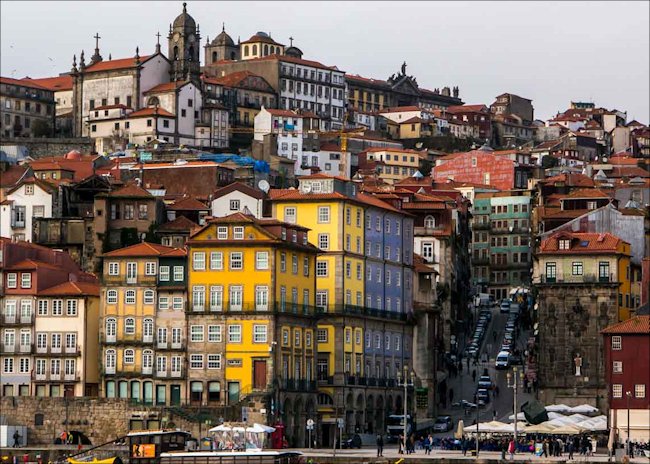 If you have breathing difficulties you may have problems climbing Porto's many steep hills
Can I use Credit Cards in Porto?
Most major credit cards are accepted in Porto shops and restaurants There are lots of ATM cash machines scattered around the city. As a standard anti-fraud precaution do not let your credit card out of your sight. Do not let a waiter or shop assistant take your card away to put it through a credit card machine. There is a risk that it will be copied. Go with them and watch it put through the machine.
Beware the Porto Sun
If you live in Northern Europe take lots of factor 50 sun block. The sun is very high in the sky over Portugal. If you wear sandals think about wearing socks. The locals do. If you cannot even contemplate wearing socks with sandals apply sun block to the tops of your feet if you want to avoid walking round with bright red burnt feet.
If you forget to bring a sun hat you can buy one from the market stalls on the river front. You can buy good quality sun hats, in all shapes and sizes for both men and women, cheaply. Buy one that covers your ears or if you chose to wear a baseball cap remember to apply a lot of sun block to your ears. It is not a good look to have bright pink ears protruding out from your hat or on the following day have pealing skin hanging off your ears.
Drink lots of bottled water on hot sunny days. They are cheap and available from most shops. Remember that the tap water in your hotel is safe to drink. Costs nothing and can refill water bottles.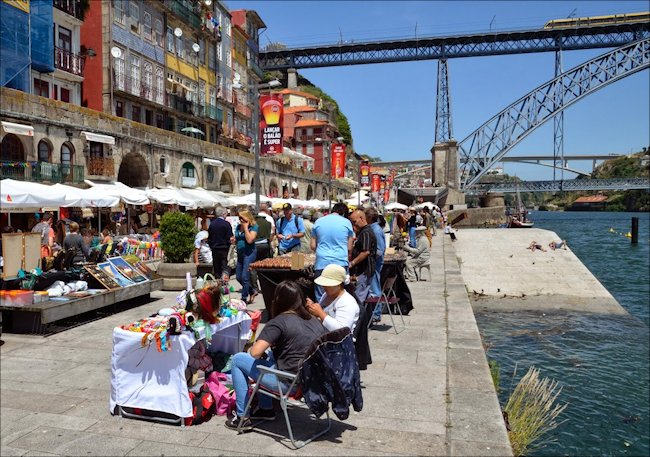 The shops and restaurants in Porto accept most major credit cards.
Porto Taxi Cabs
Although Porto's Taxi fleet are the most expensive form of transport in Porto in the city, they are quite reasonable compared with the prices charged by taxi drivers in other European cities. They are very useful if you have a journey that would involve carrying heavy bags up the very steep hills of Porto. There is one caveat to this recommendation. Double check your change. I have had experience of Porto taxi drivers trying to short change me.
Porto Footwear advice
Girls do not wear high heeled shoes when visiting Porto. You need flat comfortable shoes. There are lots of hills and cobbled streets in Porto. Many of the stones on the ancient cobbled streets have lost their sand grouting. This has left deep groves between each cobble. A high heel will go into that gap and get stuck, snap and throw you to the floor. Here is a big danger of sustaining a twisted ankle. Dress sensible for the road and pavement conditions.
Watch Hotel staff when paying with cash
The Portuguese legal minimum wage paid for one hours work is nearly half that paid to workers in the United Kingdom. They do have a free national health system but all workers have to contribute to its cost from their low wage. There is the temptation to steal your money if you are not looking. It happened to me at a posh Hotel on the Ribiera. I paid the bill with cash. I knew it was the right money. My wife asked me a question. The member of staff turned her back to us and took one of the 20 euro notes. When she turned towards us she counted the money and declared that there was 20 euros short. I was mad.
Travel Books
Tweet