The Francesina local speciality
One of my delights when traveling to new exciting foreign locations is to try the local dishes. Porto is famous for it's meaty Francesina.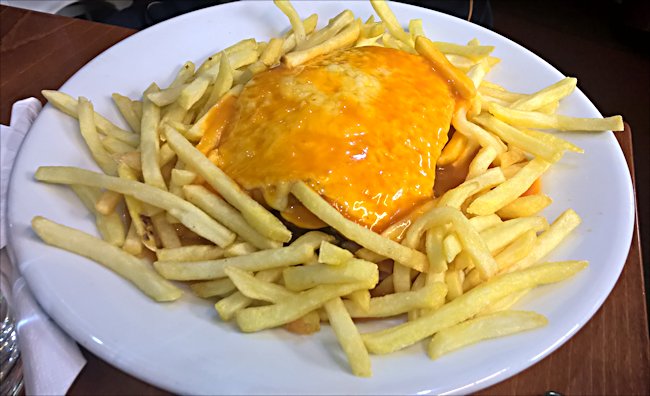 Try a Porto's Francesina in one of the local riverside restaurants
The word Francesina (also spelt Franchesinha) loosely translates into little French girl. The French have their traditional Croque-monsieur and Croque-madame quick snacks: a grilled ham and cheese layered sandwich. It gained popularity in Paris around 1910. The Portuguese version is a giant relative to the small French Snack. They are served in huge portions. You have to be hungry to eat one of these on your own. The calorie count is monstrous.
At the bottom is a slice of bread. A beef or pork steak is placed on top of it. Then there are alternate layers of ham, cheese, sausage, egg and more ham before the final slice of bread is placed on the top and it is covered in cheese and then a savory beer and tomato sauce is poured all over the mountain of food. It is served in a large plate with French fries. It is not regarded by locals as a meal but rather as a late night snack. Are they mad? How large are their main meals. All the Franchesinhas I have ordered are enough to feed two people.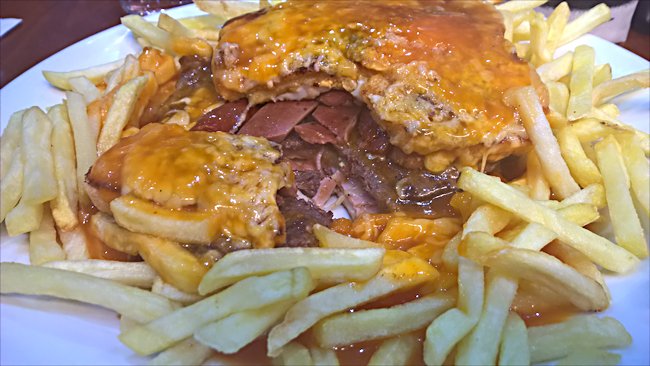 The Francesina is built up with different layers of meat chees and egg. No green vegetable in sight.
Local chef Daniel David da Silva worked in many different restaurants and cafes in Belgium and France in the 1950's before returning home to Porto to work in the restaurant called A Regaleira, Rua do Bonjardim, 87, Porto. He liked to experiment in the kitchen and came up with this now classic Porto Portuguese dish as a variation of the French toasted sandwiches he used to serve when he worked abroad. Daniel supersized the Portuguese versions.
Some have said that this dish got its name because of the French woman he met who he found to be more unconventional with a bit more spice than the local Portuguese girls. Some Franchesina dishes are served with an egg. If you can, try and order one of these. Of course you must wash this very stodgy meal down with a liter of Porto Super Bock Beer, followed by a glass of Port.
Travel Books
Tweet