This is the first thing you must do in Porto
The Six Bridges Douro River Cruise
You have dropped off your bags at your hotel now make your way to the river front Cais da Ribeira. Take a Six bridge Douro river cruise before you start exploring the city by foot. It is a great way to see the waterfront and the dramatic gorge bridges.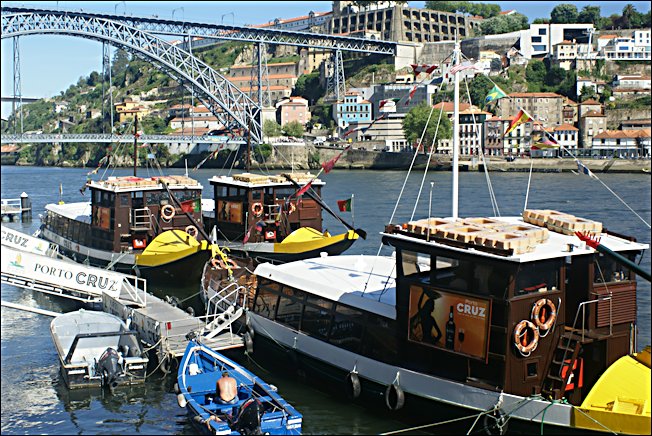 Porto's six bridges river Douro cruise boats
There are lots of pop up ticket booths where you can buy your tickets. Look at the clocks by the side of each booth. They show the time of the next cruise. Choose the booth that has the earliest start time. The prices offered at the different ticket booths are the same.
Once you have your ticket it is best to wait at the gangplank entrance down to your boat. Not all Europeans have the tradition of waiting in line. They queue jump and push in so get their early and at the front. Use the waiting time to apply sunscreen and get your hat out of your bag. The cool breeze coming off the water is deceiving and if you do not protect yourself you will get sun burnt.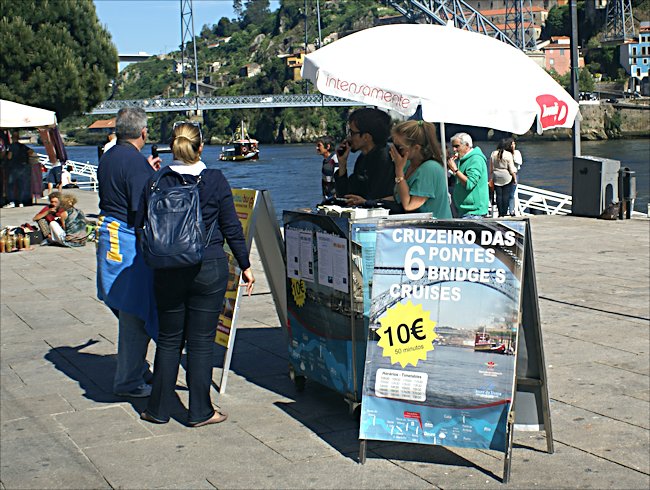 One of the many Six Bridges river cruise ticket booths on the River front.
Try to sit in the middle of the boat slightly at the back. Everyone will rush to get the front and side seats. Let them take what looks like the best seats on the boat. Try not to have a knowing smile on your face. They are in danger of getting soaked by a big wave coming over the side of this small river boat.
Six bridges river cruises go from both sides of the river. If you find that it is too busy on the Cais da Ribera side of the river walk over the main bridge and buy a ticket for one of the boat companies that work from the "New Town" river bank.
Why do I say do this first? If you leave the six bridges river cruise to later on in your trip the wow factor will have worn off. You would have seen most of the bridges during your exploration of the city by foot. Going on a river cruise at this period of your holiday would be redundant and that is a shame. It is a lovely relaxing way to see the city of Porto from the water front.
Remember to set your shutter speed on your camera to high or switch it to sports mode to avoid blurred photographs. You are in a moving boat that goes up and down and the landscape you want to take a photo of is also moving past you. Try to put the camera down and enjoy the spectacle.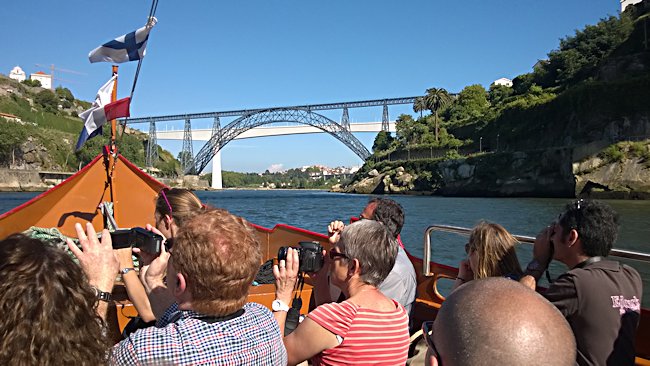 Sitting at the front of the 6 bridges river cruise boat can result in you getting very wet even on hot sunny days.
Travel Books
Tweet