Casa Oriental Grocery Shop
Now this is a great way to attract additional tourist business to your grocery shop. Just erect a large, slightly risque hand painted wooden sign above your shop door that evokes your country's colonial past and traditions.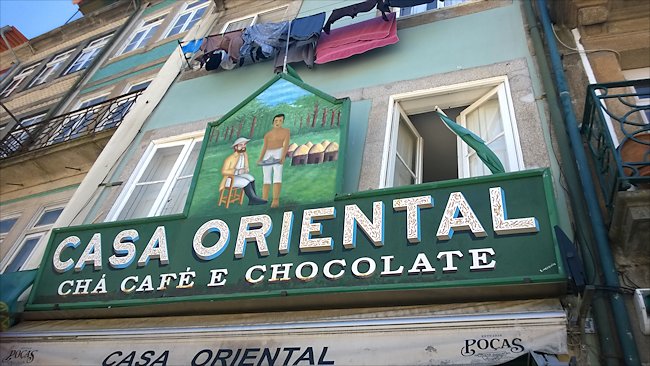 Casa Oriental traditional Grocery Store Sign
This sort of sign could never be put up in London. There would be uproar from ethnic groups claiming it was racist, deplorable and exploitive, depicting a colonial past that must be forgotten. It shows a bearded white Portuguese man dressed in black leather riding boots, linin trousers, shirt and jacket with a sun hat on his head, being served a hot drink on a tray. Is he a colonial land owner and this man is a slave or is he a merchant testing the merchandise before negotiating a price with the local farmer?
Be careful what you read into a photograph or painting. Consider your own prejudices may influence how you interpret what you see. Portugal was a colonial power that used to own slaves but they were also a great trading country. This sign would have been painted in the early 1900's long after slavery had been made illegal on Portuguese lands. The words under the name of the shop on the sign translated mean 'Tea Coffee and Chocolate' which is quite easy to guess.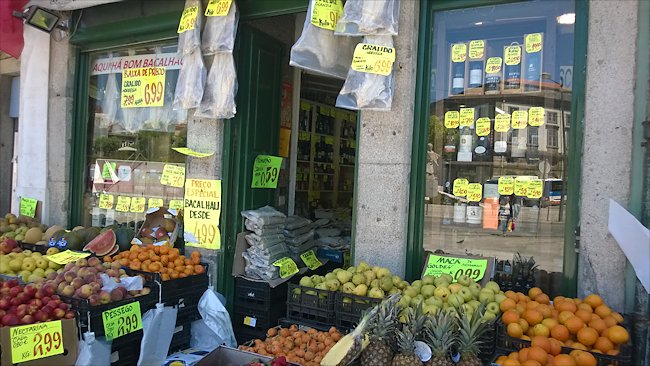 The Casa Oriental Store sells fruit and vegetables along with spices, nuts and a selection of wines including Port
Casa Oriental is a charming traditional Grocery store that is located at 112 Rua Campo dos Martires da Patria, close to the Clerigos tower and on the other side of the square Praca de Lisboa from the famous Lello and Irmao book shop that helped inspire J.K. Rowling to write the Harry Potter books. It is set slightly back from the main road. There is a large pavement area in front of it that leads to the Torres Clerigos tower. It sells a variety of products ranging from tea, coffee, spices, fruit, vegetables, nuts, cheeses, meat, preserves, sweets, chocolate, a large selection of wines and salted Cod. It was founded in 1910. Spend some of your tourist money in the shop to help them stay in business for another 100 years.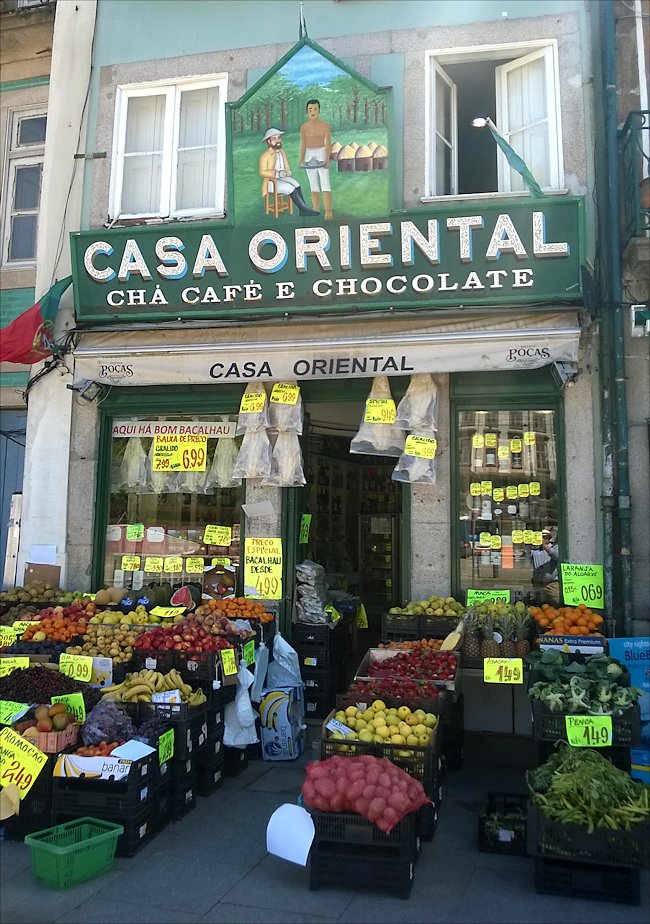 The most interesting thing about the Casa Oriental traditional Grocery Store is it's sign
Travel books