Chiang Mai's Huge Ancient Wat Chedi Luang Temple
It is relatively easy to navigate the streets of Chiang Mai as they are built on a grid system. In the centre is the magnificent huge ruin of the Wat Chedi Luang temple. It would look at home on the background shots of Walt Disney's Jungle Book film.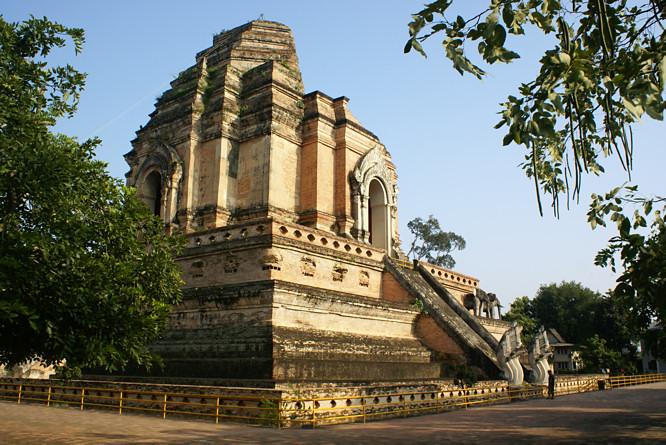 You expect the orangutan King Louie and Baloo the bear to appear and start dancing around the steps and terraces. I was not expecting it to be as tall as it was. Even in its dilapidated state it towers above the surrounding building. It is a chedi and houses the ashes of king Saen Muang's father king Ku Na.
When King Saenmuangma was 39 years old and had ruled for 16 years when he started to build the grand pagoda Chedi in the heart of his capital city Chiang Mai. It was constructed in 1391AD. After about 10 years whilst construction was going on, he died. His queen had the pinnacle of the pagoda finished. When finished it was nearly 300 feet high (90m. Probably due to stability problems the complete complex took until mid-15th century to be finished during the reign of king Tilokaraj. In 1468, the holy relic the Emerald Buddha was installed in the eastern niche.)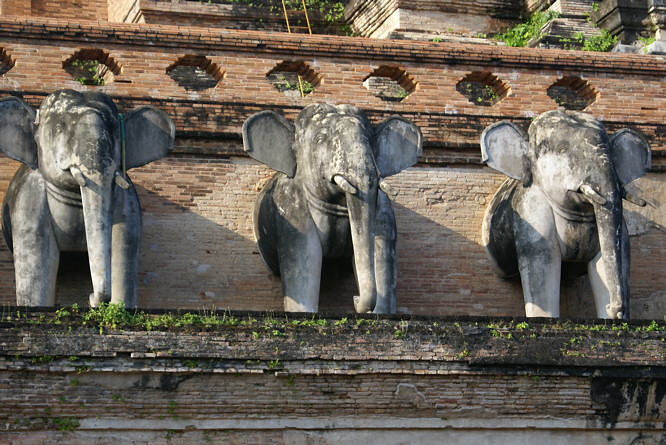 It was severely damaged by heavy rains and an earthquake in 1545. In 1551, the Emerald Buddha was moved to Luang Prabang and then eventually to the Grand Palace in Bangkok. For the 600th anniversary of the chedi in 1995, a copy of the Emerald Buddha made from black jade was placed in the reconstructed eastern niche.
The current temple grounds were originally made up of three temples - Wat Chedi Luang, Wat Ho Tham and Wat Sukmin. The chedi is not open to the public as it is dangerous and needs preserving. There is a special pulley system which allows visitors to leave offerings and prayers atop the Chedi The temple complex is open to the public. Monks of all ages live, worship and train in the grounds. They are actively encouraged to speak with visitors. You can ask lots of questions about the temple, the life of a monk and Buddhism.
Around the edge of the Wat Chedi Luang were stuck decorative elephant statues. Many of them fell off during the earthquake. Some are still in situ so you can get an idea of how it once looked. The majestic stair cases are adorned with the serpent god Naga.
Travel books