What to do when your flight is cancelled
As soon as your flight shows as cancelled on the display monitor you will soon be waiting in line behind lots of other angry travellers. Get your phone out and phone the airline ticket reservation number.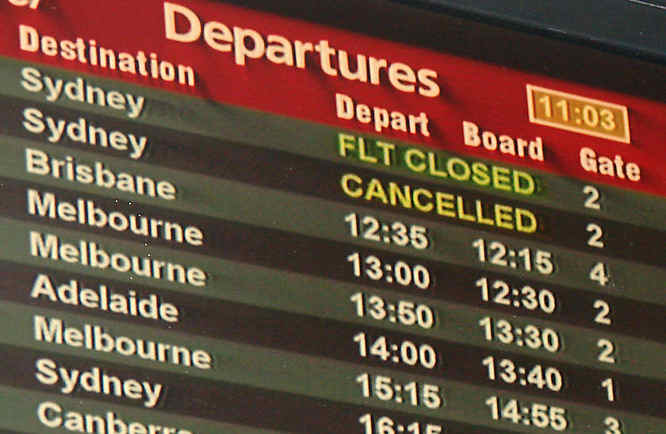 You will probably be dealt with before it is your turn at the ticket desk. It is a bit like pushing your way to the front of the line but without cheating. Make sure you have the correct phone number ready just for this eventuality.
At the ticket desk all you do is pick up a new boarding card because you new reservation is already showing on the agents computer screen.
What about a free lunch?
If you flight is cancelled or delayed for 'mechanical' reasons your airline may have to supply you with vouchers for food and possibly a hotel room. Make sure you ask politely if you are entitled to them. If you flight is cancelled or delayed for 'bad weather' reasons your airline does not have to provide you with anything as it was not their fault. This is why you take out travel insurance.
But if your flight is with an EU company they are required by law to look after you if your flight is cancelled and you are stranded abroad. They should provide you with hotel accommodation and food within reason.
Make your travel agent work for you.
If you flight is cancelled or delayed call you travel agent and get them to find you a new flight. Make sure you have their phone numbers with you.
Make your credit card company work for you
Some credit card companies like American Express offer help if you flight is cancelled or delayed. This concierge arrangement is available for a small annual fee but will only work if you have booked the flight on their credit card.
Make sure you have their phone numbers with you. Angus Fox, a business partner of mine was stuck in Edinburgh Airport because of bad weather. All flights were cancelled, He had to get back to London as he had an important business meeting the following day in the afternoon. He phoned American Express concierge.
They found out that there were no flights leaving that night or expected the next day due to a snow storm. There were cancellations on the railways. The company arranged for a one way car hire. This was done whilst Angus was sitting in Starbucks taking it easy.
Is there another way to get where you are going?
If you flight is cancelled for 'mechanical' reasons you are entitled to a refund of the unused ticket, not compensation. If your flight was internal your fastest way now may be by car. The Airline is not responsible for paying your one-way car hire costs.
If it was your outbound flight that was cancelled and you still want to use the plane to get back make sure the Airline ticket agents do not cancel your return flight.
Travelling with Children
Many parents with young children make the mistake of not packing supplies for the return trip. One of the girls at work had a fantastic two week holiday in Corfu with her husband and eight month baby boy. They boarded their return flight only to be told that there was a problem with one of the engines.
They had to get off the plane and return to the airport. She was horrified as her carry on bag only contained one nappy and one baby bottle of juice. All the Airport shops were closed. After four hours the engineers decided they could not fix the problem.
A fresh aircraft had to be flown out from London. As it got near to the airport at Corfu it had to circle because of a huge local thunderstorm. After an hour conditions were still too bad to land so they diverted to Italy.
That crew had to start a rest period and were put up in a hotel. The Airline provided rooms in the airport hotel for the passengers. There were delays in getting transport to take the passengers to the Hotel. There were further delays the next day.
In total it took her 30 hours to get back to London. It was very hot. The air conditioning was poor. The baby was very irritable. Take spare supplies for the return flight just in case.