Danger - You might not be allowed into America!
Going to America? They have changed the requirements to get through immigration. If you fail to register on the internet three days before you leave they will not let you in.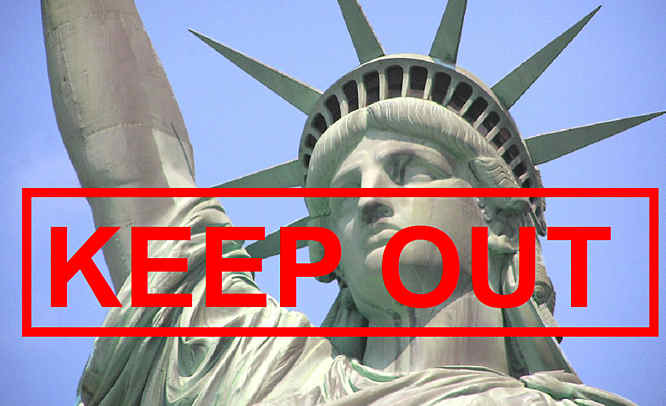 All nationals and citizens of Visa Waiver Program (VWP) countries, those that do not need a Visa to enter the USA - including the UK - will be required by law to obtain a travel authorisation prior to travelling to the United States under the VWP. Travelers can register for authorization online through the Electronic System for Travel Authorization (ESTA), a free Internet application administered by the Department of Homeland Security (DHS) U.S. government Web site https://esta.cbp.dhs.gov.
Only use the US Government's website
Unauthorized third-party web sites are charging visitors seeking to travel to the United States under the VWP for information about ESTA and for submitting Electronic System for Travel Authorization (ESTA) applications on their behalf. Use of a private service to apply for travel authorization via ESTA will not speed up the granting of approval. As soon as the US Electronic System for Travel Authorisation (ESTA) system started to charge a fee it was targeted by fraudsters.
Bogus website quickly proliferated on the internet. These travel sites all promise to obtain a US travel permit for the customer for a fee. The scam is that these sites were charging a lot more than the fee posted on the official site. Some of these websites are charging more than three times the price of submitting an ESTA application to the Department of homeland Security (PHS) on the official US Government website.
Others make a charge for downloading a PDF guide on how to fill in a ESTA form on line. There are no benefits from using any of these unauthorised websites that are just there to scam money from you. The ESTA website is easy to use. Giving your details to a third party website runs the risk of identity fraud. There are two official sites https;//esta.cbp.dhs.gov and https;//London.usembassy.gov
What is this USA Visa Waiver Program?
The Visa Waiver Program (VWP) enables eligible citizens or nationals of certain countries to travel to the United States for tourism or business for stays of 90 days or less without obtaining a visa.
What countries are included in this Visa Waiver Program?
If you hold a passport for one of the following countries you do not have to get a visa to gain entry into the USA (but now you have fill in the online ESTA application form). The countries are; Andorra, Australia, Austria, Belgium, Brunei, Czech Republic, Denmark, Estonia, Finland, France, Germany, Hungary, Iceland , Ireland, Italy, Japan, Latvia, Liechtenstein, Lithuania, Luxembourg, Monaco, Holland, New Zealand, Norway, Portugal, San Marino, Singapore, Slovakia, Slovenia, South Korea, Spain, Sweden, Switzerland, United Kingdom
Do I have to fill in one of these forms every time I go to the USA?
Once approved, an Electronic System for Travel Authorization (ESTA) authorization generally will be valid for up to two years or until yours passport expires, whichever comes first. Authorizations will be valid for multiple entries into the U.S.
Why has this bureaucratic nightmare been introduced?
The US Department of Homeland Security (DHS) wants advance notice of who is travelling to the USA so they can do checks on them to see if they have any terrorist links or are wanted criminals. It gives them time to arrange a reception committee for them when they arrive either to arrest or follow them.
It is a pain in the neck to have to fill this form in but if it enables a bad guy to be captured or stopped entering the USA to kill someone I am all for it. That someone could be you or your family on holiday blown up whilst visiting a tourist attraction. The US government should get our support on this one.