Cheap Flight Ticket Guide
Think ahead when planning a long haul flight to the other side of the world. The major airlines release the flight tickets 11 months before departure. The first batch of tickets are normally the cheapest. The nearer it gets to departure time the more expensive the ticket will be. I have found that companies like www.e-bookers.com manage to get their hands on the very cheapest first issue tickets.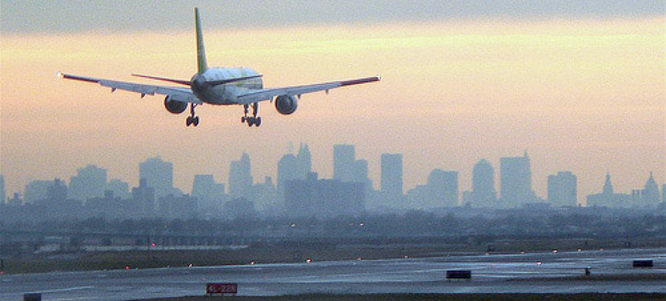 Long Haul Flight Tickets to USA and Canada - Save money fly into a hub
A family of four can save about £1,000 on flights to Florida if they fly into a Hub and then get an internal to Florida. America has lots of internal budget Airlines like Europe's Easyjet or Ryanair.
A Hub is an Airport that is very popular because of its location. Because of competition flight tickets are cheaper. So find out what is the cheapest place to fly to in America, (This is normally New York) and then get a connecting internal flight. I wanted to drive through the Rockie Mountains visiting Grand Teton and Yellowstone National Park, Up to Calgary and then across the mountains again to Seattle via Vancouver.
I managed to save £200 flying to New York and then getting an internal flight to Salt Lake City against flying straight to Salt Lake City from London. I saved £150 flying internal from Seattle to New York and then New York to London.
To my surprise Icelandic Air was the cheapest company flying to New York. The only disadvantage was that you had to change planes in Iceland. I decided to do a stop over in Iceland for a couple of days at no extra cost. I also spent a few days in New York before I caught the internal flight to Salt Lake City. It felt like I had had two holidays before my main holiday had started. Other hubs are LA, Las Vegas and San Francisco.
Why do the cost of cheap flights to the same destination differ so much?
Many Aircraft companies use something called 'dynamic pricing'. This is why the price of a flight ticket changes. It depends on the demand for that seat and the number of seats left to sell. A lot of airlines divide the available seats in to batches at which they charge different prices.
As already mention when the first batch of seats are released for sale about 11 months prior to take off they are normally the cheapest. Once the first batch has been sold out, the cost of the next batch of aircraft seats for sale are more expensive. When they are sold out then next batch is released at an even higher price, and so it goes on until the plane is sold out.
Sometimes the Airline companies panic when they see that one flight all the seats are not going to be sold so the drastically reduce the cost last minute. You still can occasionally find bargains this way, if you are flexible when you can go on your trip but be prepared to be disappointed if the seats have been all sold. It is generally cheaper to book several months in advance.
The cost of flights can also change due to seasonal fluctuations, availability, promotions, new route launches and peak booking times. Peak booking times in Australia and New Zealand is the during November to January when it is their Summer. Flights to America and in Europe are most expensive July and August.
More tips on getting cheaper flights tickets
Try to fly mid week if you can as most of the tome you can save money on flights. Accommodation rentals are normally Saturday to Saturday so the Weekend is where the demand is for flights to holiday destinations. If you can try to avoid school holidays.
If you are a teacher or have school children in your family this is a big problem. All I can say is book as early as you can. Plan ahead to get the best deals and cheap flight tickets. If you do not have these constraints fly as soon as schools go back.
This is called the 'shoulder seasons' and many airlines slash their prices. Another trick as I have already mentioned is to fly indirectly. It works for short haul flights as well as long hall. I went on holiday to with my family to Malta.
The cheapest direct return flight cost just under £125 at that time of the year. For the four of us that the total cost was £500. I found an indirect flight via Madrid for £350 for the whole family. That was a saving of £150 and it only added an extra two hours to the journey. That saving paid for the car hire.
Many flight ticket comparison sights like www.Skyscanner.com or google travel allows you to compare direct and indirect routes. You have to make the decision whether the savings are worth the additional journey time. My last tip is to run the search again but just for one way single tickets. In some cases it can be cheaper to buy two single flights rather than a return. There are no rules that say you have to fly back with the same airline, or to and from the same airport.
Research the weather pattern of where you are going to visit.
Think about when you are going. If you go to Florida or the Caribbean June to October and you may be hit by a Hurricane or if it hits near by, you will have a week of bad weather. If you are lucky it will only rain every afternoon. Monsoons and Typhoons will also spoil your holiday. Another consideration is the amount of daylight available. Iceland has 24hrs of daylight in the summer where as in the winter it has 24hrs of darkness.
How to Protect Flights and Holidays
Package holiday and tour operators go bust. Make sure the company you book with is protected by ATOL. If it does goes bust you will get a refund or a flight home if you are already there. Make sure you book all other flights and holidays that cost more than £100 with a credit card NOT a DEBIT CARD. If the airline goes bust you should get a refund from your credit card company as your contract for the tickets is with them and not the airline. You will not get a refund if you use your debit card or if the ticket is under £100
Credit card companies REFUSE to pay Holiday refund
If you are the main credit card account holder. DO NOT pay for you holiday or flights with your spouses credit card. You will not be covered if the travel company or airline goes bust. The banks are using a loophole in the consumer protection law to avoid paying out. Make sure the main credit card account holder pays for everything.
A husband and wife were out of pocket when they tried to get a refund from their credit card company for tickets and holiday accommodation paid for on a Travel company's website using the wife's credit card. The Travel Company went bust. The bank said that they did not pay out in these circumstances as the secondary card holder was not covered as the contract for the holiday was not with the principle card holder.
We have the credit card contract with the principle card holder only. Therefore as the principle card holder has no claim against the travel company because they did not book the holiday they cannot make a claim against the credit card issuing bank for a refund.
Internet Flight and Hotel Comparison Sites
Comparison websites do not search the same sites. So what one site says is the cheapest flights available for a particular location may not be true. Another comparison site that checks different companies may find a cheaper flight. Always use at least two. While www.Kayak.co.uk only searches main airlines it has a lot of filters that can help you find the best deal.
You will notice it searches other comparison sites and pools all the information it finds. It also displays a calendar to help you see which is the cheapest day to fly out and back on. It is a very powerful piece of internet software. www.travelsupermarket.com includes many budget airlines and flight brokers. It is very easy to use. I also like www.foundem.co.uk www.ebookers.com www.expedia.co.uk www.travelocity.com www.travelocity.co.uk www.Lastminute.com www.netflights.com (for long haul) and www.skyscanner.com. The new guy on the block is Google travel.
IMPORTANT book Ryanair and Easyjet flights direct from their official websites and not via another tour operator's website as some tickets purchased this way have not been honoured at check in. Comparison sites make money from lead fees, meaning if you go to a flight website from them they're usually paid a small fee.
A great website is FlightChecker (http://flightchecker.moneysavingexpert.com) It searches the budget airline websites but in a very different way. Enter the maximum you want to pay for your ticket. Tell the site where you are leaving from and enter the travel dates. You can select the 'I'll go anywhere' button or specify a location like Nice.
Charter Flight searches
Package tour operators like Thompson who own the airlines they use to carry customers to their destinations some times have spare seats and offer cheap flight-only deals. Check out www.flightsdirect.com
How to beat the increase in UK Air Passenger Duty (APD)Taxes
The new legislation is all based on distance. The further you go the the more you pay on top of your ticket price. If you want to cut the cost of your long haul flight ticket you might find it cheaper to go with an airline based in one of the other capitals in Europe that is near to London like Amsterdam or Paris. That way you only pay tax to those cities. There is no UK tax to pay on the flight from that location to your final long haul destination. The down side is that you will have to change planes and this will add extra time on your journey. If you are flying on a limited budget this is one to look out for.
Package deals may be cheaper than flight only
For destinations like Sri Lanka, Goa, Florida or Vietnam it may be cheaper to book a package deal. You do not have to use the hotel that comes with the package. If you are going to travel around the country this may be a way of getting a cheap flight. On my last trip to Bangkok the cheapest return trip I could find was for £400. That was without accommodation.
I discovered a package deal with flights leaving on the same days that included seven nights accommodation in a 4 star hotel of my choice with breakfast for only £500. There is no way I could have found seven days hotel accommodation for only £100 in the centre of Bangkok independently. I checked at the reception desk of the hotel I stayed at the cost of one nights stay. They charged £70 a night. The cost of a six night / seven day stay would have been £420. A saving of £320.