Riga City Parks and the Tea Room
The old moat has been landscaped and made into a series of attractive parks. In one of the middle sections you can still see part of the old castle fortifications which now form part of a rockery garden. My favourite place was the hexagonal tea room near the bridge opposite the opera house. It has the largest selection of tea I have ever seen. You can choose to sit at a table and chair on the ground floor of if you want a better view of the park you can climb the spiral staircase and sit on the carpeted floor on huge cushions.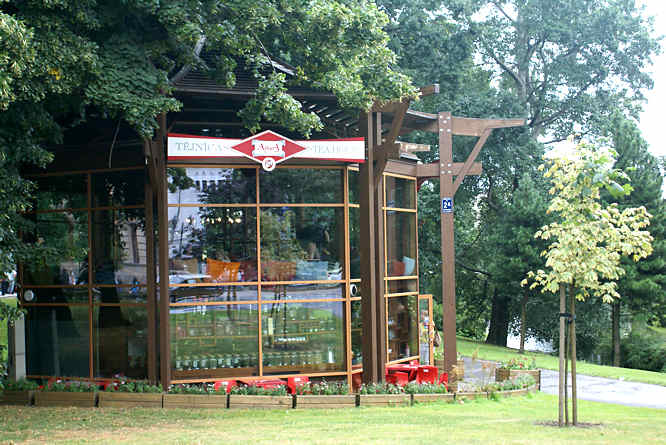 If you are walking through the park on a Saturday you may see a number of young brides and grooms having their photographs taken. A tradition is to place an engraved padlock onto the railings of the bridges to show their love will be locked together forever.
Tourist prices in the Old Town
Be prepared to pay high tourist prices in the cafes, restaurants and shops in the area around the Doma Laukums in the Old Town (Vecriga) The prices for drinks or postcards are often twice as expensive as in other places. Nevertheless, the centrally located cafes and restaurants are just nice for people watching
Watch your wallet and what you put in your rucksack as East European pick pocket teams work the markets and tourist centre. Do not give the waiter your credit card to take away. Go with him to make sure he does not swipe the details. Use cash if possible. Only use ATM's in banks.
Riga Taxis and Buses
When you arrive at the Riga's airport (RIX), most likely, you will be surrounded by peoples offering you a taxi ride. My friendly advice is to avoid them this is now, a very common phishing method for foreign tourists and you will most likely be overcharged. If your baggage is not too big and you have enough time try to use the bus. It is number 22 and it will take you to Central Station and is ridiculously cheap. You have to pay extra for a big suitcase. Once you are on the bus be aware of pickpocket and avoid trolleybus route 15 in the morning as it is extremely crowded and it is the best way to loose your money and your passport. Crime is not a big problem in Riga but just like any big city look after your property.
The taxi drivers of Riga aren't known to be particularly honest - and it is quite common for tourists to be charged a lot more than the ride should cost. Some taxi drivers will refuse to put the meter on and some have meters that run at an fast high speed. Another version is to put on the meter but without it actually displaying the fare. I recommend the red taxis from Rigas Taksometru Parks. I've never had any problems with taxis belonging to this company.
Their taxis are always red but not all red taxis are from this company. They are usually Renault Megane Scenic cars with the company name and phone number printed on the side of the car. (Phone number 800 1313) Always make sure the meter is actually running. If the driver refuses to put the meter on, or refuses to let you see the number display, or if the meter's running way too quickly, just get out and find another taxi.
I had heard that Latvian taxis try to cheat you by not deleting the previous customer's payment and it indeed happened to me, when I took a taxi to the airport. Fortunately I looked at the meter and saw 2,50 lats on it, not an enormous sum but why pay more than fare sum?
You can haggle. I needed to get to the city fast so had to resort to using a taxi cab. I asked the first cab how much to go to a particular hotel in the city. I then went to the cab driver behind and asked him. He had heard the first quote and under cut that driver. I went to the third driver who gave a cheaper quote. I wrote it down on a piece of paper to confirm what he said so went with him. The other two drivers were not impressed but I got a cheaper ride.
Leaving Riga Airport
When leaving Riga International Airport, do keep an eye open for gate changes, which seem to happen at a moments notice. Our gate was changed twice in the space of 15 minutes, and the screen was not always updated. Another flight that was departing to Berlin changed 3 times in the same space of time.
Travel books