Riga Kaku maja - Cat House
The address is Meistaru 19 In the northern end of Livu Laukums (Liv square) you'll notice a light yellow building, with a cat standing on top of each of the building's two towers. This house is, of course, known as the Cat House, and it is definitely among the most photographed buildings in Riga In the early 20th century.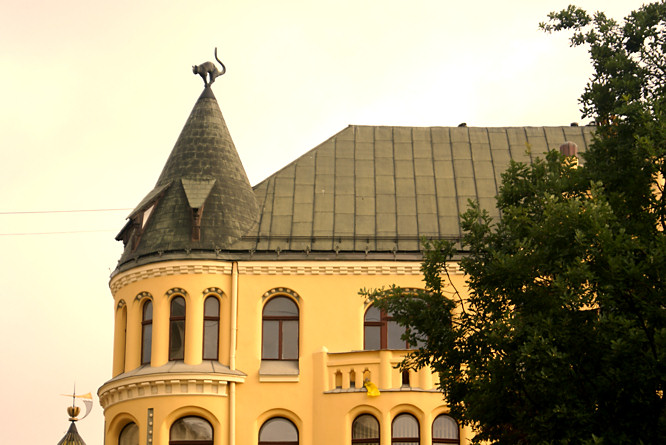 The owner of this building was excluded from the powerful and prestigious Great Guild. Their building is situated just across the street from the Cat House. He was upset by this and ordered the two cats to be turned around, with their rear ends towards the Great Guild Hall as a way of insulting his enemies. It was an unusual of protesting and apparently it worked too, After a long battle in court the guy was admitted back to the Guild, and the cats were turned back.
Livu Square in Riga
This is the prettiest square in Riga. It is the ideal place to spend some time with a cup of tea and cake, or a beer and Russian potato pancake whilst watching the world walk by.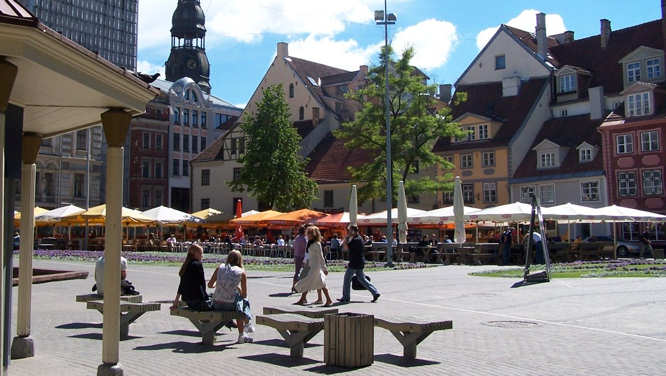 The Freedom Monument
Address: Brivibas iela The 42-metre high Freedom Monument on Brivibas iela (brivibas means freedom) right next to Bastion Hill is easily spotted from the eastern part of the Old Town (near McDonald's). The monument was constructed in 1935, designed by Latvian sculptor Karlis Zale, and to the Latvians it is a very important symbol of Latvian independence.
The woman on top of the monument (for some reason nick-named 'Milda' by the elderly Latvians) is holding three golden stars, symbolising the unity of the three historical regions of the country: Kurzeme, Vidzeme and Latgale. (During Soviet times, the guides would tell visitors that the three stars represented the three Baltic Soviet republics!) Locals are often placing flowers at the base of the monument - which was known as a 'travel agent' in Soviet times, since laying flowers there would most likely get you a one-way ticket to Siberia.
The inscription Tevzemei un Brivibai on the lower part of the monument means "for fatherland and freedom". A guard of honour stands at the monument from 9 - 18, and changes every hour, on the hour - not a particularly spectacular sight, but worth a look if you're in the area.
Travel books