David Sheldrick Wildlife Trust Elephant Orphanage
You have to remember that the orphanage is inside the Nairobi National Park. There are no fences. When we were there a family group of wild pigs decided to visit the gathering of humans waiting to see the elephants. At 11am the staff bring the junior group of elephants into a clearing.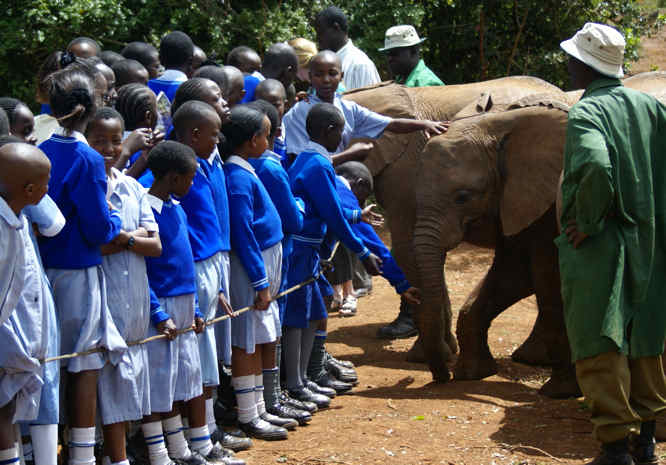 They love charging about and playing football. They are very inquisitive and if you are not careful you will find a baby elephant's trunk going up the trouser leg of your shorts or into your pockets. A member of the staff gives a very informative speech.
These dedicated young men live with the elephants 24 hours of the day. Sometimes sleeping in the stables with them when they are distressed. Their dedication is amazing. Later the senior group of one to two year old elephants arrive and join the babies.
Do not stand too near the water tanks as you may get sprayed. The staff always welcomes gifts of leather footballs, blankets and ladies tights (pantyhose). The tights are used to tie the blankets onto the baby elephants.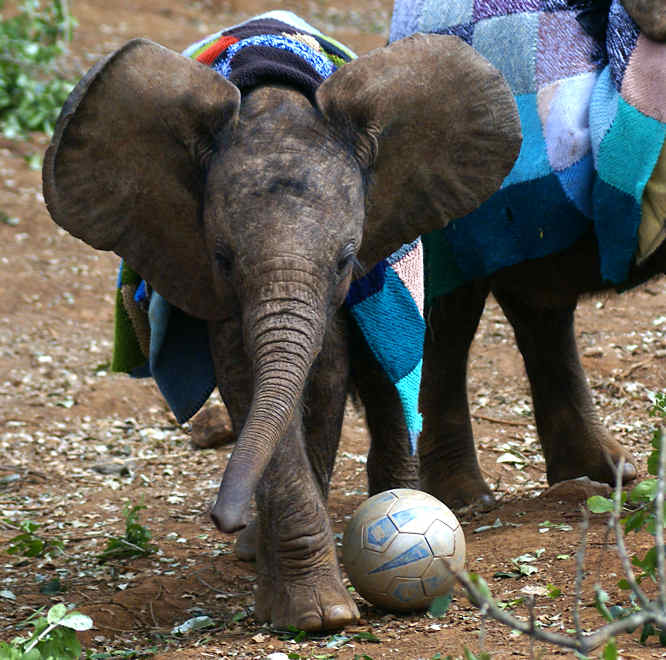 The entrance is hard to find. It is on the Magadi road. As you come from Nairobi go past the National Park entrance and follow the boundary fence. Drive past three 'Park staff only' access gates. As you past the first one you have to turn left at the fork in the road. Keep the park fence on your left. It is quite a distance from the main gate.
Look for the park gate that says 'Nairobi National Park Workshop'. There is no sign pointing to the David Sheldrick Wildlife Trust Elephant Orphanage.
Travel books