Kenyan Unilever PG tips Limuru Tea plantations
Tea is Kenya's leading foreign exchange earner. There are massive hillsides covered in tea plantations 50km (30 miles) north west of Nairobi. Guided tours can be arranged around the Kiambethu Tea Estate. You can be their guests for lunch or afternoon tea but you have to book in advance or go on an organised trip from Nairobi. We did not have time to do that as we were driving to Lake Nakuru National Park, but we still wanted to see the plantations.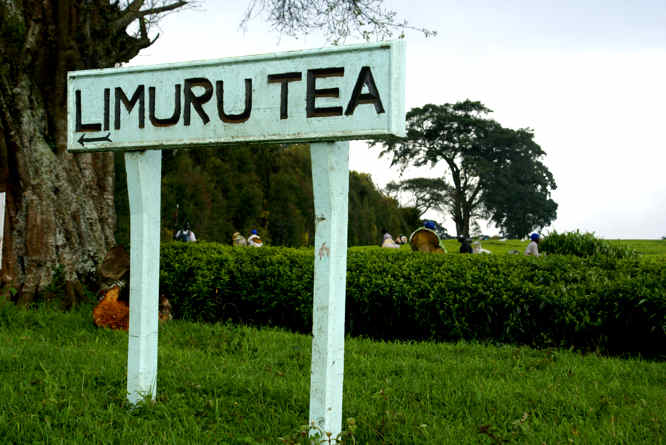 In the town of Limuru we asked directions and found our way on top of the hills that surround the town. We stumbled on the fields belonging to Unilever Tea Kenya Ltd. The company was formally known as Brooke Bond Kenya Ltd until 2004. They make the tea that goes into Brook Bond PG Tips tea bags.
You can watch the tea pickers in the fields plucking the top two leaves and bud from each plant. Tea needs good rainfall. The hills around Limuru are ideal as they have plenty of rain. The tea is picked all year round. The picked tea leaves are sent to the factories to be processed and sold to local and export markets like the United Kingdom. Kenya is the third largest producer of tea after Sri Lanka and India. Limuru town grew with the railway, the tea industry and the Bata shoe factory and head office. At the turn of the last century one of the executives from Brook Bond India came to Kenya on Safari.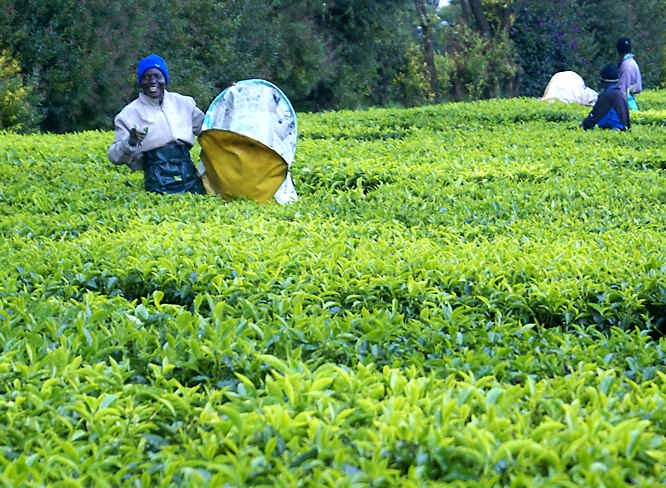 He identified that the climate, altitude and fertile soil was ideal for tea cultivation. He started Brooke Bond Kenya Ltd. It changed its name to Unilever Tea Kenya Ltd in 2004. It is the largest producer of tea in Kenya and owns over 16,000 acres. It owns 20 tea estates, 8 factories including the Mabroukie tea factory in Limuru, and produces 32 million Kgs of tea every year. It's the largest commercial employer in Kenya, employing about 21,000 workers in the peak seasons.
Travel books