The Golden Circle Tour of Iceland
This is the name given to the circular tour of the main attractions outside Reykjavik. If you do not have a rental car you can take one of the many tour busses that can be booked by your hotel. There are a number of variations of the tour, but make sure you visit the Gulfoss huge waterfall, the geysers of Geysir and Thingvellir National Park.

Hingvellir National Park
There are a number of good reasons to visit this small National Park apart from its beauty. What blows me away is being able to stand with one foot on the North American continental Plate and the other on the European Continental plate at the same time. This is the place where the mid Atlantic ridge, which is normally under the sea, appears on the surface as a number of large cracks in the local rocks surface.
These rocks move apart from each other 1cm a year. You can walk down the middle hopping from America to Europe. Go for a walk along the good footpaths. You will pass attractive deep mountain pools that used to be used to execute criminals and stunning waterfalls.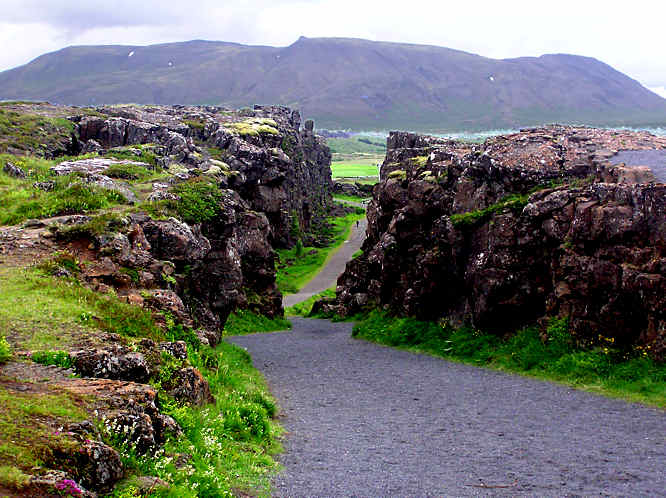 The buildings in the valley near the church are the official summer residence of the Icelandic Prime Minister. The Vikings were the first nation to hold a parliament. It was called a 'Thing'. This land was the place where it was held.

Travel books