Reykjavik city viewing points - Hallgrims Church
A trip to the Reykjavik Hallgrimskirkja Church is worth while. It is Reykjavik's highest and most imposing structure. It is an impressive modern structure that dominates the city. The exterior depicts an Icelandic basalt rock formation. It was named in honour of the Reverend Hallgrimur Petursson, author of the 50 Passiusalmar (50 Passion Hymns).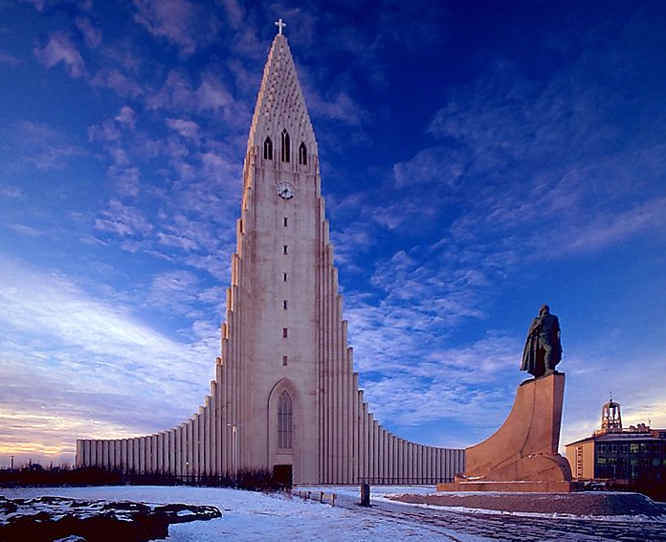 It is free to look inside the church where you will find a very stark white, plain, neat interior that pleasantly contrasts to the highly decorative over the top churches of southern Europe. There is an elevator that takes you to the viewing platform at the top of the steeple at a cost of around 300 kroner.
The views of the city and surrounding country are great. There are toilets in the church as well as a gift shop. Outside the front of the church is the famous statue of Leif Eriksson, son of Erik the Red, that appears on most of the city's postcards. It was a gift to Iceland from the United States for its 1000th anniversary.
Leif Eriksson, the Viking chief, and his crew were the first Europeans to step foot on North American soil back in 1000AD; 492 years before Christopher Columbus landed in the new world. A second vantage point is from the restaurant and bar on top of the Perlan building. It is located on a hill just out of the centre of Reykjavik. Whilst having a drink or an expensive meal in the revolving restaurant you can enjoy a view of the city centre and the harbour.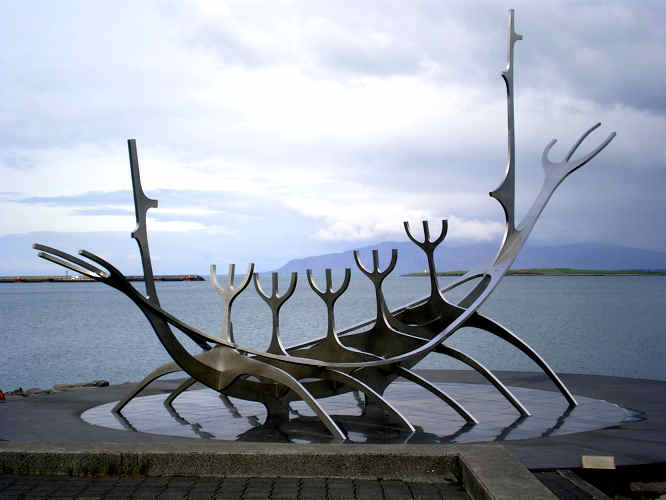 Reykjavik Harbour
There is a fabulous piece of modern art work called the Solfar Suncraft. It is sculpture of a Viking ship made from stainless steel. It sits looking over the harbour and glistening in the sun. It is a good subject for a photo as with the ocean and mountains as a back drop.
Travel books