Eastbourne Weekend City Break Travel Guide
To be a traditional British Seaside venue the place has to have a pier. Many piers around the country have been knocked down due to neglect, fire or insolvency. Eastbourne is proud to still have an attractive working pier. Over 200 years ago piers had a practical roll. Before the age of steam trains, boats transported paying customers from the city centres to different seaside resorts.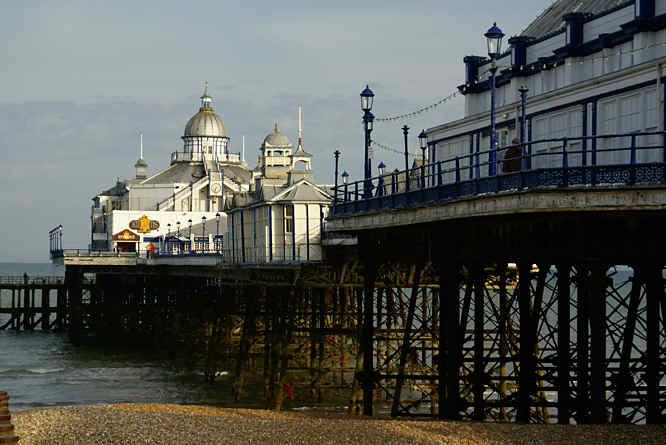 These boats needed a deep water berth to unload their passengers. Piers were constructed to meet this need. When the railways replaced the boats most piers were reduced in length and transformed into pleasure piers on which holidaymakers could promenade.
Eastbourne's pier, in line with everything else in the town, has a clean appearance that shouts of civic pride. The construction of Eastbourne Pier started on 18th April 1866. It was opened on 13th June 1870 but not finally completed until 1872.
The piles that supported the superstructure sat upon specially made cups, similar to those used on furniture to protect carpets from deep furrowing that rested on the rock bed. This ingenious arrangement allowed the pier structure to move in bad weather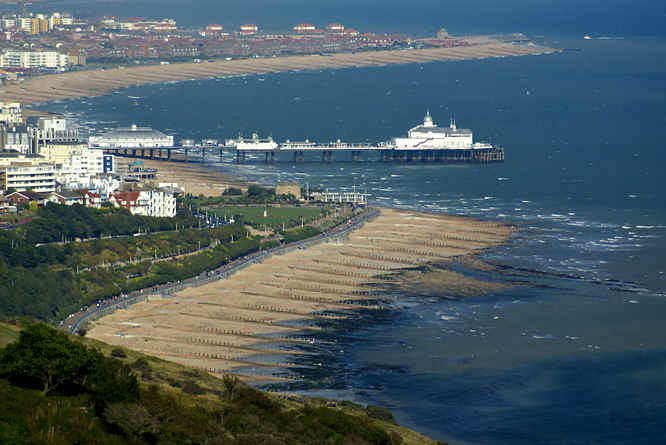 It was 1000ft (303m) long when built and had six small kiosks along its length, and a pair of tollbooths at the entrance. On New Years Day 1877 the shoreward end was washed away in a violent storm and was later rebuilt at a much higher level. The domed 400-seater pavilion was constructed at a cost of £250 in 1888. A 1000-seater theatre, bar, Camera Obscura and office suite replaced this in 1899/1901.
At the same time two pubs were built midway along the pier. Before and after World War One the shoreward end of the pier was remodelled with a new entrance building being added in 1912 and the 'blue room' a 900-seater pavilion in 1922. This pavilion was predominantly used as a ballroom before playing host to the now modern favourite leisure facility of seaside piers, an amusement arcade.
The wooden decking was removed during the Second World War and machine gun platforms were installed in the theatre providing a useful point from where to fire on any attempted enemy costal landings. The entrance buildings were again replaced in 1951. The theatre was destroyed by fire in January 1970. A new Atlantis nightclub and bar were built in its place. In 1991 the entrance buildings were again replaced. The Camera Obscura, located in the dome above the 'Atlantis' nightclub, was reopened to the public in 2003. Eastbourne Pier now has a unique historic visitor attraction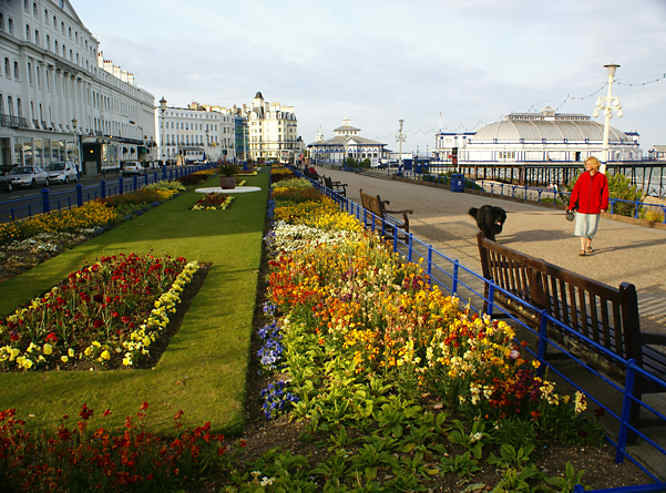 Eastbourne Sea Front Gardens
Eastbourne Council are always take good care of the flower beds on the seafront. They are located west of the pier these gardens are the centrepiece of Eastbourne's elegant seafront. Traditional bedding is used to create stunning floral patterns for spring and summer. Spring displays use brightly coloured tulips, pansies and wallflowers.
Summer planting includes begonias, petunias, geraniums and other favourites. During the summer special beds are also planted in geometric patterns in a 'carpet bedding' technique first established by the Victorians. One bed at the west end of the main garden usually has a special theme. This is planted in June and remains until the autumn.
Book your accommodation in Eastbourne with Amazon.co.uk Destinations

Click here to find accommodation in Eastbourne