Cologne Chocolate Museum and Christmas Markets
Next to the cathedral there's Cologne's old town (Alstadt). It is a pleasant place to go for a stroll. There is not much of the historic centre of Koln that survived the war. This small area is full of old houses, restaurants, churches and small alleyways with charming views to discover.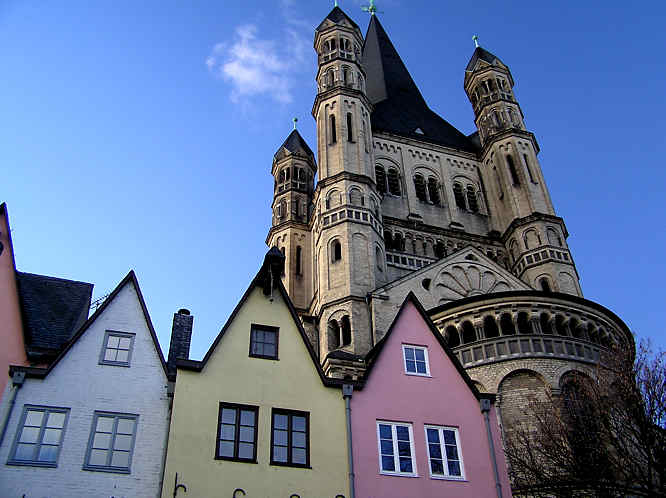 It is a great place to find a cafe or pub for a drink and people watch. You will find the old town between the Hohenzollernbrucke (north) and Deutzer Brucke (south), Hohe Strasse (west) and the river Rhine. The Heumarkt (Hay Market) is the biggest square in Cologne. It is a very colourful square surrounded in three of its sides by the traditional buildings, each one painted a different colour. They may appear old but every building apart from the cathedral, was destroyed by bombing. They have been reconstructed to appear like the beautiful medieval houses that used to occupy those locations.
Imhoff-Stollwerck Chocolate Museum: Schoenes Schokolade
The name Schokoladenmuseum suggests that it's just a museum but it's MUCH more than that. This is a picture of the Chocolate museum's chocolate fountain where the staff pass out a biscuit dipped in fresh liquid chocolate to visitors. Although it is a museum it is also a working chocolate factory where you can see chocolates being made.
It is built on the river. Go down to the River Rhine from the old town or Cathedral and turn right. It's a large glass building on a promontory on the river itself. You can't miss it. The smell as you walk around is divine. You can get close to the machinery on the production line and observe how each individual chocolate is made, cooled wrapped and boxed. It is fascinating to see how liquid chocolate is turned in to moulds to achieve perfectly hollow shapes like a Easter rabbit and a chocolate Father Christmas.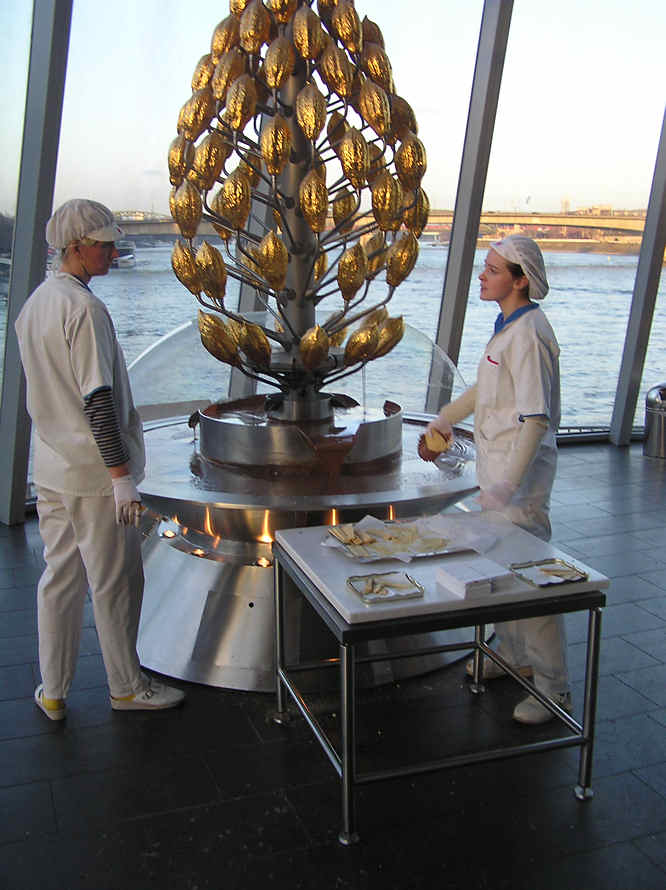 There is an interesting section on the history of chocolate production and an explanation of where and how the beans are grown and harvested. There is a small glass-enclosed botanical garden with pond, lilies and cocoa trees. I thought that was a great idea as you were able to show children where chocolate comes from. Upstairs there are examples of old packaging, tins and boxes.
In another section it shows how chocolate was once used for its medicinal properties and how it became fashionable amongst the upper classes. At the end of the tour you can spend a small fortune in the chocolate shop. The Chocolate Museum has a small cafe with terrace overlooking the Rhein. It is a great place to sit on a warm sunny day.
Travel books