Yala (Ruhuna) National Park Safari
Tissamaharama (or Tissa) is near the entrance to Yala National Park. It has a number of good tourist hotels 1.5km north of the town centre along the eastern banks of a large manmade lake called Tissa Wewa. It is an idea base to plan a safari into Yala National Park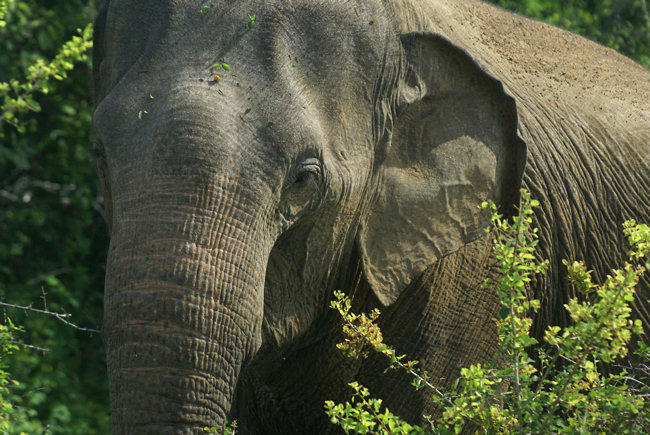 Asian Elephants in Yala (Ruhuna) National Park Safari
Nearly all the guide books advise getting up really early and being at the National Park Gates at 6am when it opens. The logic is good. Animals go to water holes in the cooler morning temperatures and hide in the shade at mid-day. You therefore have a better chance of seeing a variety of animals if you visit the parks lakes, ponds, lagoons and rivers. Having done many Safaris in Africa I can confirm that normally this is good practice.
For our safari to Yala National Park our driver picked us up from our hotel at 5am. We arrived at the National Park's ticket office by 6am. It was already packed. There was a large queue of people spilling over onto the lawn. The surrounding roads were packed with parked 4x4 Safari jeeps of every size and make. It took nearly 40 minutes to get out tickets.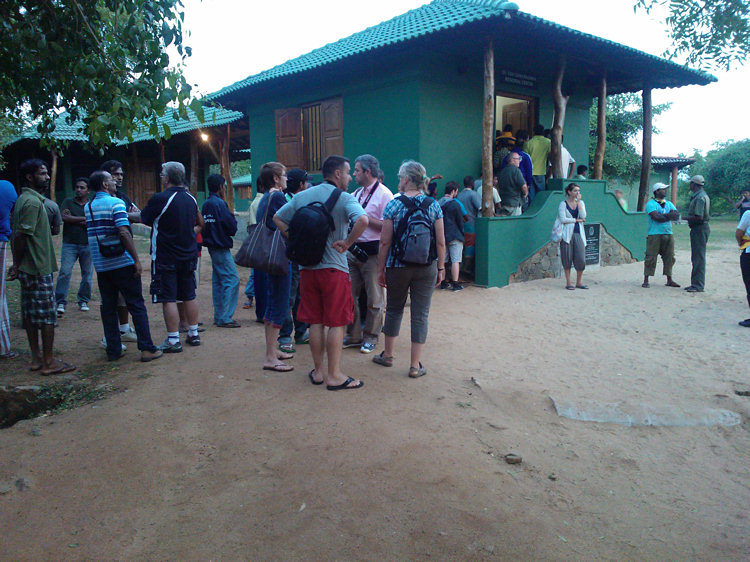 Early morning long queue for the Yala (Ruhuna) National Park ticket office
There is a little visitors centre you can look around whilst you wait. It has pictures of the animals you may be able to see with a brief description about their habits. Look around the local bush that surrounds the ticket office. We saw wild pigs, peacocks and monitor lizards. There is a toilet block which contains western toilets as well as the hole in the ground style.
Most hotels will provide their guests going on early morning safari a packed breakfast box. Remember to ask for one the evening before. There is nowhere inside the park to buy additional food or drink. Take lots of extra bottles of water from you hotel. For a full day safari two liters per person is the minimum you should take. We found that because of the heat we didn't need to go to the toilet as we were perspiring so much.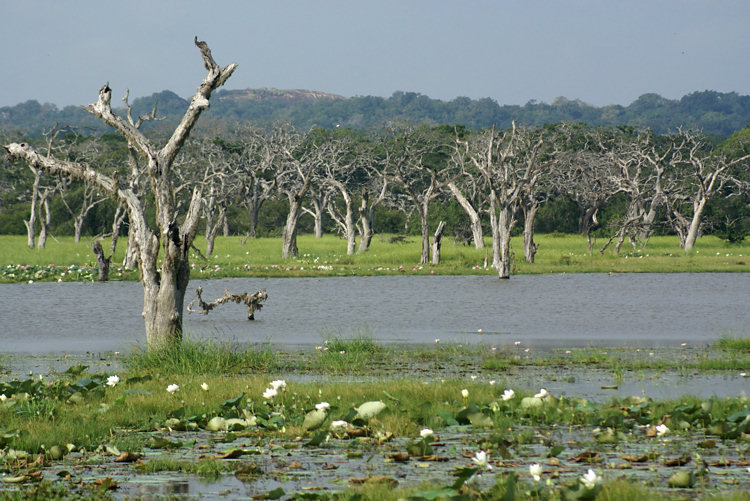 Yala (Ruhuna) National Park Safari flooded watery landscape
If you do need to go just tell your driver and he will find a discreet area of bush you can hide behind, that is devoid of animals. If you have forgotten to purchase extra water don't panic. Just before you get to the Yala National Park Ticket office there are a couple of shacks that sell food and drink. Buy some salty snacks to nibble on during the day. It is a good way to prevent you getting cramp. Buy extra food and drink. Offering food and drink to your driver and guide is a great way to break the ice and make things more friendly.
It is standard practice in Asia and Africa to substantially charge Western Tourists more to visit National Parks and other tourist attractions. You will read many blogs, travel reports and articles complaining at the injustice of a two tier charging system and how tourists are being treated as a cash cow. Get over it! Work out how much you get paid each month compared with the locals. Lots of people earn less than 500 rupees a day. It takes a lot of money to run these parks and keep the animals safe. The locals cannot afford to finance the National Parks. The money has to come from somewhere. If you still think you have been charged too much just think of how much you last spent on a pair of theatre tickets.
Many tourists only pay for a morning safari and get taken back to their hotels so they can spend the rest of the day around the pool. There are traffic jams in the park in the morning. Someone spots a leopard or herd of elephants and the drivers talk to other drivers by phone to alert them. The result is chaos. Twenty to thirty 4x4 safari jeeps fight to get a glimpse of the animals before they walk off into the jungle. By the time your driver gets to the location there is a good chance the animals have gone. All you have seen are lots of other disappointed camera touting tourists in safari vehicles. You breathe in their vehicle's diesel engine exhaust and get covered in red dust from the sandy roads. Then all of a sudden news comes over the phone of another sighting at a different location and all the same vehicles speed to the next location. This is not my idea of an ideal peaceful safari.
We noticed that the park nearly became deserted after lunch time. It was much more peaceful. It was now pleasant to drive around the park. Our driver looked for big trees that provided shade. That is where we discovered lots of animals. As it got cooler in the afternoon we spotted a lot more out walking in the grass lands or heading towards water. My advice would to arrange to be picked up from your hotel at about 10am. You will avoid the crowds and have a much more enjoyable experience.
Normally each vehicle has to have a park guide. They help spot wildlife for you and are part of your ticket price. Their eyesight is amazing and know what to look for. Throughout the day they were spotting animals I had missed. Some drivers are also qualified as park guides and can drive in the park on their own. The advantage to this arrangement is that you only have one person to tip at the end of the day. The disadvantage is that you only have one pair of eyes on the lookout for animals rather than two. Give a good tip. Remember they have been working for you for many hours trying to make your safari experience the best they can. Do not expect an in-depth knowledge of the animals given to you in English. For many of the guides English is a foreign language. They know what each animal's name is in English and can locate them for you.
The natural landscape of Yala National Park is as attractive as its diverse wildlife. The dense lush green bush is interspersed with dramatic rocky outcrops that are frequented by elephants, basking monitor lizards and troops of monkeys. During the two monsoon wet periods low lying land is flooded producing lakes that flood large mature trees. Dead trees poke out of the water surface and provide resting places for water fowl and hunting perches for bright blue winged kingfishers, large winged kites and sea eagles.
The eastern side of Yala National Park is defined by the sea. It has a long coastline of sandy beaches. If you are on a full day safari ask your driver to stop at the beach near the Patanangala, a rock outcrop. It is a wonderful place to have lunch. Ask your driver to show you the buildings that were destroyed by the 2004 Tsunami. Don't walk down to the fisherman's huts. They do not like visitors poking around as they often do some poaching of eggs and small mammals. The authorities keep an eye on them.
To take the best photographs you need a telephoto long lens. You cannot erect a tripod in the safari vehicle but try and take a child's dense bean bag. It is small enough to pack. It can be used as a rest for your long lens. Just place it on the top of the vehicle and use that as a steady platform. Make sure you have extra charged batteries and lots of room on your discs for additional photos. Have spare discs ready. You will find yourself being very snap happy because there will be so much to photograph.
Travel books