The Sri Lankan Hill Station - Kandy
It rains a lot in Kandy. Remember to bring an umbrella or light rain coat. It is also cooler and less humid than the coast. The British used to escape the stifling oppressive heat of Colombo and move their Colonial Governmental Departments into the foothills for a few months each year. Their wives, children and household servants came too.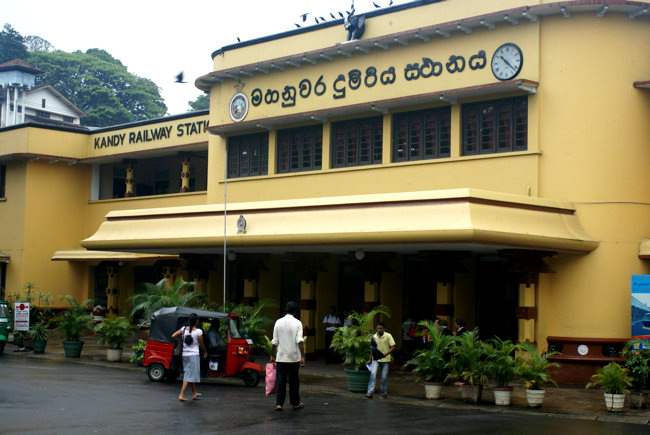 Kandy City Centre Railway Train Station in Sri Lanka
After an enjoyable train journey from Colombo you alight your coach on to the platform of Kandy Railway Station. From the front the sand coloured building has hints of 1920 Art-Nuevo design. The Tuk-tuks wait in an orderly fashion outside the front of the Station. I found out later that they all have to pay an annual fee to be one of the select few allowed to wait outside the railway station.
If there are complaints they loose this right so it is okay to choose them to be your hotel transport. I would recommend Tuk-tuk driver Mr Raju Salaldeen, Phone number 0777-653580 or 072-2111670. He is a fun character. Always smiling and willing to help. He is reliable to. If he says he will meet you at a certain time in the morning he is there early.
He does not rip you off. He is full of interesting stories and only too willing to tell you about his city and country. He also over came polio as a child to become a driver he now just has a slight limp. We went on may sight seeing trips with him including going to see the Elephant orphanage at Pinnewala.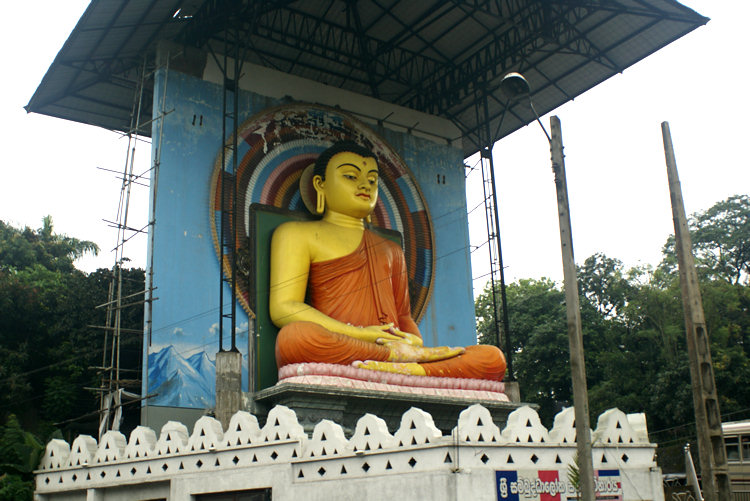 Buddha statue on Kandy City Centre near the Railway Train Station in Sri Lanka
The shopping streets of Kandy are a lot less congested than those in the Pettah area of Colombo. The Kandy shops are on wide well maintained roads that start just outside the Kandy Railway Station and go east towards the lake. Outside the front of the Station you will see a large brightly painted sitting Buddha statue. What you notice as you look up are all the tree covered hills that surround the city. It is like you are in the bottom of a bowl. The hills are the bowl's rim. Because of the amount of rain Kandy receives every thing is green and lush. Quite often the hills are surrounded by mist or not visible because they are in low lying clouds.
There are lots of accommodation choices in Kandy to meet every budget. Try to find a hotel out of the noisy city centre. In the hills there are many smaller hotels or bed and breakfast establishments that have wonderful views of the city or the lake near the temple of the sacred Buddha's tooth relic. Most of these places have balconies and tables where you can soak up the view and atmosphere whilst eating breakfast or an evening meal.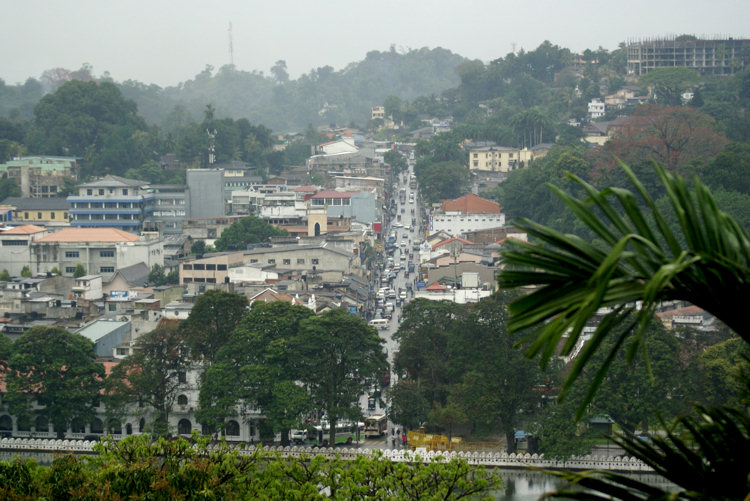 The main street of Kandy City Centre in Sri Lanka
If you can afford it try to spend one night in the Amaya Hills Hotel situated on top of the nearby mountain. It is an outstanding hotel. There are some photos on the next page. Kandy is a good base to explore the surrounding countryside and attractions. You must visit the Pinnewala Elephant Orphanage, Peradeniya Royal Botanical Gardens, Temple of the Sacred Tooth Relic Sri Dalada Maligawa, Kandy Lake and National Museum,
Travel books