Blue Field Tea Estate Factory Tour
The Blue Field Tea Factory is on your left as you get near Nuwara Eliya on the A5 on your journey from Kandy. It has a good tea room and clean western toilets. There is a little gift shop where you can buy estate grown tea.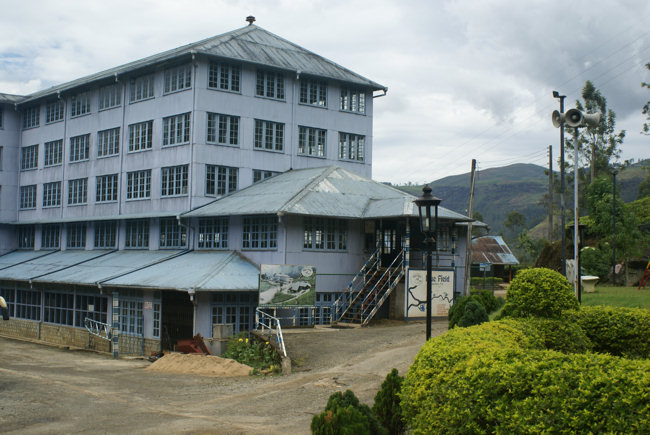 The Blue Field Tea Estate Factory
You can also go on a tea factory tour. You can't miss the building. It is large and painted powder blue. The tour is free. A member of staff takes you through the different processes of withering, rolling, cutting and heating before the final drying and sorting into different sizes. It is pot luck in your guide and their ability to speak good English.
If you are not sure what they said speak up and ask them to repeat what they said. They love questions. You are not allowed to take photos inside the factory which is disappointing but would you like strangers coming into your place of work and taking photos of you every hour of the day? The local tea factory employees got fed up with being asked to pose for photos.
The Blue Field Tea Estate used to be over 80 Hectares but now has reduced in size to only 20 Hectares. This makes it one of the smaller plantations. The Estate now earns a lot of its income from visiting tourists. The company employers 350 workers from about 160 local families. Over 1000 people rely on the Blue Field Tea Estate. Mothers get up to 12 weeks paid parental leave and there is a company creche for young children up to the age of 10.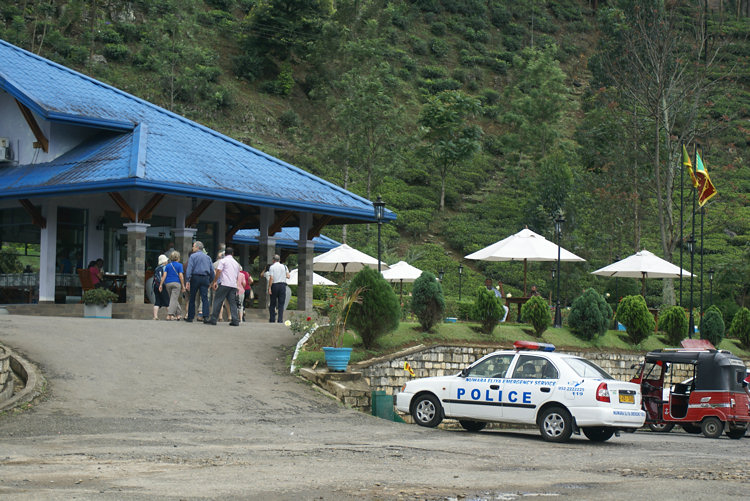 Entrance to the Blue Field Tea Estate Factory Tour
In the wet season each tea bush tips are harvested every 7 days but in the dry season the tips are picked every five days. Tea fields are visited by teams of pickers on a rota system. Each female picker is expected to collect 20kg of tea a day and receive a bonus for picking more. Once the Blue Field Tea Estate's Ceylon tea is processed and graded it is sent to the Colombo Tea Auctions. There are eight main tea brokers who do the buying for over 200 companies world wide. The auctions were set up by the British in 1883.
The machines are huge. Some were built in the UK but most in the iron works in Colombo. Ask your tour guide about living conditions of the tea pickers. Do they get accommodation free. What hours do they work? Why is it that women are employed to pick tea and not men? What is the daily wage for a female tea picker? How much tea does a picker have to pick each day?
How much does a tea picker get paid for each kilo of tea they pick over that target weight? Are the estate schools free? What bills does a picker and his family have to pay to the estate? Does a picker have to pay for health care? Do they get a pension? DO they get a plot of land to farm? The tour maybe free but it is expected that you purchase some tea from the gift shop and tip the tour guide. Be generous.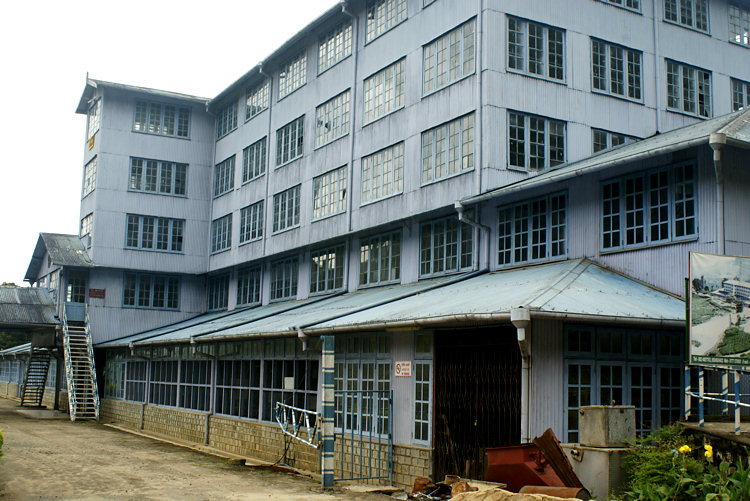 Blue Field Tea Estate Factory and plantation
Travel books