Kandy Amaya Hills Hotel Pool
It is a real treat to sit on the first floor balcony, in pleasant surroundings, eating breakfast and admiring the view down the valley into the Sri Lankan hill station city of Kandy. The balcony tables are lit up at night with candle light. Ideal for a romantic dinner. whilst you admire the twinkling lights from the city and contrast them with the stars.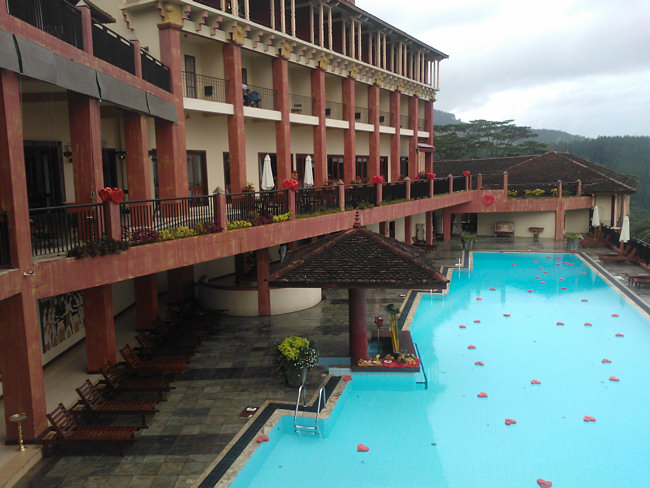 Kandy Amaya Hills Hotel Pool with a view over the mountains
Some people have described the Amaya Hills Hotel as having old world charm of the British Colonial era. I would disagree. It is more like a modern Sri Lankan interpretation of an Indian Maharaja's Palace perched on a mountain top where his majesty can survey all he rules .
Remember to close your windows before it gets dark and turn on the air con to stop the pesky mosquitoes becoming unwanted bed fellows. Use the air conditioning even if there is cool mountain air outside. Another reason for keeping the windows closed is that occasionally you may get raided by monkeys looking for the complementary hotel food that is left out for each guest. If you can, try to avoid staying at the weekend because occasionally they have wedding parties. They can be noisy especially if they have a disco near the pool.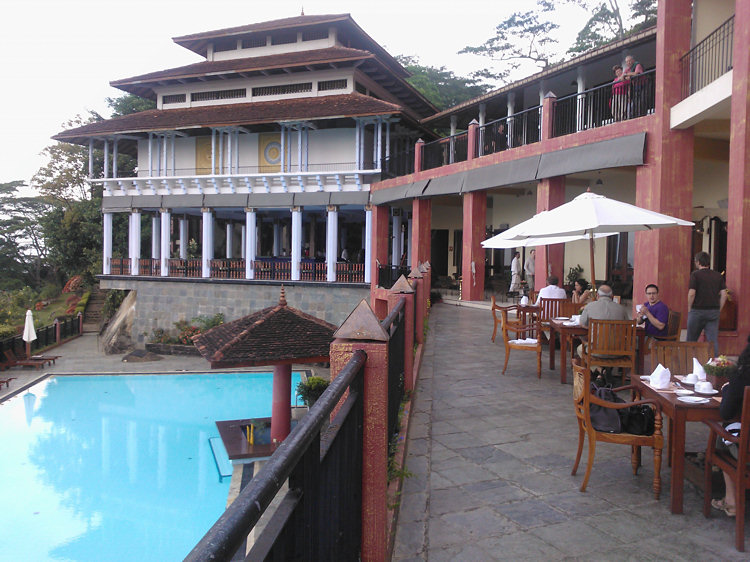 Kandy Amaya Hills Hotel Pool outdoor restaurant area and reception tower
The Sunsets can be fantastic if you are lucky to get the right weather conditions. If you are staying in the hotel when there is an electrical storm you are in fro a treat. The thunder seems to rumble around the mountains and the sound bounces off the sides of other hills. The lightning is dramatic and lights up the whole valley. The hotel has a spa and gym for which you pay extra. The large clean swimming pool looks very inviting but be careful it is not heated. Great to use late in the afternoon when it has had time to warm up in the morning and early afternoon sun but a bit chilly on overcast cloudy days.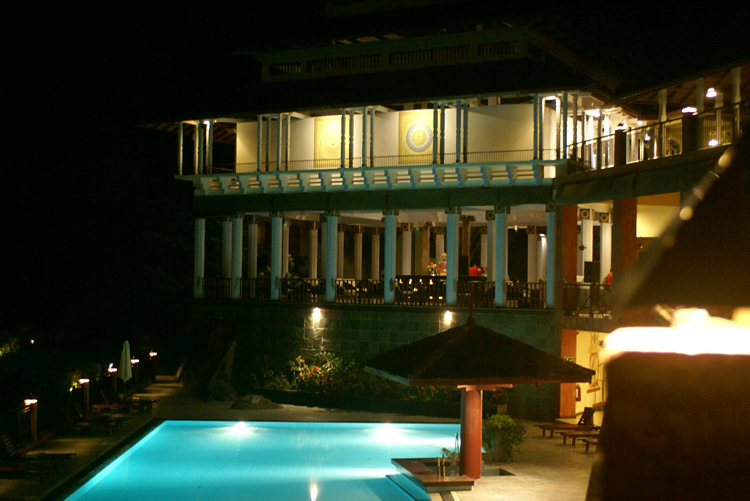 Kandy Amaya Hills Hotel Pool at night all light up and pretty
Travel books