Galle Triton Neptune Clippenberg and Aeolus Bastions
To defend the western approaches to Galle Fort in Sri Lanka the Dutch built a long rampart wall linked by four gun platform bastions between the Sun Bastion in the north west corner of the fort and Flag rock in the south west corner.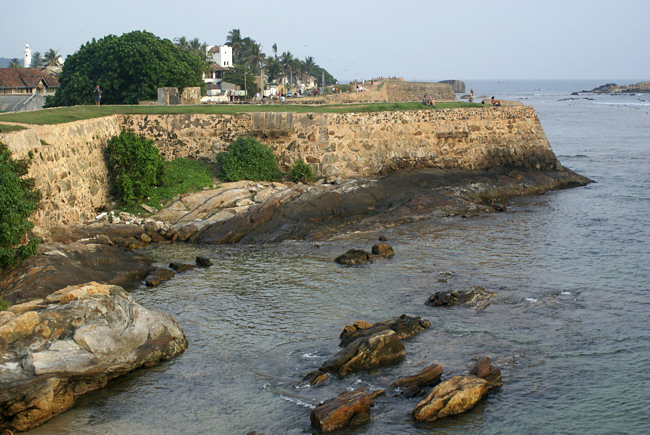 Galle Fort Neptune and Triton Bastion in Sri Lanka
These four defensive towers are called, from south to North, Triton Bastion, Neptune Bastion, Clippenberg Bastion and Aeolus Bastion. All of them are open to the public and are an ideal location for a late evening stroll just before sun set. If the weather conditions are right you will be in for a treat as the sun dips below the horizon in the west.
They are not the remains of stone towers like you would see on the corners of a mediaeval castle. This fort was built in the age of gunpowder and cannon, High tall walls could be smashed by cannon shot. These gun platforms were designed to provide concentrated long range fire against attacking ships.
Behind the rampart walls you may be able to see the local children playing cricket on the grass. There are many wild dogs that patrol the ramparts and live in the rocks. They may look cute but do not touch them. Sri Lanka still has a rabies problem. In some places you can get down to the water. If the tide is right there will be a little sandy beach in amongst the rocks. This is where you get your shoes and socks off and go for a paddle.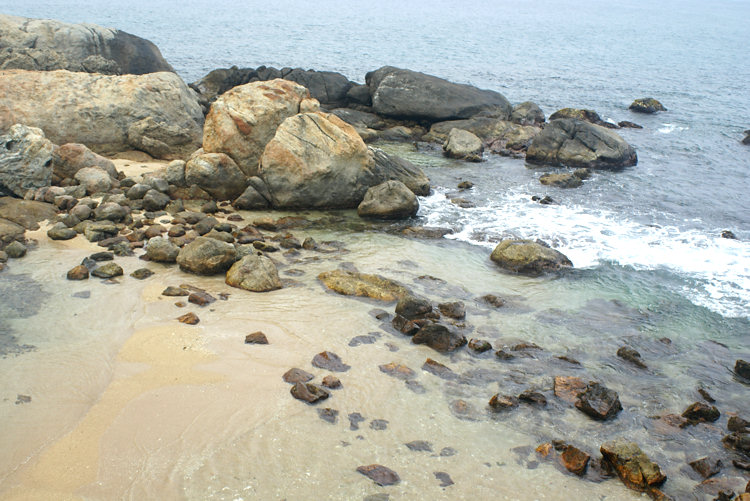 Beach near the Clippenburg Bastion section of the Galle Fort sea wall in Sri Lanka
Aeolus Bastion & the Sri Lankan Military
Be careful when you take photographs near the Galle Fort Aeolus bastion. It is still used as a look out point by the Sri Lankan Army. It is above one of the old ammunition magazine stores that used to provide gunpowder, cannon balls and later shells for the western rampart guns. The soldiers can get a bit touchy if you start taking photographs of military equipment and personnel.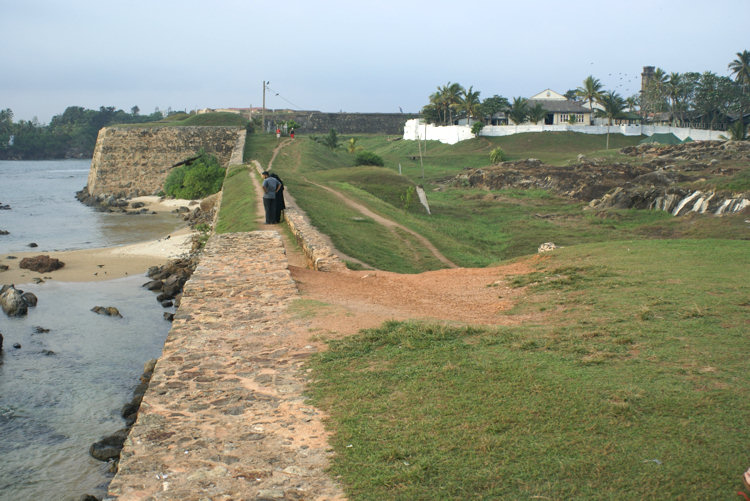 Galle fort sea wall and star Bastion by the Sri Lankan Army ground taken on top of the Aeolus Bastion ammunition magazine warehouse
Travel books