Galle Fort National Museum
Next to the large imposing New Oriental Hotel that used to be the Dutch Governor of Galle's residence there is a small one story long building. It has a white colonnade lining the front offering relief from the sun and shelter from the Monsoon rains.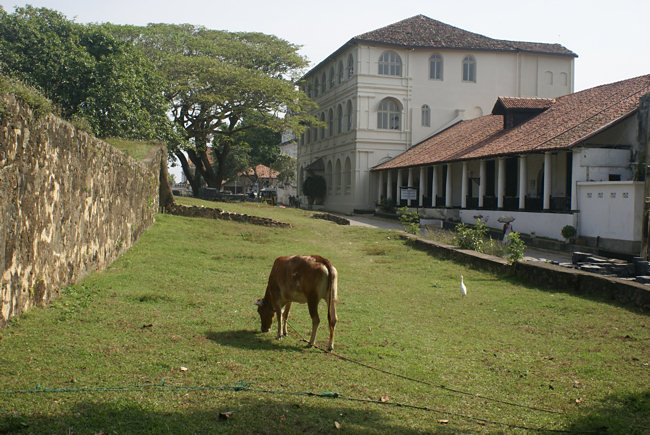 Galle National Museum building by the old fort wall next to the tall New Oriental Hotel
This is the style of many Dutch colonial buildings in Galle and Sri Lanka. The Architects amended their normal designs to adapt to the climatic requirements of the tropics. The large windows could be opened to allow air to circulate and because it was in the shade it had a slight cooling effect.
The long low column supported roof prevented any rain entering the building. On the opposite side of the road there is an area of grass behind a section of the north east Galle Fort thick wall. To keep the grass short you will often see a cow munching happily.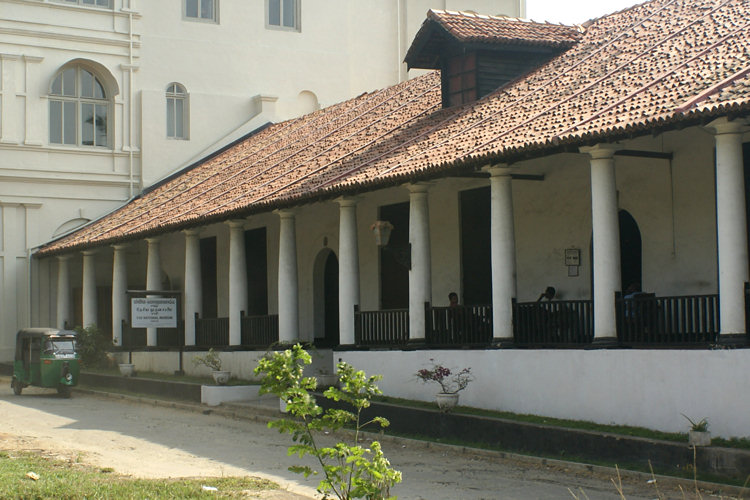 Galle National Museum white colonnaded entrance
If you want to learn more about the southern region of Sri Lanka then the National Museum in Galle Fort is a good starting place. They have a collection of objects that help you understand the origins, physical and cultural development plus social customs and beliefs of the native Sri Lankans. The ancient masks are a very popular exhibit. They were used for festivals and religious rituals.
If you are interested in Sri Lankan Ceylon colonial history there are displays of Dutch East Indies Company VOC weapons, equipment, furniture, and porcelain. They have a section on the Galle lace making industry. If your interest is old clocks then have a look at the unusual water clock built in the shape of a coconut shell from the 1700s
Making jewellery and objects out of Turtle-shell is now illegal. At the Galle National Museum you can see a number of examples of local products. You have to admire the craftsmanship that went into making the delicate fans, hair combs, spoons, bangles and ornate jewellery boxes from turtle shell.
Travel books