Praca de Almeida Garrett in Porto
The pedestrian only street called Praca de Almeida Garrett is opposite the main railway station Sao Bento in Porto. It has some attractive buildings and many cafes, shops and restaurants. After you have had a look at the tiled walls in the railways station explore the surrounding streets.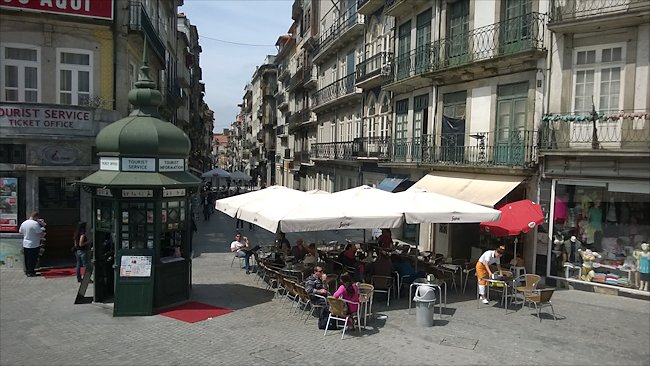 Praca de Almeida Garrett is opposite Saint Bento Railway Station in Porto
On a hot day it is very pleasant to walk down the Praca de Almeida Garrett. It is a narrow street with tall buildings and therefore there is a lot of cool shade. It leads into another interesting street called the Rua das Flores that is full of boutique shops, cafes and restaurants.
There are a couple of charming green hexagonal kiosks at the top end of the Praca de Almeida Garrett. They have unusual domed rooves. They look like something you would see in Paris. They originally sold newspapers, tobacco and magazines. They now serve the needs of the tourists providing information, cruise tickets and arranging hotel accommodation.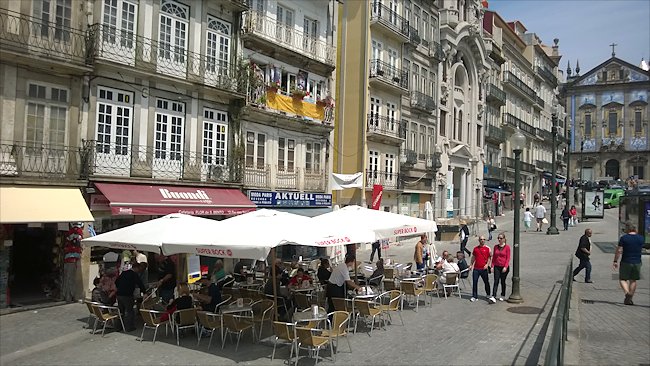 There are some attractive buildings opposite the Sao Bento Railway Station entrance
There are a couple of restaurants and cafes that have outdoor seating that is shaded from the hot sun by large umbrellas. Take some time to order a coffee or beer and spend some time taking in the scenery and atmosphere of this busy part of Porto and just people watch. You are on holiday and it's important to just sit and relax every now and again.
On the weekends there is a craft market held behind the main buildings. The entrance is in a gap between these high-rise buildings opposite the entrance to the railway station. There is normally a banner stretched between the two walls proclaiming that the market is on. It is a genuine craft market not a tourist trap. Locals take time out of their weekend schedule to see what is on sale. The stallholders set up their tables around the small intimate square. The entrance to the car park can be found in the north-west corner. Conveniently there is a public toilet built as part of the car park complex.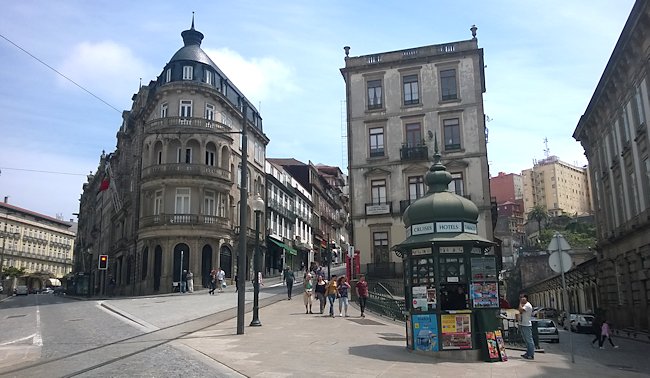 To the north of the Porto Sao Bento railway station is the Rua de 31 de Janeiro
At the northern end of Praca de Almeida Garrett is a large church decorated with blue and white tiles. It is called Igreja de Santo Antonio dos Congregados which means the Church of St Anthony's Congregation. If you look to the right, as you stand in front of the church, along the tramlines that run up the Rua de 31 de Janeiro, you will see another one of those attractive green tourist information kiosks.
Travel Books