The Pergola da Foz by Molhe Beach
The romantic Porto seaside promenade goes along the Atlantic Ocean beach front from Foz do Douro to modern container port of Matosinhos 6 km to the north. The coast road is called the Avenue do Brasil and just by the junction with the Rua do Crasto you will find the exquisite neoclassical stone colonnaded of the Pergola da Foz.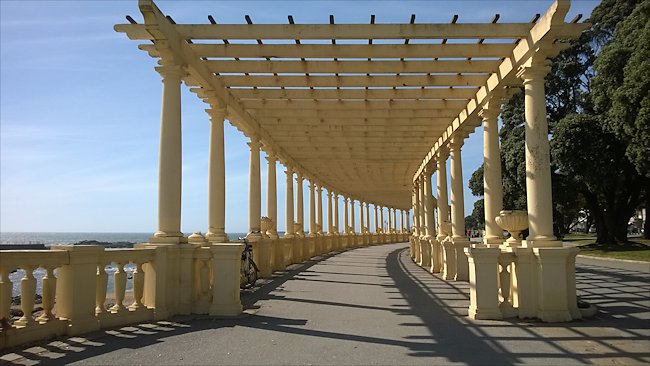 The Pergola da Foz can be found along the Avenue do Brasil
The pergola was built in the 1930s as part of an improvement project to beautify the avenue do Brazil. Many of the more wealthier Porto merchants had started to build art nouveau villas along the beachfront as summerhouses. Some made these houses their main home because of the ease of getting into the centre of Porto by using the electric tram.
The city of Porto council wanted to encourage development along the coast to ease population congestion in the city centre. Prior to this gentrification there had only been a few fishermen's cottages along the windblown seafront between the three defensive forts.
Antonio Enes Baganha, a renowned artist at the beginning of the century, was awarded the contract to design the pergola and promenade. He took his inspiration from classical Rome. Although the columns look like they are made of stone the new popular building material of cement was used instead.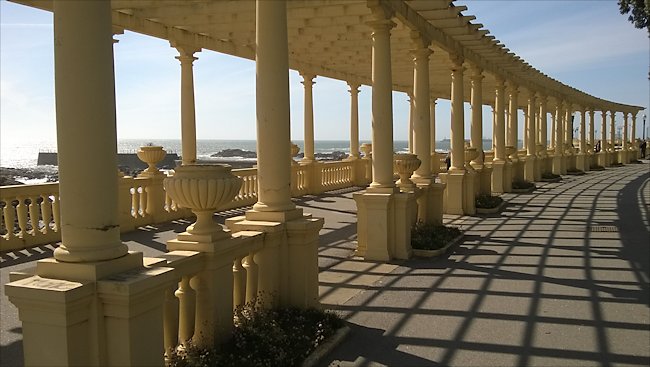 Pergola da Foz looks out over a rocky beach battered by the Atlantic Ocean waves
The effects of 75 years of exposure to the Atlantic Ocean winter storms took their toll on this tourist attraction. In 2008 Porto city council authorised the restoration of the whole length of the Pergola da Foz and its balustrade. Local use had taken to defacing the vertical surfaces with graffiti. During the restoration project special and graffiti paint was used that would enable water jets to remove and clean any future graffiti they found on the pergola.
This is a place where local young men would take their sweethearts for a walk at sunset. Retired couples walk between the arches and remember the good times that have passed. Mums and dads with young children make a game of chasing the youngsters in between the colonnades. There are always tourists taking photographs every day the year. It is a favourite place for newly married couples to have their wedding photographs taken by a professional photographer.
I found the Pergola to be a delightful tranquil spot. One side you have boulders and rock pools, with waves crashing over them, to admire and by contrast there is an avenue of trees lining the route of the promenade on the other side of the row of columns.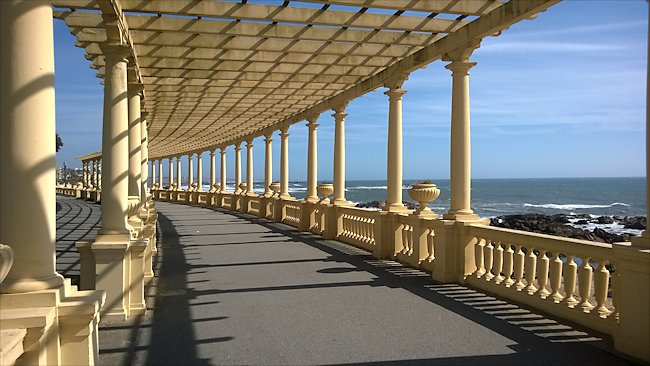 Pergola da Foz has an amazing view over the sea
Travel books