Oh what a disappointment. I was hoping for something like London's Covent Garden Market. Instead it was a very run down scruffy semi-covered market dating from the 1850's.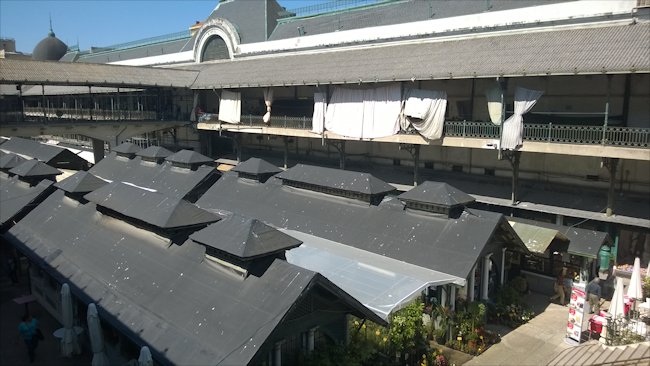 The semi-covered Mercado do Bolhao market
Most of the reviews you see on TripAdvisor and Google are all 'over the top positive' with comments like,' You cannot visit Porto without going to the historic 19th century Porto Market Bolhao. This lovely market place is where farmers come to sell their fruit and vegetables. It is a unique shopping experience.' The 'unique' part is certainly correct but 'lovely' it isn't. You will find an entrance on Rua Formosa near the junction with Rua de Sa da Bandeira. Open Mon - Fri 7am - 5pm and only 7pm - 1pm on Saturday. Closed on Sunday.
It is still worth a visit to see the layout. You can still catch a glimpse of its past glory. There are little green glazed huts in lines that are used by stall holders as a base from which to display their wares. Notice that most of the stall holders are women. In the past it was the fishermen's and farmer's wives that ran the stalls whilst the men were on the boats, farming the land or more likely down the local bar. Look out for market stalls selling old wooden toys among the fruit and vegetables.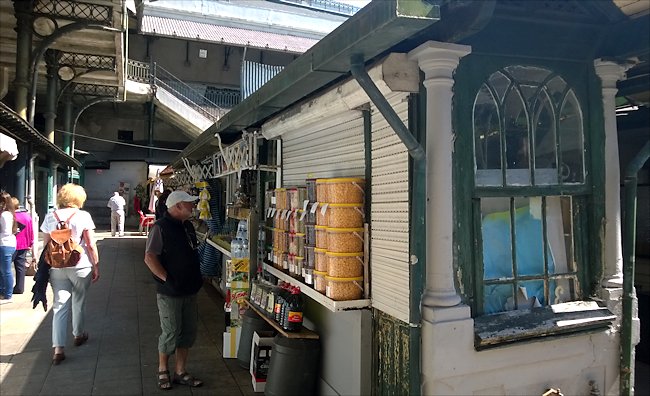 Mercado do Bolhao market stalls
When chatting to one of the stall holders she said that every time there is an election all the candidates hold TV interviews in the market and promise money to restore the Mercado do Bolhao to its former glory. When the winner gets elected into power they declare that there is not enough money.
You can see the potential for rejuvenation and development. It is crying out for skillful restoration and improvement. There are not many other over 100 year old three tier open air semi covered markets around the world. It has so much character. The owners need to visit London and see what the developers did to Covent Garden Market to make it such a successful tourist attraction.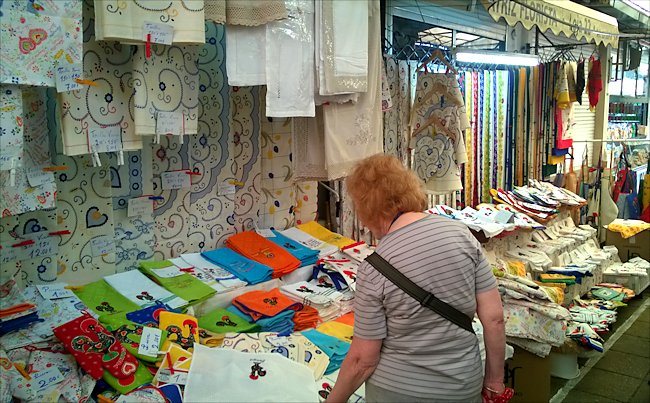 Craft items are also sold along with flowers and vegitables.
It is the ground floor stalls of the market that are the most popular. There are a few stalls situated in the old wrought iron balconies but the area looks like an unfinished building site that has been abandoned and has been left covered in dirty and dust. If you are hungry you can buy food for lunch at half the price of the local supermarkets on the ground floor. There are a few cafes and restaurants on the lower levels. Only half the stalls appeared to be occupied. The rest looked like they had been empty for some time.
Travel books