If you visit Porto for a long weekend break during the summer, take your swimming costume. Porto has a number of sandy beaches. The biggest is called Matosinhos. It is about 2 km long. At one end is the Castelo do Queijo a four hundred year old Portuguese fort and at the other the modern container port of Matosinhos.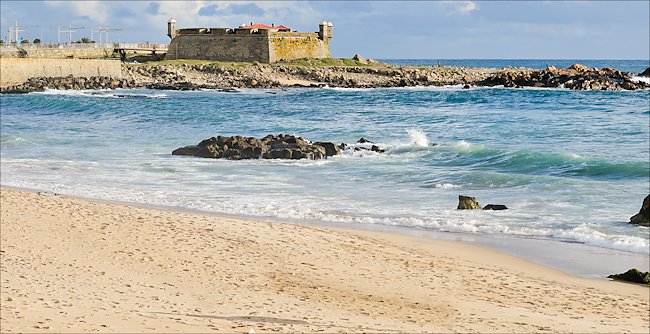 The view of the Castelo do Queijo (The Cheese Castle) from Matosinhos beach
To get to Matosinhos beach from the centre of Porto just take the new tram to the tram stop called Matosinhos Sul. From there it is just a short 7 minute walk west along the Avenue de Republica to the seaside. There are modern seaside hotels and accommodation tower blocks along the coast road. There is a very wide paved promenade that runs the whole length of the beach.
You will find a sprinkling of shops, bars, cafes and restaurants along the beach front with great views over the wide expanse of sand and the Atlantic Ocean. As you are having a meal, beer or just a coffee and pastry you can pass the time watching the container ships coming in and out of Matosinhos port.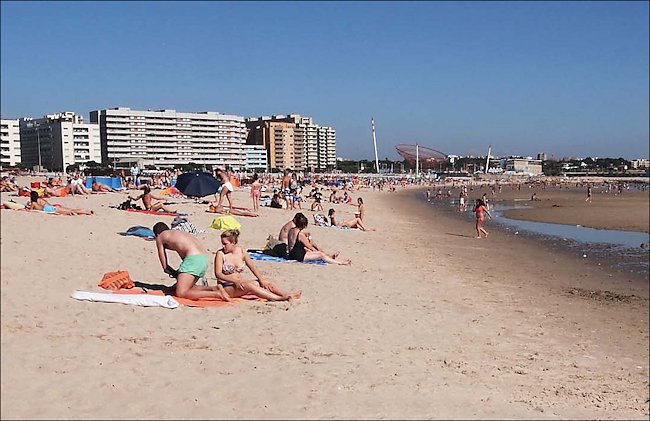 In the Summer Matosinhos beach gets very popular as it is the largest sandy beach near Porto.
In the Autumn Spring and Winter the wind coming off the Atlantic Ocean can make the beach a bit chilly so make sure you have something warm to wear. In the Summer Matosinhos gets packed with families and teenagers enjoying the sun, sand and sea. Events are sometimes put on; these range from music concerts, raves to sporting events. What is nice that unlike some other Portuguese and Spanish beaches the waterfront at Matosinhos is not very commercialised.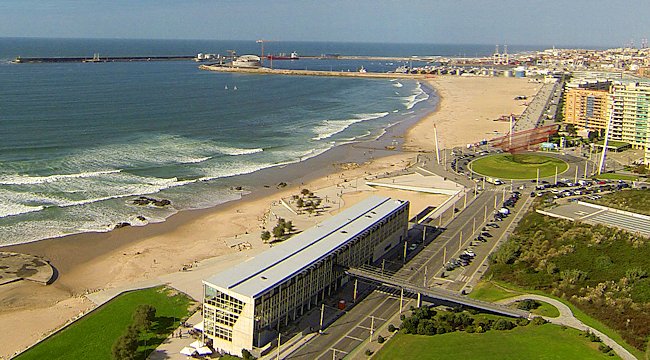 At the north end of Matosinhos beach is the entrance to the modern container port.
Travel books