If you are in Porto for a long weekend trip then take time to catch one of the old trams to the seaside. It is a great experience. This charming method of travel that has hardly changed for over 100 years takes you from the city centre, along the north bank of the River Douro, to Atlantic Ocean.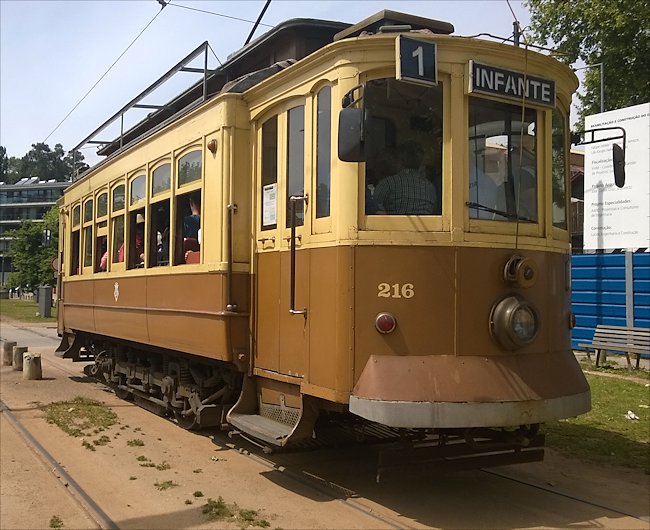 Ride the route one heritage tram from Porto to the seaside
Riding on the old tram is a very popular activity for many tourists. I found it a most enjoyable way to travel to the coast. To get a good seat make sure you are at the tram stop 15 minutes before it is due to depart. There is a timetable posted on the tram stop wall.
Get on at the end of the line. This tram stop is called Infante and is opposite the steps up to the St Francisco Church, at the eastern end of the street called Lao Sao Francisco.
To get a good seat stand on the kerb facing the river by the advertising panel on the tram stand that is the furthest away from the town centre. This is where the tram entrance door will be for the journey to the seaside along the Douro river front. The arriving tram will pass behind you to drop off its passengers.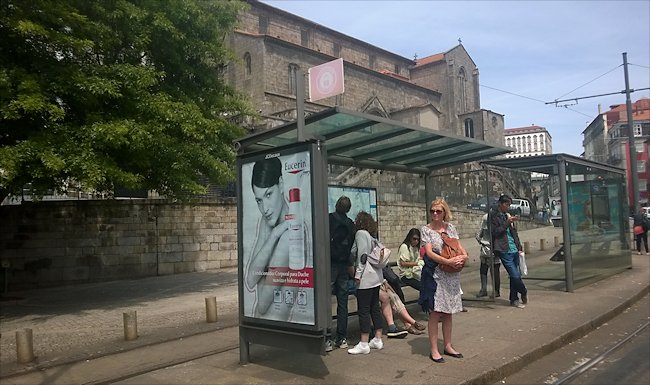 This is the Infante tram stop in Porto
Stay strong and stay in your position even as you watch the now empty tram moves off again followed by a crowd of waiting tourists. The tram drivers move away from the tram stop so they can prepare the tram for the return journey. The back of the seats are moved so customers will now be facing the direction of travel. The top electric cable hook is moved to the correct cable. Passengers are not let on the tram until the driver returns to the stop.
When the tram returns it is now on your side of the tram stop, the one nearest the river. Your Portocard does not work on the old trams. The tram tickets are not expensive. You pay the driver as you get in. Make sure you grab a set on the river side for the best views. There is no air conditioning. The windows are left open to catch the breeze.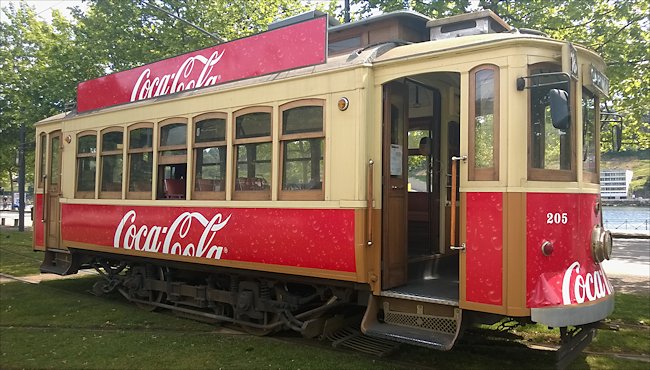 The Porto Coca-Cola old tram
Do not hold the thin cable suspended over your head. That is attached to a bell near the driver to request that they halt at the next tram stop. The first Porto tramcar line was opened 12th September 1895. It was such a success that the tram system was expanded throughout the city and suburbs. More modern forms of transport gradually replaced the aging tramcar lines part from the three remaining preserved lines. Their website is www.portotramcitytour.pt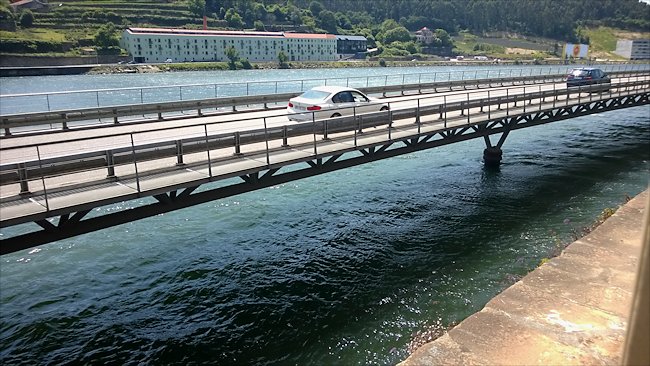 On one section of the heritage tram ride a section of the road goes over the river Douro
Travel books