Porto Cathedral's Surroundings
The large square in front of Porto's Cathedral was built during the Middle Ages. It is high up on the hill and offers a good advantage point for looking around the city, which at that time would have been walled, and down into the river Douro valley.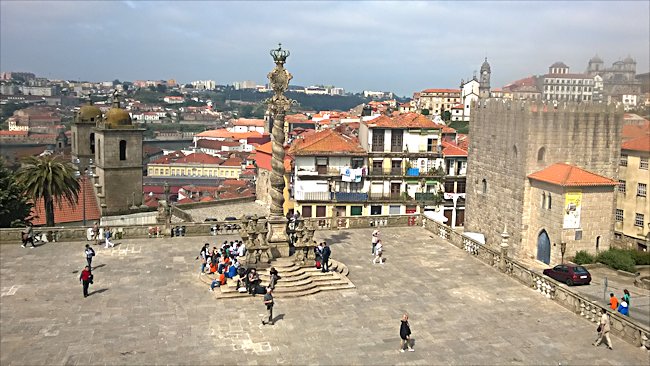 Porto's Cathedral Square can be found on the Terreiro da Sé road
It is had many functions over the years. The original one was where the congregation could meet before going into church. It was a place where craftsmen, farmers and merchants could set up stalls to conduct business. On religious festivals, particularly saint's days, it was used to hold celebrations.
It was also used by the military as a place where troops could be paraded and inspected by their commanding officers and visiting dignitaries. In 1147 the Northern European French Norman Crusaders met here with Portuguese King Alphonso Henriques. They agreed to join forces and to attack Lisbon which is being held by North Africa Muslim Moorish armies at the time.
In the middle of the square is an ornately carved twisting stone pillory, called a pelourinho by the Portuguese. Was built in the 1800s and had a purely decorative function. No criminals were chained to it stonework to be executed or receive punishment by means of the whip. It is just there to look pretty.
The three story crenelated square tower would have been part of the city defences. It would have acted as a barracks for a small detachment of soldiers whose job would have been to look after public order around the cathedral. They would perform the function of mediaeval police officers.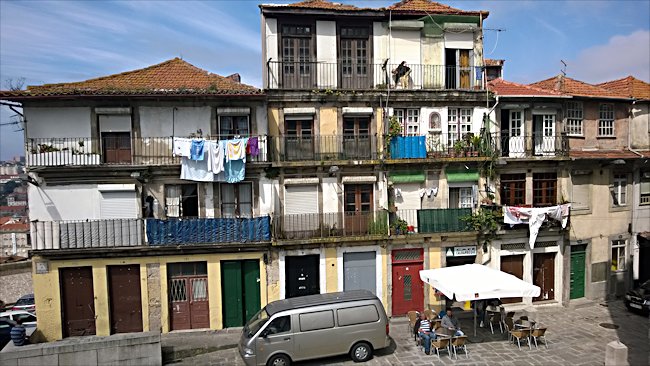 This is the small cafe and run-down buildings in front of the entrance to the Cathedral of Porto
The streets surrounding the cathedral are incredibly built up full of a ramshackle assortment of townhouses and shops in various states of repair. Some of them look like slums and are about to fall down whilst others have obviously had money spent on them and repaired to a high standard. These houses line old mediaeval streets that wind around the hill and lead up towards the Cathedral Square. Originally they would have been single-storey buildings but as available land on this hill was scarce, and there was nowhere to extend your house, as you became wealthier, the only way was up. This is why there are many tall thin three to four-storey houses
Some cathedrals around the world gain an income by building a cafe where visiting tourists, clergy, and members of the congregation can spend their money on coffee and cake, soft drinks and even a meal. Some even have shops that sell religious mementos postcards and books.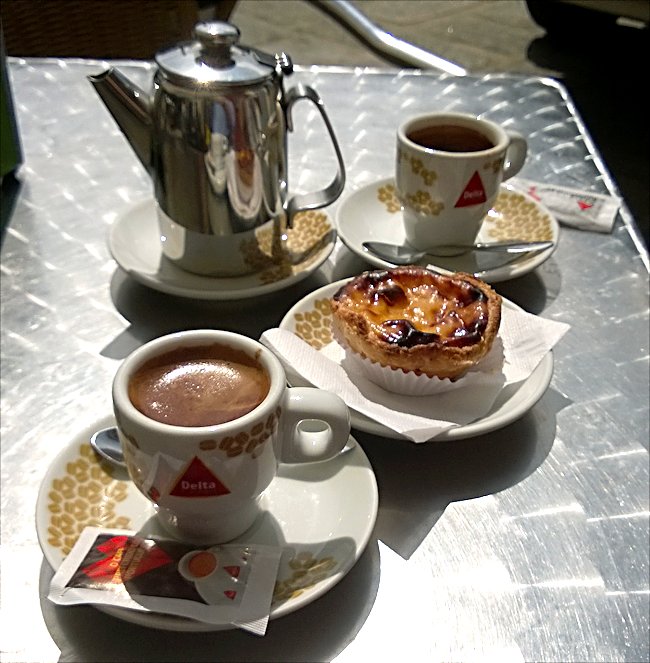 The small cafe opposite the Cathedral is a good place to sit and have coffee and a local custard tart.
The only place you can get a cup of coffee and cake whilst looking at the cathedral is at the local cafe that occupies the ground floor of a four-storey townhouse that needs restoration. It is at the bottom of the stone stairs that lead up to the entrance of the cathedral. It is an ideal location as it is a sun trap and has a great view of the cathedral front.
The coffee is very strong so asked for a jug of hot water to make a cafe Americano or some milk. They have a selection of local pastries on offer. Treat yourself and try a traditional Portuguese custard tart. I always say coffee needs to be drunk whilst nibbling on something sweet.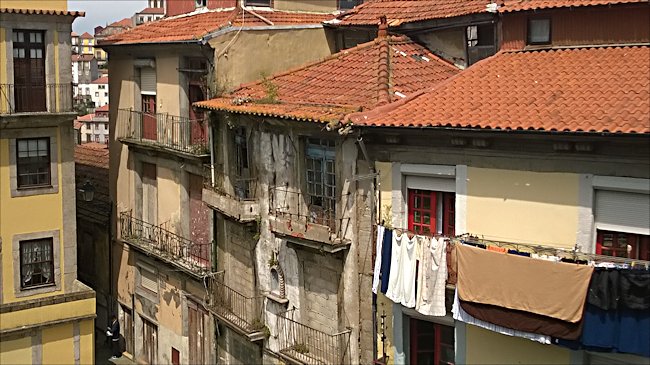 Some of the apartments around Porto Cathedral Square look like they will fall down
Travel Books
Tweet