Porto Cathedral's Interior Rooms
You very rarely are allowed to see the private official rooms that are used by the clergy when you visit a cathedral. In Porto Cathedral you are allowed access to these rooms as well as the treasure house.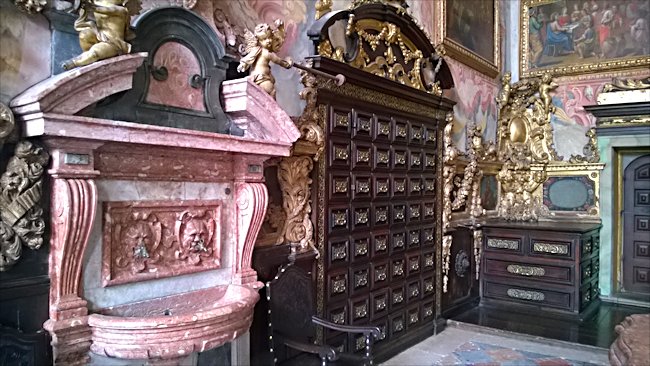 Porto Cathedral's pink marble water basin and chests of draws.
Having visited the cathedral, the Gothic cloisters, the treasure room and the upper cloister rampart walkway, visitors are guided through the interior rooms. These are richly decorated. I believe the style is baroque. It is very ornate and gold leaf can be seen everywhere: it is used on picture frames sculptures of cherubs and the carved decorations surrounding pieces of furniture.
One of the rooms contains many pieces of dark wood furniture that are constructed with lots of drawers of different sizes. The brass handles are highly decorative, no expense has been spared. In the middle of one of the walls is a large water basin made of white and pink marble with two taps coming out of carved faces.
There is a large pink and white marble table in the middle of the room. There are a number of large oil paintings around the walls. An artist has painted a mock marble surround around these paintings using pink and white oil paint to complement the marble table and water basin.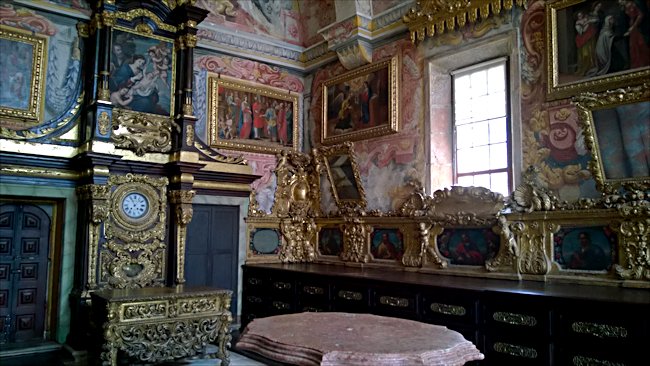 This is the view of the other side of the room.
Pride of place between two doors at one end of the room is a clock. It is contained within a large carved surround that has been finished with gold leaf. In front of the clock, below it, is a matching carved table. Above it is an oil painting of Mary with the infant Christ.
When you enter these rooms always look up. The ceilings are also highly decorated with oil paintings and carved wood surrounds. The Bishops of Porto Cathedral must have provided the income for many craftsmen and artists for hundreds of years.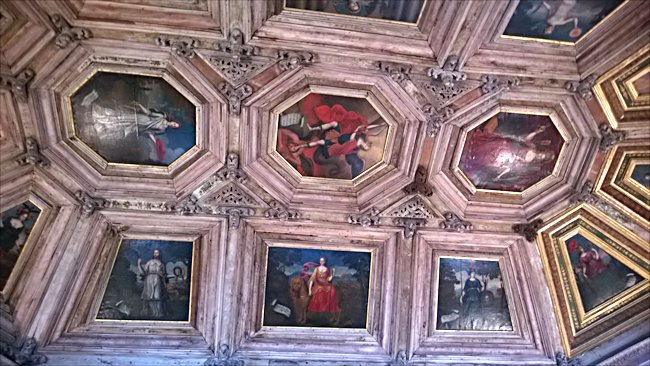 The ceilings in some of the internal rooms are as elegant as the main church.
As part of your tour around Porto's Cathedral you go upstairs above the cloisters into what looks like a conference room. There are blue-and-white "Azulejos" tiles fixed to the lower part of the wall. They depict scenes from the Bible, some are allegorical and others are just pictorial. They are the same types of tiles that decorate the cloisters and the upper ramparts of the cloisters promenade. The doorway is guarded by two large statues of angels holding a staff with a cross at the end. In front of the side door is a statue of the baby Christ and his mother Mary.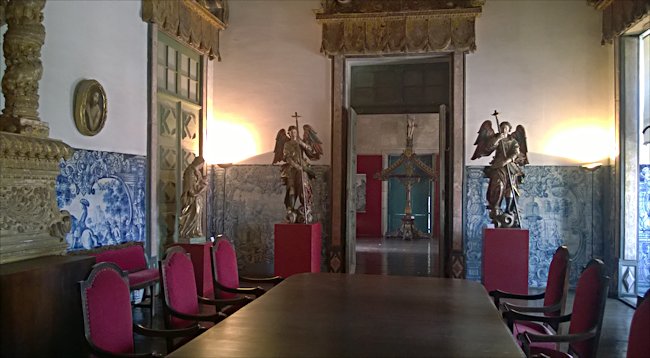 The view from the Porto Cathdral Square of the Port Wine Warehouses.
Travel Books
Tweet