The Casa Tait, in English the Tait House, also known as Quinta do Meio, has a delightful English style rose garden and small woodland on top of the hill that overlooks the river Douro. It is open to the public to explore and admire the views after they have finished looking around the romantic museum on the opposite side of the road.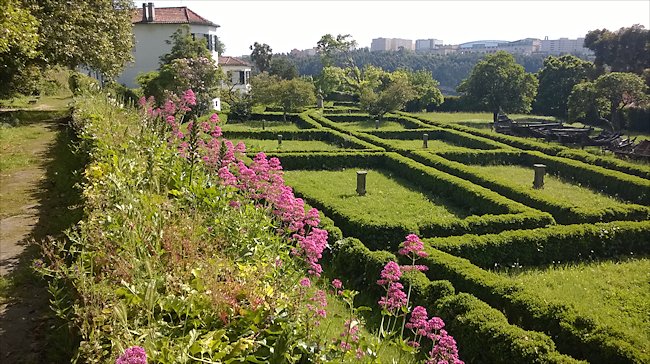 Casa Tait Formal Gardens that overlook the River Douro Valley
Casa Tait is at 219 Rua de Entre-Quintas, Porto. This is the road that forms the western boundary of the Crystal Palace park and gardens. As you go down the road you come to a fork. To the left is the big green metal gated entrance to the Romantic Museum. To the right is a smaller green gate. This is the entrance to Casa Tait's gardens. The house is not open to public as they are still occupied by tenants but you are free to walk around the gardens and explore the woods.
English wine merchant William Tate, of the Velloso and Tait port wine company, purchased the house on the 22 April 1900. It had been the main residence of several different English families had moved to Porto because of the port wine trade
The city of Porto government was sold the property on condition that the green space consisting of gardens and a small forest would be open to the public free of charge. Within the high walls that surround the property you can still see some of the outhouses that were used by the gardening staff.
Casa Tait Rose Garden
On the lower terraced slopes of the garden the remains of a formal garden can be seen where box hedging has been planted to form rectangular enclosures encompassing a statue base. Depending on what time of year you visit you can see tulips, magnolias, rhododendrons, roses and orange trees in blossom.
The house was built in the late 1800s. It is currently the headquarters of Porto's municipal museums and cultural heritage department. Like everywhere in Porto it is a bit tatty and disheveled. The city should employ a few more gardeners to look after the gardens as they are looking sad. There are not many tourist sites that are free in Porto but this one is and should be on your list of places to visit if you are on a long weekend break even if it is just to admire the views over the river Douro.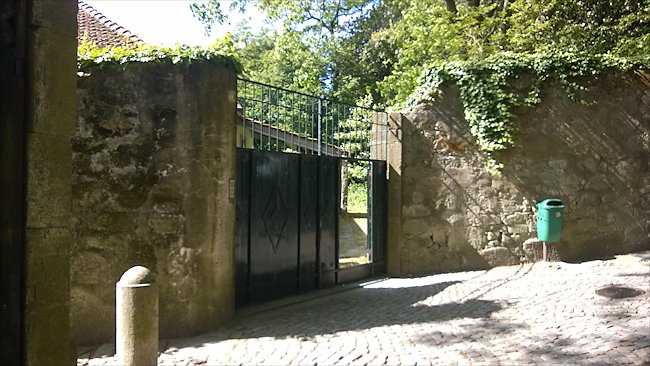 Entrance gate to the Casa Tait Gardens at 219 Rua de Entre-Quintas, Porto
Travel books