Porto Azulejos North African Moorish style tiles
Next to the Palace of Viscounts of Balsemao in the pear shaped piazza called Praca de Carlos Alberto you will find the bank of materials (Banco de Materials). It looks like a shop that sells tiles and architectural stucco plaster moulds the decorating the historic town houses of Porto. This shop is different. It is owned by Porto city council and gives away its stock for free if the customer meets certain requirements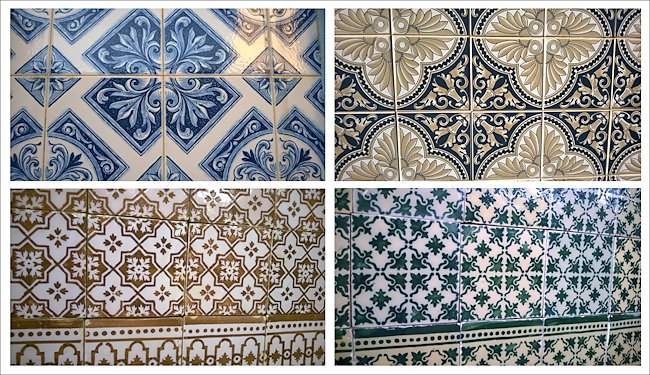 A selection of Porto Azulejos North African Moorish style tiles
As you walk around Porto you will find many of the old houses in a state of disrepair. Lots of the houses are being restored to their original elegance condition but that takes money. Some of the houses are too decrepit to be rebuilt. Some are knocked down to make way for modern buildings. In these cases the council salvages the old interior and exterior tiles, plasterwork, and carved stonework. They are then stored in the 'Bank of Materials'.
If you are a resident of Porto and own one of these old houses, you can apply to the council to be given free of charge replacement materials to repair your house or hotel. You have to prove that the tiles, stonework or moulded plaster on your building matches the material kept by the council. If the government inspector confirms that there is a match you are given access to this old salvaged building material to help in your restoration project. What a fantastic idea. I wish more city councils were as generous and appreciative of their city's history as Porto's.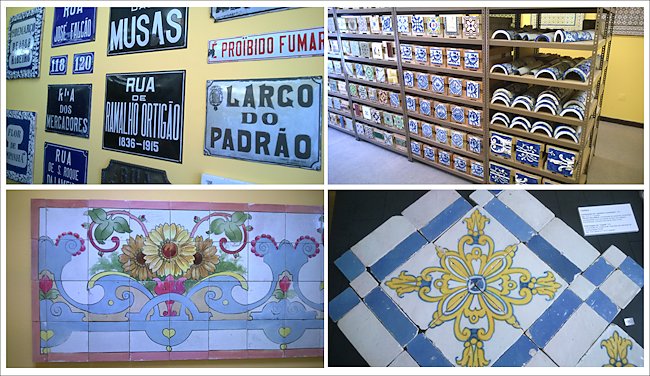 Old Porto Road signs and tiles
Visitors are allowed to look around the 'Bank of Materials' free of charge. There is a huge stock of Azulejos Moorish inspired decorative external and internal tiles with a variety of different patterns. One wall is full of old street signs. Another section has chunks of moulded stucco plaster work. Non-Porto residents are not allowed to buy any of the items on display. It is all designed to be used in the restoration of Porto's heritage.
Most people that visit Portugal and Porto do not realise that the 700 years it was occupied by the Muslim Moors from North Africa after the Romans left. Their influence can still be seen in Porto today. The artistry and craftsmanship of the Arabic world at this time far exceeded the Christian dark ages. Along with the invading Muslim army came the craftsmen who built ornately decorated palaces and villas throughout the Iberian Peninsula.
The word 'Azulejos' in has Arabic origins meaning polished stone. The North African tribes liked Roman mosaics. Their artists and potters designed larger slabs of thinly rolled clay onto which they painted crushed glass liquid slips in different designs, that when heated at very high temperatures produce ornate tiles.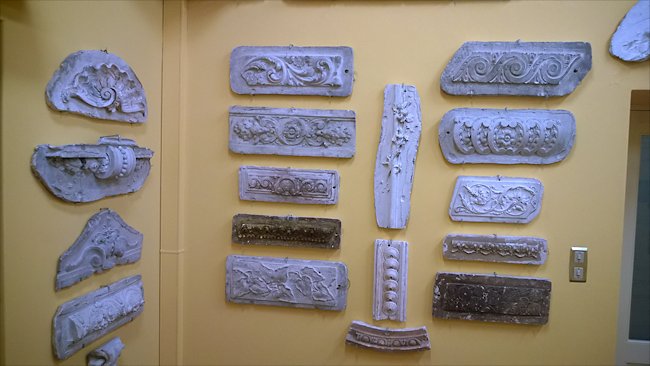 Examples of salvaged plaster work from knocked down houses in Porto
Early Muslim teachings frowned upon paintings that had human or animal topics. This is why the Azulejos tiles are mainly formed of interlocking curvilinear, geometric or floral designs. They were hard wearing and cool to the touch. They were used to cover external and internal walls as well as floors. As well as making a building look attractive they had the added bonus of preventing decay and keeping the internal temperature low during the summer.
Italian potters visited Spain and Portugal in the 1500s. They loved the tiles and expanded on the designs adding colours and images. By the 1600s the majority of the tiles used to decorate Porto's churches, cathedrals, government buildings and private residential properties were produced in Italian potteries.
Travel books