Ghent Groot Vleeshuis (Meat House) Groentenmarkt 7
I liked this long old grey stone and timber framed giant meat market hall. It operated as Ghent's central market for meat since medieval times until the end of the 19th century.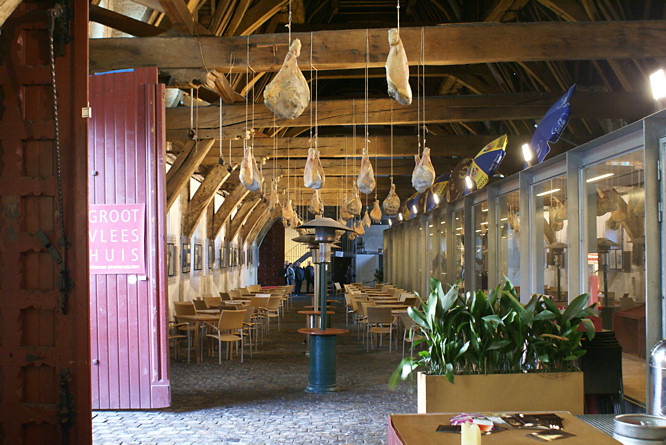 Today it has been turned into a large cafe with a few craft shops. To remind you of its meaty origins, inside hanging from the ceiling are giant hams. On the outside of the building you will find some flower shops.
The Groot Vleeshuis was designed by Gillis De Sutter and built between 1407 and 1419. Belgium meat houses were covered markets where the meat trade was centralised in order to check the meat's freshness and quality. City laws prohibited private sales at home. Sixteen 'tripe stalls' were built onto the south-eastern side of the Groot Vleeshuis between 1542 and 1543. For reasons of hygiene, these separate small shops had to be used for the sale of entrails, skin, and other remains from slaughtered animals.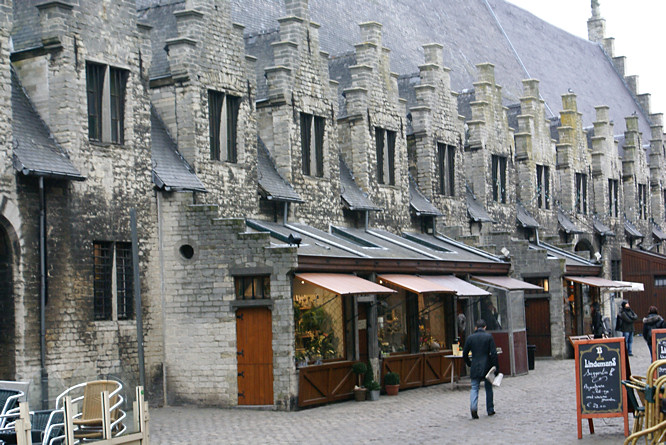 The Meat House - Groot Vleeshuis has a magnificent and remarkable old wooden truss roof. A chapel with three large pointed arch windows was constructed in the building between 1446 and 1448. The chapel contains a 15th century wall painting which depicts a church service. The ban on selling meat from your farm or home was lifted at the end of the 19th century. It's 400 year old reason to exist had disappeared. The Groot Vleeshuis Meat House was then used for a number of different purposes; it became a post office, storage depot, exhibition area, and a banquet hall in that order.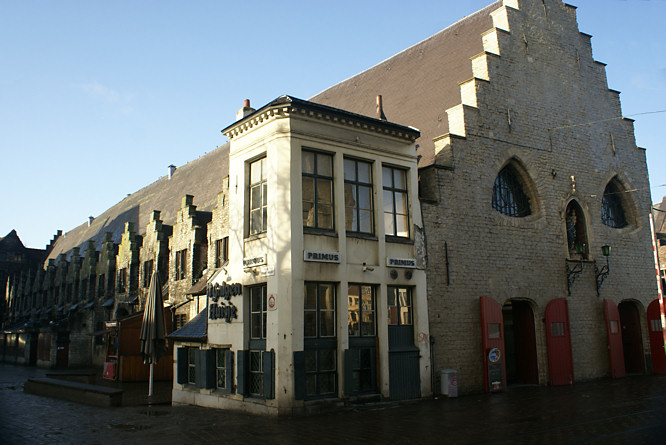 Belgium is difficult to understand for foreign visitors, this small country is divided in three regions: Flanders (Vlaanderen), Brussels and Wallonia (Wallonie). The people in Flanders speak Dutch (Flemish), Brussels is the bilingual capital and in Wallonia they speak French (in the east there is a German-speaking minority). There are 10 000 000 Belgians, 6000 000 are Flemish (60%), 3900 000 Walloon (39%) and 100 000 Germans (1%). There is a federal parliament but the three regions have also there own parliament.
The word Ghent derives from the Celtic word 'Ganda', which means a confluence of water ways. At Ghent, the Lys River joins the Schelde on its journey to the North Sea. Ghent's wealth comes from the ability of sea going merchant ships to load and unload goods in Ghent's inland port. The Gent merchants could then send produce inland via the river system and buy goods and raw material for export. As with many cities in Belgium, Ghent's canals are an important part of the city.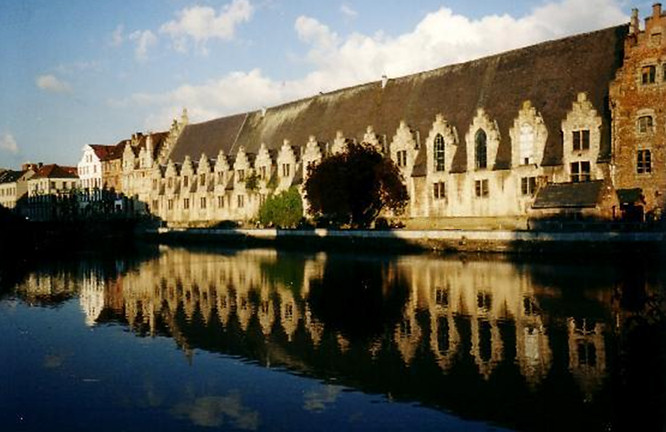 They were used for transporting goods and defence. The canal's influence can be seen in its layout and development. Ghent is a minor destination when compared to Brugge or Brussels. Although I would recommend you visit Ghent rather than Brussels as there is more to see. Ghent has its own ambiance. Good food and beer is easy to find. Ghent is small, compact and easy to walk. At night, the Ghent comes alive due to a large number of good restaurants that can be found in the city's attractive illuminated historic core.
Travel books