Sarlat-la-Caneda in Dordogne
When planning your holiday vacation in the Dordogne region of southern France aim to book a hotel, gite, cottage, holiday villa or house near the charming yellow sandstone large town of Sarlat-la-Caneda.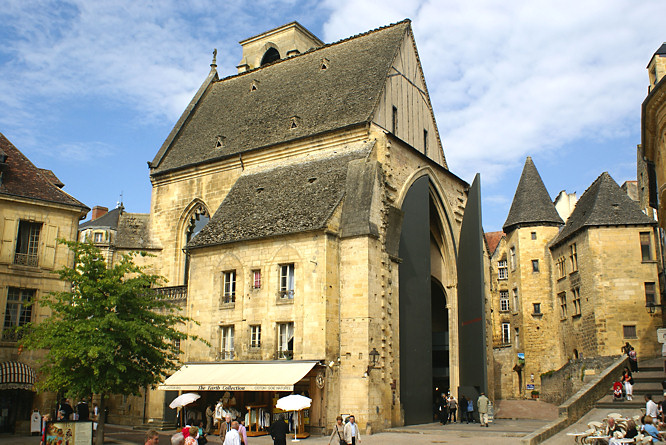 Make sure you enter the full title of the town into your cars satellite navigation equipment otherwise you may get sent to the wrong Sarlat. Sarlat-la-Caneda is magnificent. I would rate it ten out of ten. It is the sort of place you want to spend hours drinking coffee or a beer at one of the many street cafes to soak up the quant timeless atmosphere. It is one of those rare towns that you want to keep visiting again and again. The ancient buildings are made from local soft yellow sandstone that gives a warm glow to the streets.
The old town is in the shape of a circle. There is a main road that runs north south through the centre with modern shops. It is only when you walk down the side roads that you discover the hidden world of medieval Sarlat-la-Caneda. Zig-zagging cobbled streets run towards and around the main square Place de la liberte.
The old historic market town of Sarlat-la-Caneda is just north of the Dordogne River. In my opinion it is the most attractive large town in the Dordogne. It is the capital of the area called Black Perigord, It is an exceptionally well preserved city. Although it has one of the largest medieval urban areas (13th to 16th centuries) in the world, Sarlat cannot claim a very distant past. Records show it was only settled in the 8th century. The first Sarlat abbey was founded around 820 by Duke Pepin of Aquitaine.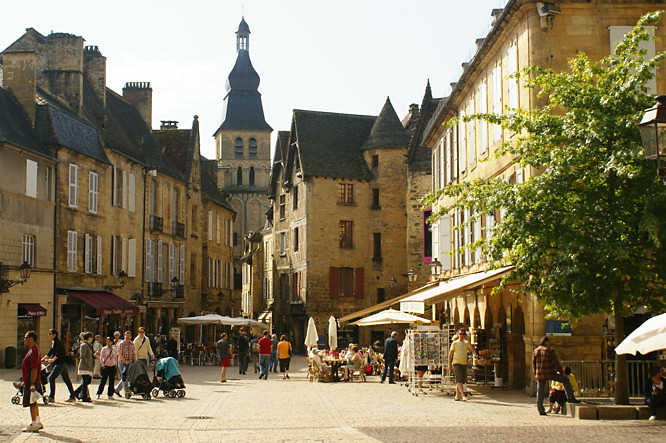 As with many places in the Dordogne it had to deal with the border wars between France and England during the Hundred Year War. England owned the land south of the river Dordogne whilst the French held the lands north of the river. Sarlat-la-Caneda was captured by the English but later recaptured by the French in 1360.
Henri IV of France gave orders for the cathedral of Saint-Sacerdos Sarlat-la-Caneda to be built. With the arrival of the railroad in the 18th century Sarlat started to grow and new industries arrived. The city has a large number of buildings registered as of historical interest. Because it is so attractive Sarlat is regularly used as a location for the film and TV crews to use for their latest project. Try to walk around in the evening when the town is lit and has a very romantic atmosphere. The crowds tend to be lighter and yet many shops will remain open.
Travel books