Bangkok Wat Benchamabophit the Marble Temple
Add this temple to your 'Bankok places to visit' list. The Wat Benchamabophit Marble temple has a canal running through the middle of its grounds with attractive red ochre bridges over the water.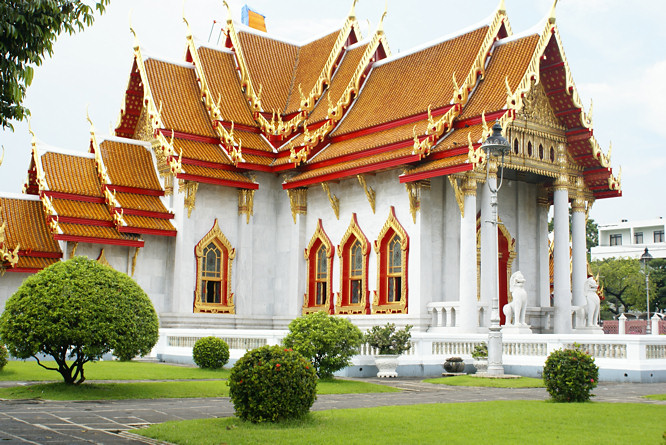 The lush green tree lined river banks contrast with the brightly coloured pagodas with steps down to the water to ease access into boats. It is a hidden gem not on most guidebook lists. It is one of Bangkok's more modern temples. It is strikingly exquisite with unique features.
Wat Benchamabophit is a Buddhist temple in the Dusit district of Bangkok in Thailand. It also goes by the name of the Marble Temple because of the construction material used to make the main temple. It is a very attractive, visually pleasing temple.
It is a very attractive, visually pleasing temple. The plain white Italian carrara marble walls contrast with the highly colourful ornate windows and roof. Construction of the temple began in 1899 on orders of the King Rama V. his ashes are buried beneath the main Buddha statue. In the gallery surrounding the ordination hall are 52 Buddha statues.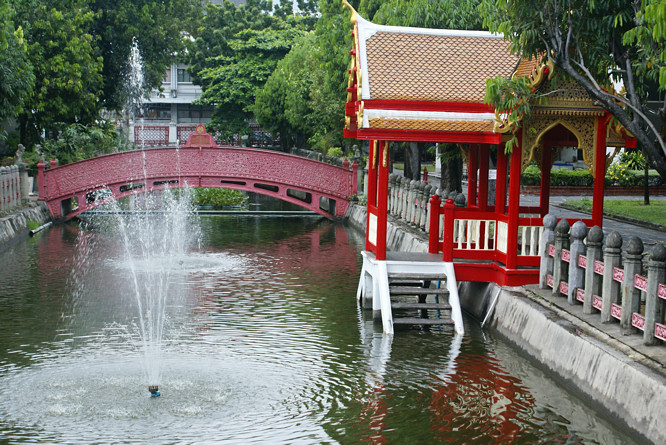 Wat Benchamabophit means temple of the fifth King not marble temple. Opening hours are 8am to 5.30pm. You will find Wat Benchamabophit the Marble Temple on the Thanon Si Ayutthaya road near the junction with Thanon Rama V road. It is north east of the old Bangkok City and the grand palace complex. The temple was designed by the king's half brother Prince Narris. Behind the cloister is a large Bodhi Tree, bought as a gift for King Rama V from Bod Gaya, the place of Buddha's enlightenment.
There are fountains, water features and benches in the temple garden. Just to sit down and enjoy the beauty of the place. There is a small refreshment kiosk in the main gate house where you can stock up on cold drinks. Because it is just off the tourist trail, you will also find that this place is not as crowded as many of the others which is very welcome.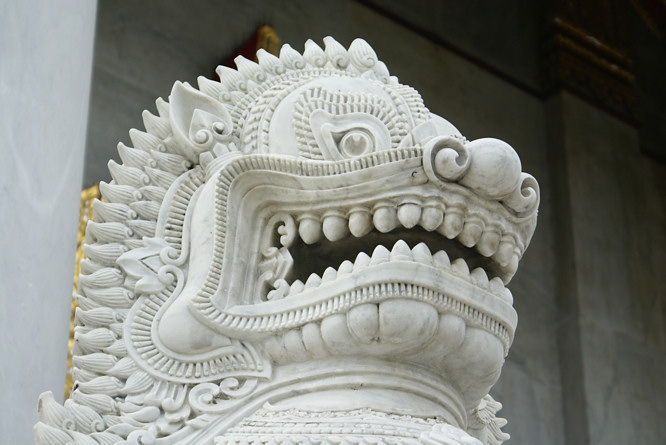 Travel books