Bangkok day trips - Damnoen Saduak Floating Market
About 68 miles 110km west of Bangkok along a network of canals is the famous Damnoen Saduak Floating Market. It is open every morning from 7am to 12.30pm. The Floating market is totally chaotic. These narrow canals are filled with small flat boats trying to get the best position to sell their wears.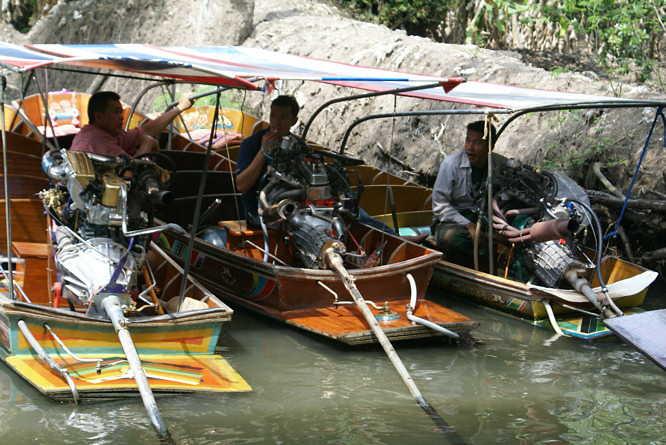 They are mainly expertly paddled by mature ladies who are ready to stop and bargain at a moment's notice. It's colourful, noisy, and very touristy. If you are on a budget you can take the bus from Bangkok Sothern Terminal to Samut Sangkhram in Ratchaburi province and then walk along the passageway to the market or hire a boat to the market pier
If you want to travel in more comfort then book a seat on one of the many day trips that collect tourists from their hotels. They are not cheap. Just ask at the reception desk. If you do not want to be part of the herd then hire a limousine and drive for the day and ask him to take you to the Damnoen Saduak Floating Market. Check that the hire of the boat is included in the price.
If not you will have to take that into consideration as the only way to see the market is on the water. Always haggle to get the best price. Agree the price before you go and write it down to confirm what has been agreed in case of any problems later.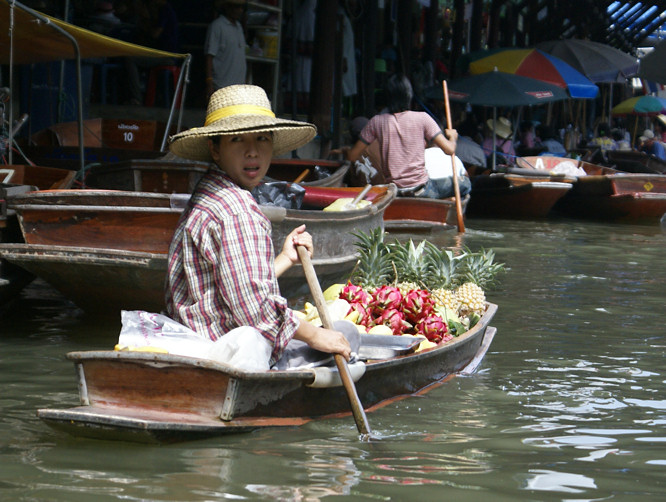 Thai Salt Farming
As you head out of Bangkok towards the Floating market you drive over the reclaimed flat saltwater marshes. I thought that the rectangular water filled or light brown muddy fields were rice paddy fields. Our driver soon corrected me when I asked him. No these embanked fields were part of a salt farm. Saltwater is pumped into them and then left to dry.
They use small thin stick like six spoked windmills to provide the power. The triangular blue sails are rolled up around each spoke when not in use. A long pole is placed over the width of the field. It has paddles along its length. When it is turned by wind power it moves the water. You will start to notice small makeshift stalls along the road all selling bags of salt. In the fields you will see small carts that have rollers on them instead of wheels. This is used to compress the salt.
Fruit and Nuts
Also along the side of the road you will see orchards of Mango trees. The trees have a darker curled leaf compared with other trees and you can see the green Mango fruit hanging down. As you get closer to the floating market the land use changes and the farming land use becomes more intense and tropical. There are hundreds of banana and coconut trees grown.
Some you can see in irrigated plantations and others can be found on their own. If you look carefully you may see Pineapple plantations. The roadside market stalls now sell fruit instead of salt. You will see piles of coconuts for sale as well as their husks. The husk are a by-product of the fruit and nut farming but are used to make craft items like doormats as well as a soil conditioner.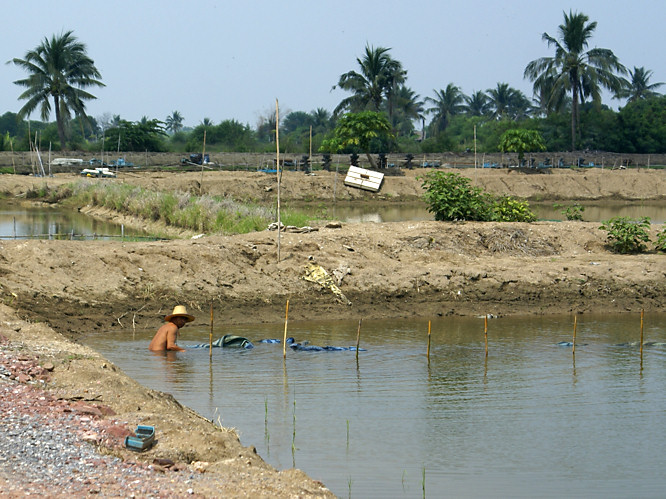 Fish and Shrimp Farming
As you get more in land you will see rectangular banked ponds. At first I thought that they were rice paddies but again our driver corrected me. They were fish and shrimp ponds. There were pumps that rotated a pole with paddles on it so as to oxygenate the water. The farmers have problems with birds like the egret that like to eat a free fish and shrimp lunch. As a defence against these thieves the farmers have erected scarecrows on sticks and place them on the banks and in the water. It looks very strange not to see them crop fields.
Travel books