Bangkok Khlong Canal Water buses
I great fun touring the rings of defensive canals in Bangkok on the fast canal water buses. The Bangkok canals are called Khlongs. They are smaller than the main Chao Phraya river express water buses. They are also lower in height as they have to fit in Chao Phraya under low bridges.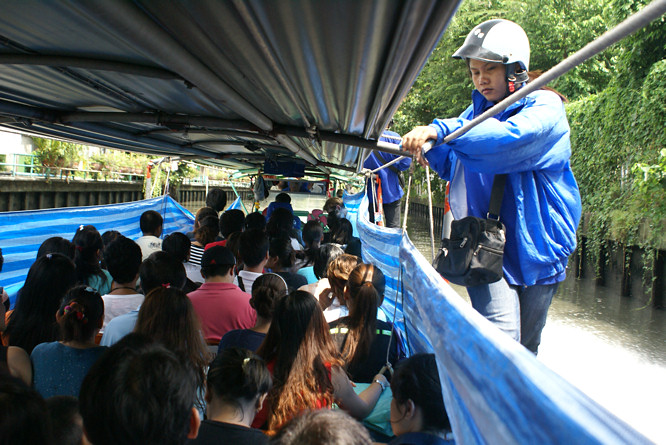 The conductors travel on the outside of the boats and all wear crash helmets in case they bang their heads on the bridges. They travel at a fast rate of knots. They are exhilarating. I could not work out why these boats were fitted with canvas and plastic sheets up at the chest height. Was it to try and keep the sun off the passengers? No it is to try and keep them dry from the spray as the boat speeds along.
West of the Royal Grand Palace is there is a long canal the runs west to east called the Khlong Saen Saeb. It runs through central Thailand, connecting the main Bangkok Chao Phraya River to Prachin Buri and Chachoengsao. The Canal express water bus boat service is best caught near the major road bridge over the canal at the junction of the Thanon Lan Luang road with Thanon Bonphat road. The canal is lined with concrete walkways on either side.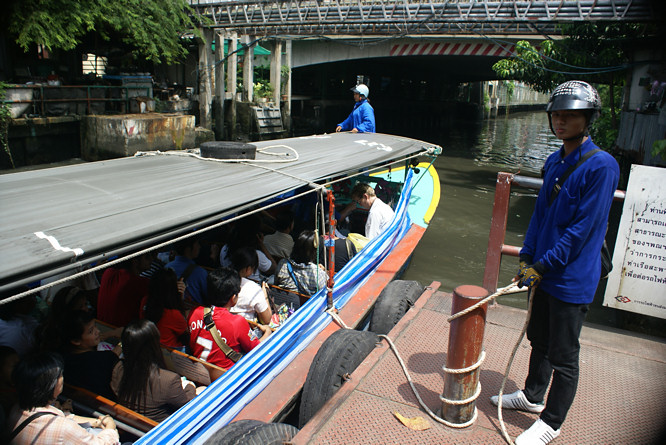 The views are not the most attractive, You mainly see the backs of houses and business premises. The canal is connected to many other canals in a large network, though most of the other canals do not have a regular transport service. The reason for using the canal express water bus service apart from the pure fun of getting on the boat, is to visit some of the sites along the route.
The most famous is the Jim Thompsons Silk Museum on the Soi Kasem San 2 road. The canal express water bus stop is called Ban Krua Hua Pier. You walk about 100 miters down the side of the river to the entrance. Follow the signs. Underneath the Prince Palace Hotel on the banks of the Khlong Saen Saeb canal near the Thanon Damrong Rak road is a wholesale clothing market.
I came away with ten shirts. Remember to haggle to get a good price. It has its own canal boat pier. The Hotel has a wonderful roof top bar and pool with great views over the city. Each canal has its own charm, but Klong Bangkok Noi (the former Chao Phraya River) is the most popular because it offers a constantly changing view of life along the klong.
Travel books