Carmel-by-the-Sea California
I like Carmel. It has class. It is an attractive seaside up market town south along the coast from San Francisco. Carmel town centre is along Ocean Avenue, just one mile from Highway 1. It is about half a mile from Carmel beach. This area is packed full of expensive shops, restaurants, boutique hotels, all with a very quaint European feel. Carmel has always been known for its art, and the downtown area has dozens of galleries.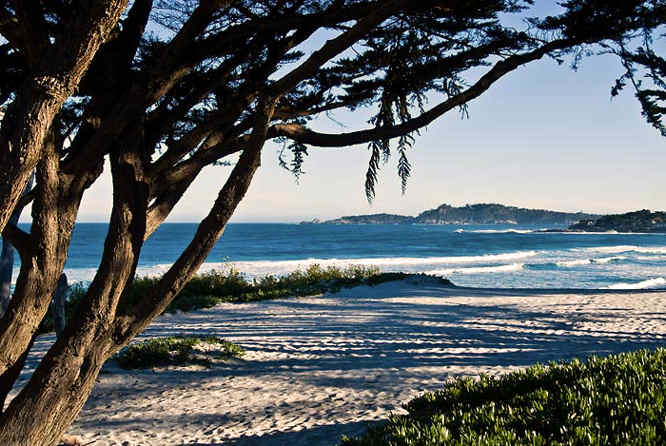 It has many famous residents. It is one of the 'in' places to live. Clint Eastwood used to be mayor. He owns an old bar called the Hogsbreath Inn, as well as the Jack London Inn, the Flying Fish Grill, Tommy's Wok, Katy's Place, A.W. Shucks Oyster Bar, Brophy's Tavern, and numerous shops and galleries.
Carmel-by-sea has some stunning beach-side ocean-view cottages. As the area is so desirable property prices are in the multi-million dollar range. One of the most famous is Tor House, located at 26304 Ocean View Avenue. The house was built by poet Robinson Jeffers in 1918-1919. The attached Hawk Tower was built from 1920 to 1924. Other famous turn of the century houses include The First Murphy House (1902; now a Visitors' Center), the Tuck Box Tea House (1927) and the Hansel House (1924).
The beach houses in Carmel have been restored, expanded, and otherwise enhanced from the tiny bungalows of the 1930's to modern works of art. Go to the beach and turn left. The street is one way, and plenty of places are available to pull over or you can walk along the beach. Cyprus trees can't be cut down, but rather must be built around and protected at the root base during construction work.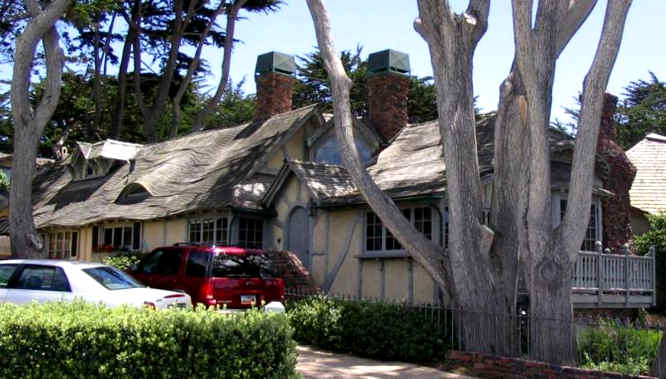 What makes Carmel Beach special is that it is surrounded by a Monterey Pine and twisted Cypress tree forest. It is great to walk on the beach and sink your toes in the soft white sand. It has clean crystal blue water but be warned it is colder than the beaches of Southern California. Heavy fog is quite common in the summer and that the best bet for clear sunny weather is to visit in the Fall.
The Carmel Mission
A 'Mission' is the name given to the small Spanish church and monasteries that can be found along the Californian coast. In 1769 the Spanish priest Father Junipero Serra set off on an expedition with Gaspar de Portola to found missions in New Spain (California). His main motivation was to Christianize the natives and to make them loyal subjects of Spain. San Carlos Borromeo de Carmelo Mission in Carmel-by-sea is the 2nd in a chain of 21 missions located along the El Camino Real (the Royal Hwy in Spanish) from San Diego to Sonoma.
They are spaced about 30 miles apart from each other or 1 days journey on foot or horseback. The Mission in Carmel was Father Serras favorite. He served as Presidente of the Missions there, died there and is buried there under the floor of the church. The Mission was founded in 1770 and is one of the oldest Spanish styled buildings in California.
The grounds are very peaceful. They overlook the sea. Tours are given as well as self-guided tours of the entire grounds. There is a beautiful garden full of flowers beside the church and many of the building walls have Bougainville climbing up them. We spent about 45 minutes walking around the church, school, gardens, and cemetery. The Mission is at 3080 Rio Road, Carmel, CA www.carmelmisson.org
17 mile scenic drive
The famous 17 mile drive is a private toll road and is located throughout the Pebble Beach and Del Monte Forest area of Carmel. The area includes some famous golf courses, such as the Pebble Beach Golf Links, The Links at Spanish Bay and Spyglass Hill Golf Course. There are many stopping places where you can take photographs of the attractive coastal views including one of California's most photographed trees, the Lone Cypress.
There is a very slow 15 miles speed limit along sections of the road. If you are lucky you may see some wildlife. It is a lovely place to drive through. Although on the map it is only 17 miles it will take at least 2 hours with all the stops. Each visitor receives a small map that points out some of the more scenic spots.
Wine tasting in Carmel
Chateau Julien winery is one of the only operating wineries that gives tours in the Carmel Valley. The Chateau Julien Wine Estate is at 8940 Carmel Valley Road. Get a taxi into the Carmel Valley so you can drink and not worry about losing your driving licence. Arrange for a return pick up. Take this FREE tour and sample great wines.
You can buy them at the end of the tour. These are the sort of wines that are only sold to fine restaurants. They are not sold in grocery stores. Dress for a warm day because the weather in the valley can be cooler than that in Carmel-By-The-Sea. www.chateaujulien.com
Pebble beach
If you want a cheap and easy way to see some of Pebble Beach you can walk from Carmel Beach north just a few hundred yards to Pebble Beach. It's a beautiful walk along with water, and it allows you to avoid the vehicle entry fee along the 17 Mile Drive. The walk takes you along the Pebble Beach Golf Links. If you go to Pacific Grove on the north side of Pebble Beach, you can walk from Asilomar Beach to the Links at Spanish Bay.
Keep a look out for seabirds, sea lions, otters, and whales. In the 1970s 20th Century Fox took ownership of Pebble Beach before selling to a Japanese businessman in 1990. In 1999 Clint Eastwood, Arnold Palmer, and Peter Ueberroth led a group of investors who purchased Pebble Beach, intending to further develop the area. Famous Pebble Beach homeowners include Paris Hilton, George Lopez, and Tiger Woods. www.pebblebeach.com
Point Lobos State Reserve
On my many trips to America over the years I learnt that if you see a sign post to a state park they are normally worth a detour. Point Lobos State reserve dose not disappoint. The trails are very well marked and the terrain is easy. We passed a number of older people enjoying a nice stroll on the paths. There were plenty of picnic areas and toilets (which were quite clean).
The trails take you past cliffs and lagoons, through fields and across sandstone shorelines. It's exquisite. You can choose how far you'd like to walk, from a few yards to over five miles. Wildlife is everywhere, we saw sea otters and harbor seals, ground squirrels and lots of sea birds. If you'd like to save a few dollars, park outside the gates to the State Park and walk in. It's only an extra quarter or half mile to the shore and the trails come right out to the roadside. The entrance is located three miles south of Carmel on Highway 1, a short 5 minute drive from Carmel
See wildlife whilst you eat
Drive further south down to Big Sur and stop at Ventana Inn and restaurant. Ask for a table on the patio as they have the best views of the Pacific Ocean and the mountains. On our last visit we saw whales migrating and a mountain lion. The wildlife is not guaranteed but a good quality meal is.
Travel books