The main square in Marrakech - Place Jemaa-el-fna
As you wander around the main square in Marrakech you will find there are different zones. The area in front of the big bank and small police station is snake and monkey country. If you hate the idea of any of these animals being put around your neck stay clear and walk around the edge of the square.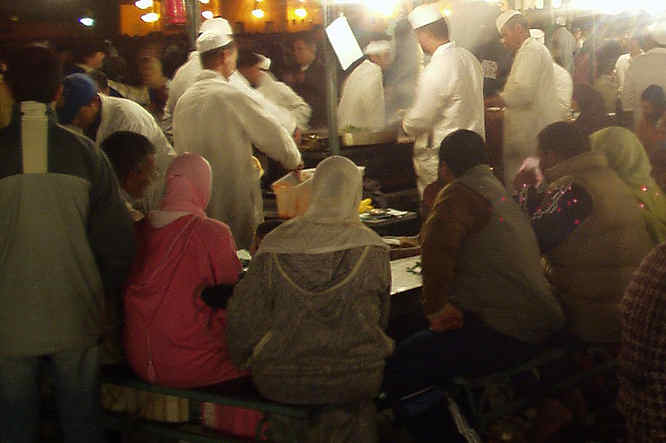 Large crowds will gather to watch some of the dancers, acrobats, musicians and theatrical shows. You will be expected to pay money. Watch your bags and wallets as pick pockets love crowds, handbags and rucksacks. Wear your rucksack to the front rather than on your back. Never put property in your back pockets.
At night in the centre of the Marrakech main square are the food stalls with rows of benches in front of open barbeques and hot plates. The food is all freshly cooked and safe to eat. You will see all the steam and smoke rising up into the sky being illuminated by the bright light bulbs. Each stall has is own sales time that actively hunts new customers. They will stop and invite you to eat at their establishment.
The best way to get rid of them is to say 'later'. When you decide on the stall you like the look of just sit down at one of the benches. You will be given a number of standard small dishes even before your order; Moroccan bread, chips, vegetables, olives and a mild chopped tomato and herb dip. Ask for the menu and choose you main dish from meat or vegetable tagine and cuscus, sausages or fish. If there is a problem with local beggars just bring it to the attention of the staff and they will chase them away.
Notice that a lot of the beggars have mobile phones and are wearing designer clothes with expensive trainers. At the eastern end of the food stalls you will find a row of stalls selling snail soup and snails with bread. Behind them you will find another row of fresh fantastic orange juice sellers in between the nut and date merchants.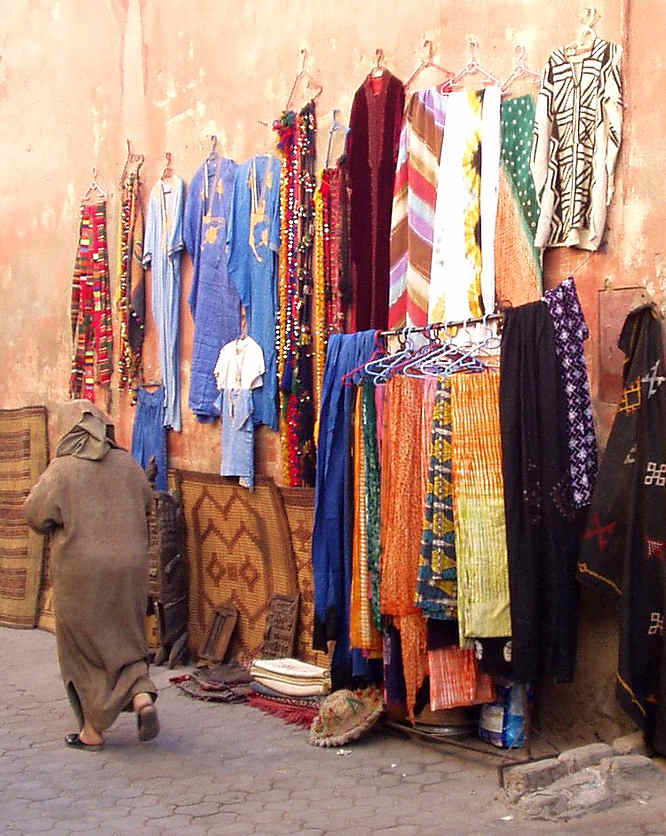 Taking photos of the locals
The whole city is a frustrating photographer's paradise. Be careful what you are photographing. Musicians, snake charmers, water sellers, storytellers, Dentists displaying heaps of teeth, monkey owners, acrobats and shopkeepers will demand money if they see you taking a photograph of them or if they think that they will be in it. Try to have a pocket of change.
They will ask a high price like 200dh give them 5 - 10dh. They will protest but just walk away with a smile and mime that you do not have any more money. Pulling out the lining of a pocket and a shrug of your shoulder works well. Taking photographs of local Muslim woman can cause offence. If they are with a male relative you could be on the receiving end of hostile abuse that could end in violence and a smashed camera.
You are in a Muslim country. Respect their ways. You might have to be patient, to get that uninterrupted photograph depending on how busy the location is. Use a polarised filter to bring out the blue of the sky.
travel books