Valencia Spanish City Break
Most of the buildings outside the centre of Valencia are ugly colourless apartment buildings. There is a lot of graffiti and some parts of the city look like a building site where the workers went home three years ago and forgot to return.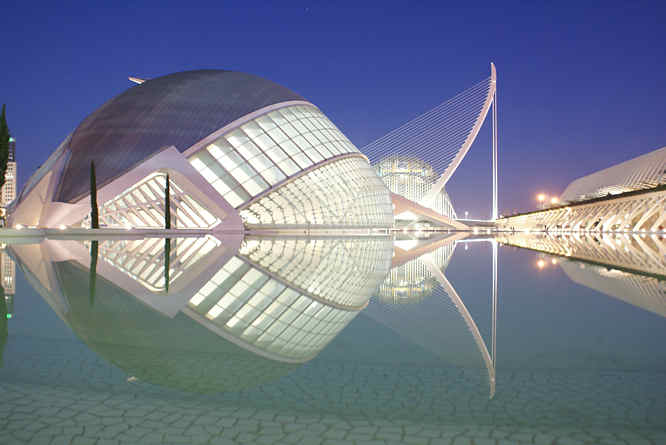 The landscape is flat and there is a lot of industry, but do not panic. The whole city is not like this. The centre of Valencia is stunning which contrasts significantly with the ugly high rise blocks of the suburbs. It also has some very interesting futuristic new buildings and a fine beach. The city of Valencia is a great place for a weekend city break. The above photograph is of the Hemisferic the planitarium.
The Medieval and Roman urban grid of streets with winding narrow lanes provide shadow and shelter from the heat of the torrid Valencian Summers. It is easy to get lost in this labyrinth. You will find beautifully renovated palaces, posh stores, charming squares, and restaurants with character, trendy and busy bars, but be prepared, you will also see decrepit, shabby areas and dilapidated places.
People in Valencia speak two languages: Spanish and a dialect of Catalan known as Valencian. You will notice this reflected in the street signs as they are bi-lingual. The most traditional zone for shopping in Valencia is in the southern part of the historic centre, along the streets of Colon, Roger de Lauria, Don Juan de Austria, Poeta Querol, Barcas, Pintor Sorolla, Cirilo Amoros.
Valencia is Spain's 3rd largest city and has an outstanding fiesta and festival scene that rivals the south! The best time of year to come is in mid-March for the Las Fallas festival where they build giant paper mache dolls, light giant bonfires and set off fireworks. It is a little bit like Britain's bonfire night but bigger and lots more fun. If you are going for a weekend break remember that as this is a catholic country most shops are closed on Sunday.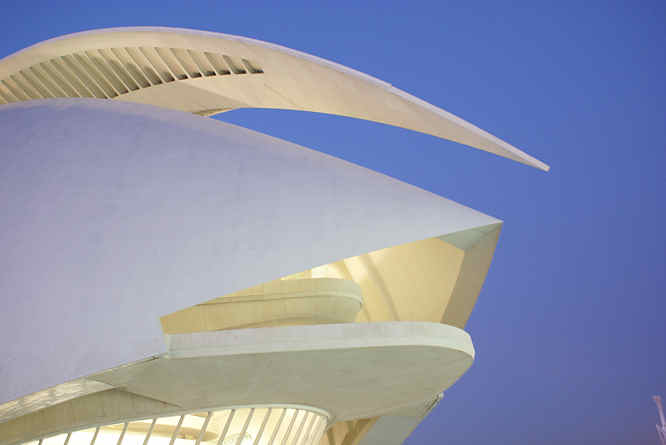 Plan to do you shopping on Saturday. Many of the Museums close on Monday so check the internet to find opening days. Also remember that many shops and museums close for a long siesta lunch break of at least 2 hours normally between 14.00 -1600. If you are going to look around the many churches make sure you dress appropriately. No exposed shoulders and very short skirts or shorts.
Valencia City of Arts & Sciences
City of Arts and Sciences The highlight of any trip to Valencia must be a visit to the new 'City of Arts & Sciences'. It has been built on the old dried up river bed. The local council wanted to build a complex that was as iconic as the Sydney opera house to help give the city an identity and improve tourism. They have succeeded. It was one of the main reasons I chose to visit Valencia. I wanted to see these beautiful stunning modern buildings.
It is located to the east of the old city just before the port. It consists of spectacular looking white buildings surrounded by large pools of turquoise water. You must see the buildings during the day time and then return to see them flood lit at night. The centres attractions are based around 3 themes: art, science and nature.
They cost a lot of money to build so unfortunately the ticket prices are expensive. Because of these high prices ticket touts are trying to make money from unsuspecting tourists. Do not get conned. Only buy tickets from the ticket offices. If you are approached out side and asked to buy an unwanted ticket at a reduced price don't. It is a forgery. Their website is www.cac.es
Valencia City of Arts & Sciences - Palau de les Arts Reina Sofia - Queen Sofia's Palace of the Arts
This magnificent majestic building looks like a Starwars storm trooper's helmet. It contains four concert halls for Opera, dance, theatre and music events.
Photo tips
The best time to take daylight photographs of the buildings of the city of arts and science is in the morning. In the afternoon as the sun sets behind tall tower blocks which cast shadows over some of the buildings. If you want to take night photographs like mine, aim to be their just as it gets dark. If you leave it any later the sky will be black rather than dark blue. You will have to keep your camera perfectly still as the exposures are long. Any movement will blur the photograph. Holding the camera in your hand will not work. I did not take my tripod so I put the camera on the floor and set the 2 second timer. The pictures turned out much better than I could have hoped.
Travel books