Wimbledon Lawn Tennis Championship Guide
WARNING. Please do not buy tickets from people that approach you in the street. The tickets they are selling may be forgeries. These ticket touts will also charge you a high price for something that it is worthless.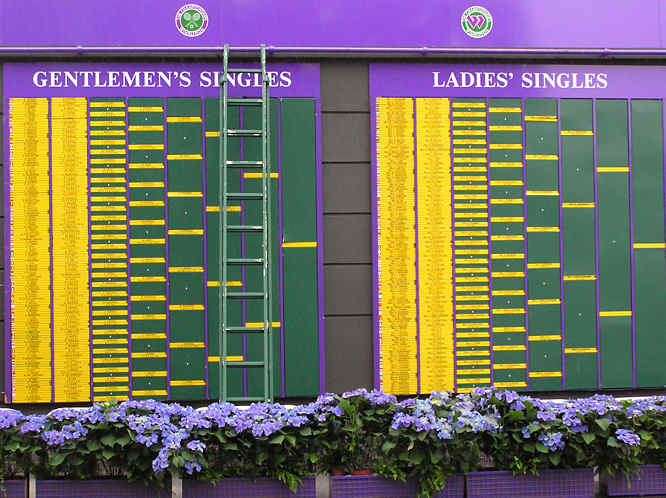 They will say they are the real thing but you will be refused entry as the tickets you will be given will not have the correct built in security systems on them. Undercover Police officers work in the area and target ticket touts.
If you stop to talk to the ticket touts you may get involved in an arrest which could turn out to be violent as the touts try to get away. Please be warned that genuine tickets are not transferable and cannot be resold.
Unless you are lucky in the Wimbledon Tennis ticket ballot or lottery you will have to face the queue. Be prepared to line up for a long time. Wimbledon is very popular and the lines can be very big. Some enthusiasts start queuing for tickets two days prior to their release. They camp over night in the street. The Queue normally officially opens at 8am on Sunday before the tournament begins. If you plan on joining the line on the morning of the event, it is very important to get there several hours before the grounds open for the best chance of getting in. There is no way of holding places for friends. You will be given a card, which is dated and takes note of your position in the line. Wimbledon's queue organisation is run in military-style. Only one card is handed out per person.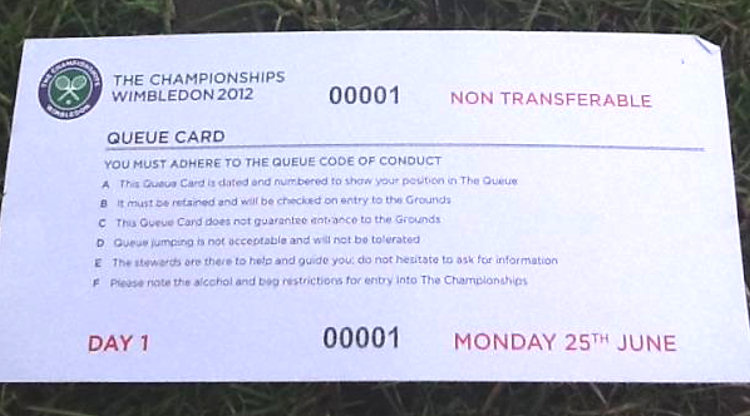 Each morning at around 7.30am the stewards will issue wristbands to those towards the front of the line who are looking for show court tickets - the amount distributed will match the number available for each court on that specific day. There are approximately 6,000 ground passes will be available at the turnstiles each day along with roughly 500 No.1 Court tickets, and for the first nine days of the Championships 500 tickets for both Centre Court and No.2 Court will also be put aside.
Fans will start to see their efforts pay off when the gates open at 9.30am and the queue starts moving, although access to the majority of the grounds will be limited until 10.30am. Once the capacity is reached people will be admitted on a 'one in, one out' basis. Make sure you have enough cash to pay for your tickets as the Championship organisers do not like credit cards as it slows down the entry system.
You can be refused entry to Wimbledon Tennis even though you have tickets, if you arrive drunk or refuse to be searched. In the interests of security all bags will be searched by security guards at the gates. Please do no leave packages unattended around the ground as this may cause security alerts and result in the interruption of play. You can also be told to leave the stands if you are seen to be consuming alcohol. You will be arrested by police if you become abusive to staff or found to be carrying an offensive weapon. It is illegal to carry a mace spray or flick knife in Britain.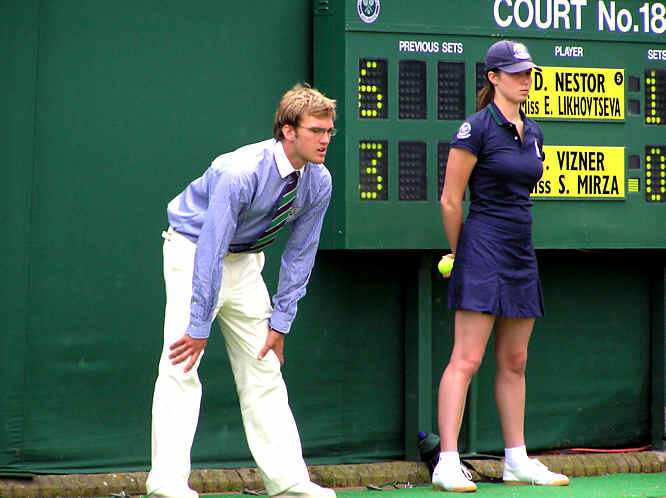 You can also be arrested for carrying a folding pen knife that is over three inches. The staff at Wimbledon Tennis are hot on finding weapons due to the incident that occurred in the 1993 when a Monica Seles was stabbed during a quarter-final match in Hamburg. Picnic hampers and other large bags are not allowed in the stands and should be left at a the left luggage kiosk facility where you can leave coats, umbrellas, picnic hampers etc. for a small charge per item.
Plan for the British Weather
Remember you are going to Wimbledon Tennis in the middle of a British Summer so bring a raincoat and umbrella. You should also pack a sun hat, sun block and lots of water. You are not allowed to use barbeques after dark. Do not ride a bike to Wimbledon Tennis and expect to chain it up to railings near to the Tennis. Your lock will be cut and your bike will be removed by police. Terrorists have used bikes as bombs in the past. They have stuffed the inside of the bike frame with explosives.
Photography rules
Please do not use flash photography when watching the tennis action from the stands. You will be asked to leave if you carry on. You must turn off the automatic flash on your camera before you use it. If the light quality is getting low and you still want to take photographs invest in a 'Monopod'. A tripod is to big. You can use a monopod when sitting in the stands. It will help reduce camera shake. They are not that expensive and fold down to a small size that will fit in a handbag or rucksack. Photographs (still or motion) taken inside the grounds may only be used for private not commercial purposes.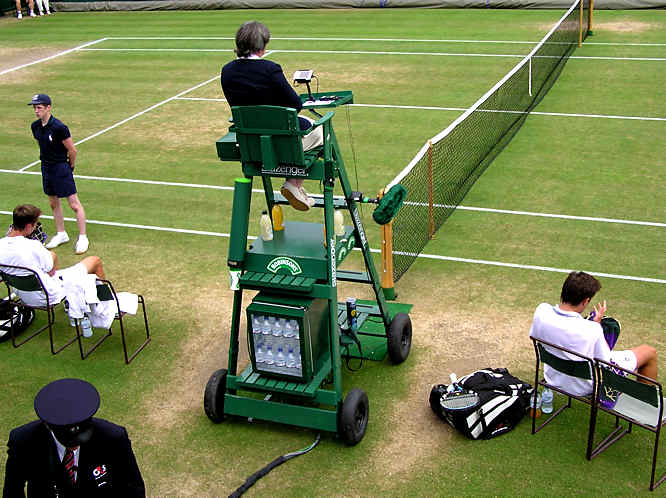 Cash Machines
If you need money to pay for your Strawberries and Cream treat you will find a Bank Situated just to the south of Gate 3. It is open every day of the tennis tournament. There is an ATM automatic till machine inside the Bank. If you need toiletries, pharmaceuticals, photographic film or memory discs they are available from the kiosk in No.1 Court (Level 1) near Gate 2. If you have an accident or feel ill the St. Johns Ambulance Brigade runs six first aid posts.
Children at Wimbledon Tennis
If you have a baby in arms with you they will be allowed into the Wimbledon Tennis Championships grounds free but NOT into any of the show courts (Centre Court and No.1 Court and Courts 2, 3, 13 and 18). If your child is 5 years and over they will be charged at the full rate. An adult must accompany children under the age of 12. If you lose any items of property go to the Wimbledon Tennis lost property office. It is situated under No.2 Court West stand - near Gate 13. If you need to phone them their number is telephone enquiries 020 8971 2251.
Switch off your phone
You must switch off all mobile phones and pagers in the stands and around the courts so as you do not disturb the players. There are public phones. They are located inside the ground near Gates 4 and 13, in the No.1 Court. They are also outside the grounds near Gate 9 and in Marryat Rd.
Wimbledon Lawn Tennis Museum
Something you should not miss is the Wimbledon Lawn Tennis Museum which is situated near the Tea Lawn. It is open all year round. The Museum has its own shop. The profits from the official Wimbledon Tennis range of gifts and souvenirs go towards the further development of lawn tennis in Great Britain.
The order of play board
If you want to find out the daily Order of Play and results you will find them displayed in the piazza inside Gate 3 by the turnstile entrance. It is also displayed outside the Debenture Holders' Lounge at the north side of Centre Court. There are scoreboards showing point by point scores for matches on Centre and No.1 Courts. They are located on the south concourse, outside the No.1 Courts and opposite the gate. There are television screens showing up to date scores, results and other public information located at various points around the ground. If you need to leave and then re-enter the grounds a ticket and hand stamp or a ticket and wristband are required. Hand stamping is available at most gates.
Theft
Always keep an eye on your belongings. Do not leave bags on the back of chairs or on the floor under tables. If you need police you can go to the Metropolitan Police office is located in the North Hall of Centre Court. Outside the main entrance on the other side of the road in the park there is a large temporary Police complex where you can also get assistance. You will find a lot of police on patrol inside and outside the grounds.
The ticket red box
Please do not buy tickets from touts. Place your seat ticket in a red box, for sale on behalf of charity, as you depart the ground. Please be warned that your tickets are not transferable.
Wheelchairs and dogs
If you are a wheelchair users you will find that most areas of the ground are accessible. There are suitably equipped toilets in the main halls of the No.1 Court, in the south west Hall of Centre Court, at the north of Centre Court beside the Debenture Holders' building, and near the Water Tower behind Court 13. Only guide dogs are allowed inside the grounds.
Ticket resale
The ticket resale kiosk at Wimbledon Tennis Championships, London SW19 offers a great chance for those visitors with only ground pass tickets to reward themselves after a day of jostling for a good view on the outside courts. If fans with tickets for the show courts leave before the end of play, their tickets can be resold to those within the grounds at a fraction of the face value. All proceeds are donated to various charities.
Wimbledon tennis books