Uda Walawe National Park Lakes
Uda Walawe National Park in Sri Lanka is full of elephants. This is the place to go on safari to see them. They are attracted by the abundant supply or water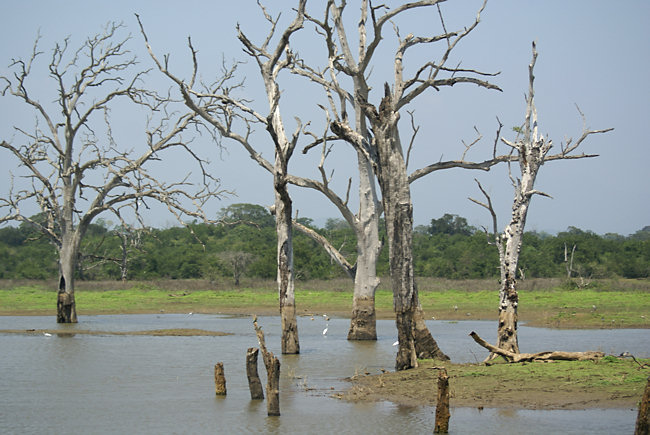 Uda Walawe National Park Lakes with flooded trees in Sri Lanka
Uda Walawe National Park is an important habitat because of the large reservoir at its centre for water and wading birds as well as the famous Asian Elephants. The dead trees that stand sentinel out of the water are reminders that this land was once forested before the dam was built. The attractive landscape you are seeing, although it appears natural, is in fact man made.
The trees provide ideal perches for birds of prey and water fowl. You will find marshes, grassland, beach and forest surrounding the Uda Walawe reservoir. The Sri Lankan National Park service data has recorded 21 different fish species in the reservoir. They have identified 43 mammals, 33 different reptiles and 12 species of amphibians living in the park.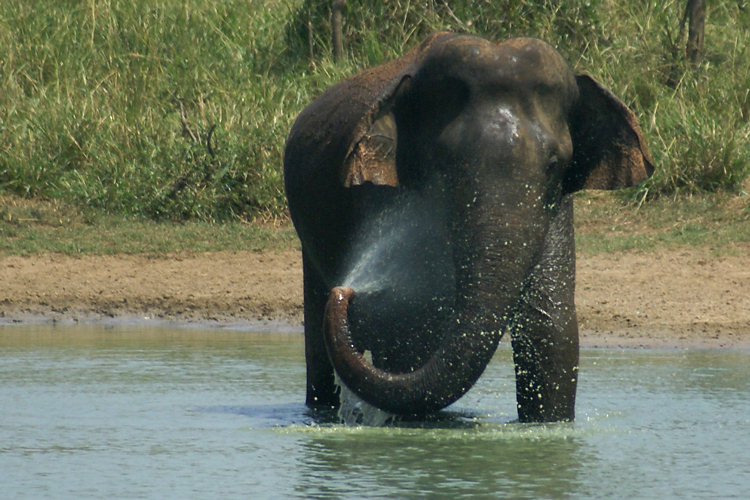 An Aisan Elephant enjoying the water in Uda Walawe National Park in Sri Lanka
There are over 250 elephants in Udawalawe National Park attracted by the easy of access to water. Most of the terrain is open rather than dense bush that you can find in Yala National Park so spotting elephants is a lot easier. In Yala National Park I have been ten feet away from an elephant that is immersed in dense brush and did not notice he was there. When he moved I got the shock of my life. As elephants enjoy chewing on tree bark you will notice that one of the features of Uda Walawe is the amount of damaged trees there are around you.
Why do elephants damage trees? There are a number of opinions. Tree branches offer little in food but a damaged tree will sprout new growth with succulent green foliage ideal elephant food. Another opinion is that elephants are acting as farmers, They mainly eat grass and if pioneer tree species start encroaching on the grass lands their food source will gradually disappear and turn into Jungle. The honest answer is that the scientists at present do not know. There are lots of research projects on elephant tree damage to try and find out what is going one. This is not just a phenomenon to Sri Lanka. It occurs in India and Africa.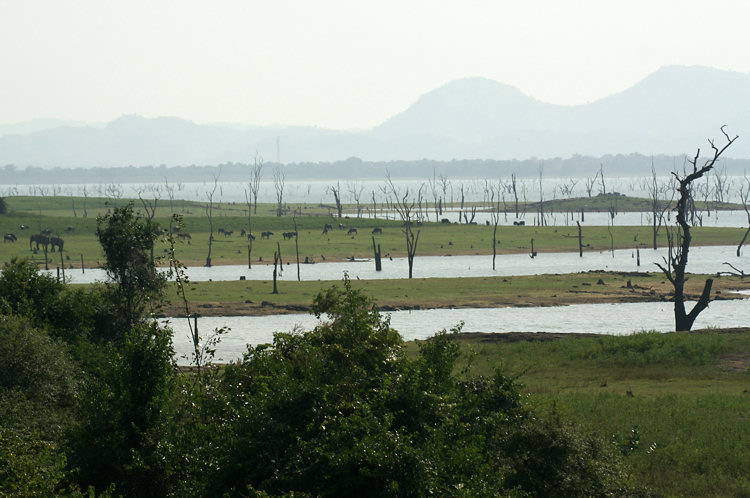 Uda Walawe National Park reservoir with herds of elephants water buffalo and flooded trees
Travel books