Temple of the Sacred Tooth Relic Sri Dalada Maligawa in Kandy
Everyone visiting Kandy must visit the Sri Dalada Maligawa temple complex more commonly known as the temple of the sacred tooth relic. The Tooth being believed to have belonged to Buddha. It is said to have been taken from the remains of Buddha's funeral pyre in 483BC.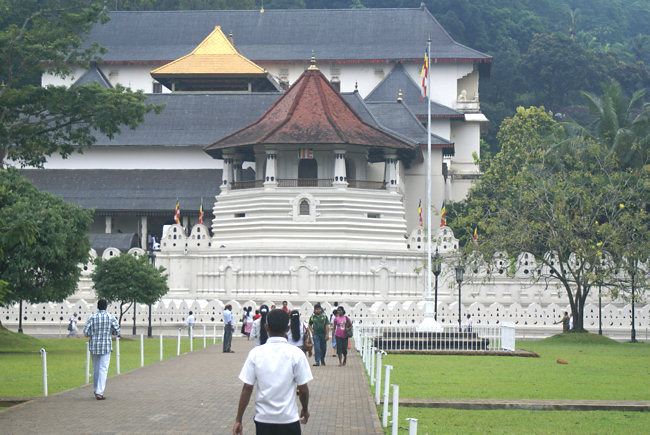 Temple of the Sacred Tooth Relic Sri Dalada Maligawa in Kandy
Later it was transported to Sri Lanka by a princess who hid it in her hair doo. The Temple is on the north side of the large lake in the middle of Kandy. Be careful as you enter the grounds not to be fooled into contracting a local posing as an official guide.
They will be dressed smartly and ask how you are, if you have been to Kandy before, where you live. You do not need a guide to walk around the temple. If you feel you would like a guide make sure you agree a price before you go into the temple. Confirm it is not a per head price but one that covers the whole group of you. Free audio guides are available at the Temple ticket office.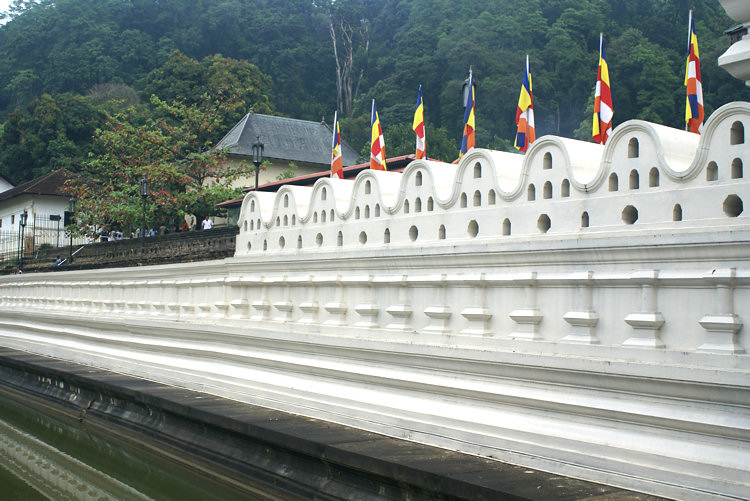 Walls of the Temple of the Sacred Tooth Relic Sri Dalada Maligawa in Kandy
Like other tourist attractions in Sri Lanka, tourists are charged a lot more than locals. You can afford it. They cannot. This is the way the temple can earn money to pay for the security staff, maintenance workers and the clergy. The security is a necessity. During the troubles a bomb was exploded near the entrance.
The city centre is to the north and west of the lake. The train station, bus station and market area is only a short walk away. The building in the lake near the temple used to be the king of Kandy's harem.
You will be asked to walk barefoot around the temple as well as cover up any exposed flesh as a sign of respect. No shorts, miniskirts, short skirts or exposed shoulders are allowed. You can hire pashminas or sarongs. There is also a cloak room where you are expected to check in your shoes. The temple complex is large and offers many photo opportunities. It is a privilege for non-believers to be allowed into the temple. Be respectful of other's beliefs. Like Muslims visiting Mecca on pilgrimage, Sri Lankan Buddhists are expected to visit the shrine and worship at least once in their life time as it is believed to improve your 'karmic' lot.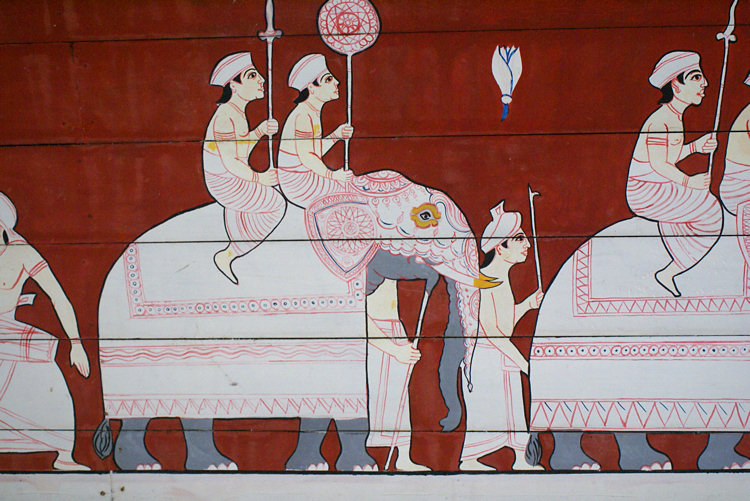 Wall art in the Sri Dalada Maligawa temple in Kandy
Travel books