Pinnewala Elephant Orphanage
This is one of the most famous tourist venues on the island of Sri Lanka. Many tours stop here to see the elephants. It is less than an hour out from Kandy by Tuk-tuk. Unlike zoos the elephants are left to roam free in a huge area of grass land.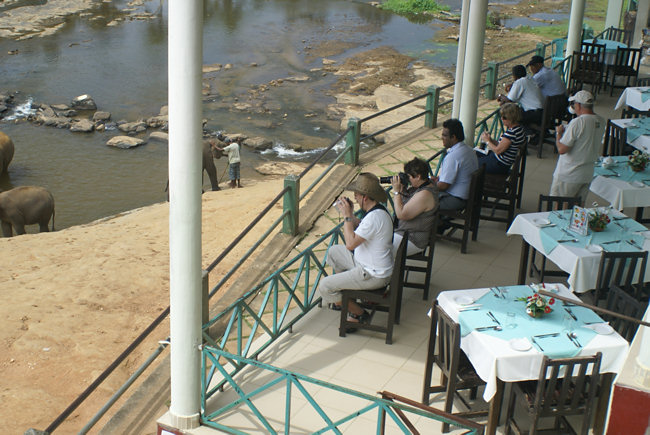 Pinnewala Elephant Orphanage restaurant river view balcony
There are over 85 elephants of all ages in the herd. If you get there early in the morning you can help feed the elephant's breakfast before they are gathered up and walk across the main road and down the village's high street to the wide river.
They spend about two and a half hours playing in the water before returning to the Pinnewala Elephant Orphanage complex for lunch. In the afternoon they again cross the road and go back down to the river for more play time. Late afternoon they go back to the complex for an evening meal of vegetables and fruit.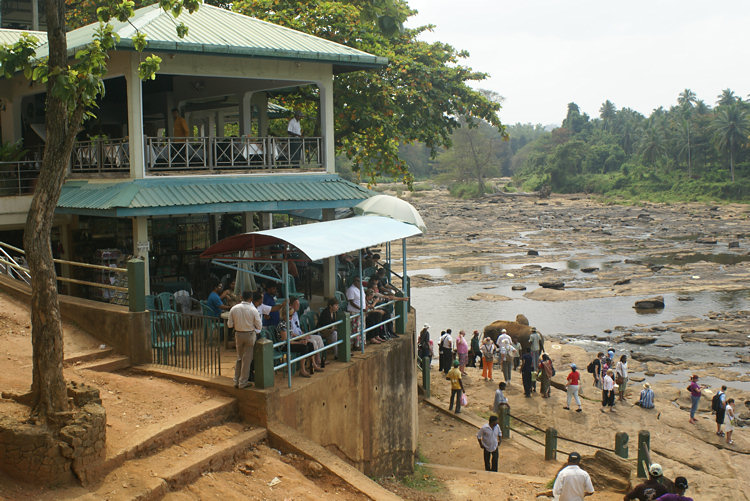 Pinnewala Elephant Orphanage food drink and river view
Either side of the road that leads to the river there are balconied restaurants that offer fantastic advantage points of the frolicking elephants down below. Looking from the river the one on the right has god clean western toilets if you need to take advantage of those facilities.
You have to pay for tickets in the ticket office inside the complex even if you just want to go down to the river. You will be stopped and asked to show your ticket. Yes tourists get charged a lot more than locals. As you will find out this is standard practice across the island. The local Sri Lankan wage is a lot less than what you earn. The Pinnewala Elephant Orphanage needs money to survive. Its food bill is very expensive.
Where else can you get up close and personnel with so many elephants who are happy and are not being mistreated? To get a better prospective on the cost of the entrance tickets just work out how much you have to pay for theatre or major sport event tickets at home. Stop moaning and get over it. Pay the entrance fee and be happy in the knowledge that you are supporting a fantastic worthwhile conservation enterprise.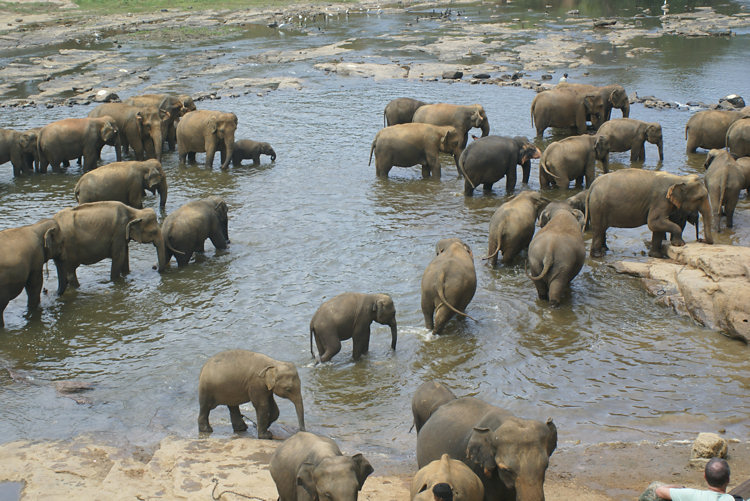 Pinnewala Elephant Orphanage river playtime happens twice a day
Travel books