Galle Railway and Bus Station
The fun way to get to Galle in southern Sri Lanka from the capital Colombo is by train. It is also very cheap. Galle Railway Station is centrally placed between the new town and the historic old Galle Fort. It is behind the large Galle International Cricket Stadium and next to the harbour shopping streets along the water front.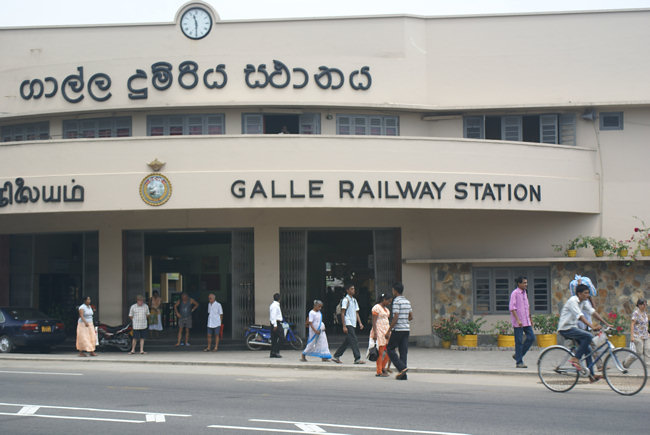 Galle Railway station in Sri Lanka
Hotels in the old and new town are within walking distance but if your bags are very heavy then rent a tuk-tuk or taxi from outside the front of the railway station. The cost will not be expensive because of the short distance.
The railway station frontage is very well maintained. The station staff take pride in how it looks. It has very distinctive 1920's Art Nouveau architectural style. Clean lines and a curved entrance way and roof that would not look out of place on the top deck of a cruise liner.
Even the central ticket desk is designed with curving lines. This style was radical when first built. It was a complete change from the traditional British Victorian Colonial style of construction design still found on many Sri Lankan and Indian railway buildings.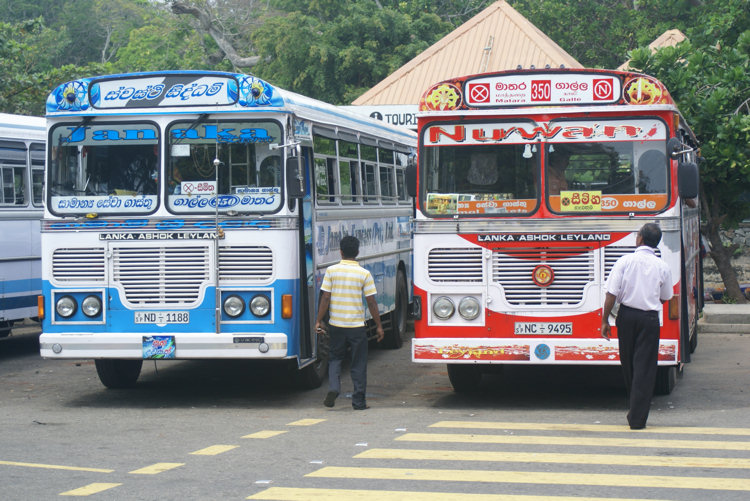 Galle Bus station in Sri Lanka privately owned and run intercity coaches
It is owned by the state run railway operator 'Sri Lanka Railways' and Galle Railway station is on the 'Coast Line'. The Station is next to the City hall. The station was designed to be at the end of the Coast Line, a terminus station, but the line was extended further east. This means that trains pulling into Galle Station cannot just carry on to the next destination.
They have to reverse out of the station platform and then cross onto the extension line. You can catch trains to Galle from either Colombo Maradana or Colombo Fort railway stations. The time table seems to be aimed for local commuters rather than tourists. Most trains leave very early in the day or late in the afternoon. There is a supermarket near the Galle railway station so you can buy savoury snacks and bottles of water before you get on your train for when you leave Galle.
Ask your hotel staff to phone the station for you to check that there are nor engineering problems. Sri Lanka is a tropical country and prone to monsoon rain storms that causes flooding and mud slides. These sometimes damage the track and there is a break in the service. You will then have to consider taking the air conditioned intercity bus. The Galle bus station and stand is outside the railway front entrance. Here the local government and more colourful privately owned buses can be found.
Travel books