Galle Butterfly Bridge & Dharmapala Park
To the north west of Galle Fort and to the west of Galle International Cricket Stadium you will find an attractive double span white bridge over the river. It is named the Butterfly Bridge because of its appearance.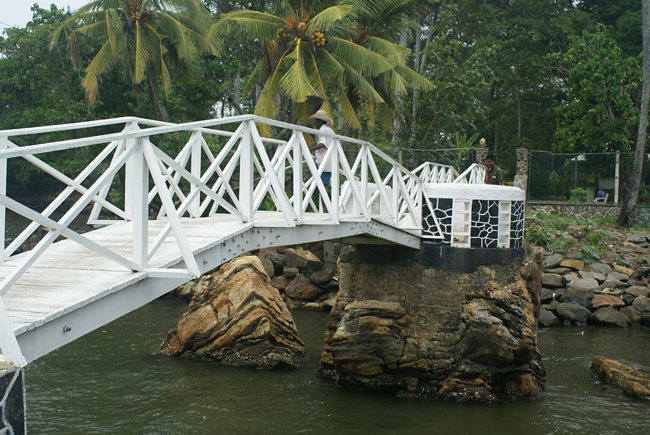 Galle Butterfly Bridge and Dharmapala Park in Sri Lanka
It leads to the green oasis of Dharmapala Park that surrounds the civic buildings of Galle City Hall, Municipal Council and Southern Province Land Commissioners. This is a favourite location for local mothers to bring their young children to so they can play on the lawns and in the playgrounds. Later in the day you will find young couples holding hands and sitting on benches.
The park was destroyed by the 2004 Boxing Day Tsunami but has recovered. It is lush and green. It offers a bit of peace and tranquility from the bustle of the nearby Galle shopping streets. 120 different native Sri Lankan trees and plants were used to replant the park after the soil had been drained and fresh organic matter added to the land. Salt tolerant hedge trees were planted along the coast to provide protection from sea breezes. The plants were chosen to provide interest throughout the year. Somewhere in the park there will be a bush or tree in flower for visitors to admire.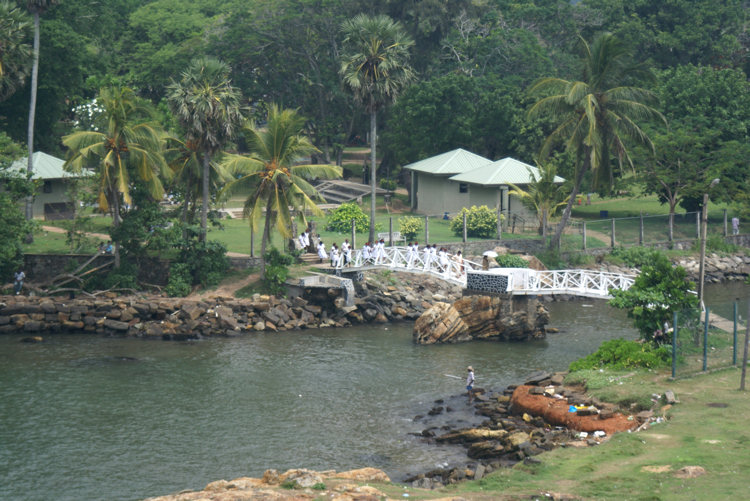 Outside Galle fort is Butterfly Bridge and Dharmapala Park in Sri Lanka
Occasionally local schools and Temples use the open space of Dharmapala Park to put on dances, drama or music recitals. You may be lucky to see local fishermen try to catch their dinner at the mouth of the river near the Butterfly Bridge. They perch on the rocks close to the water's edge and use homemade fishing rods.
Travel books