Bergen Airport Norway - City Transfers
Bergen, the sleepy charming costal city on the west coast of Norway, is an ideal romantic city break destination. A number of airlines fly to Bergen airport like British Airways, Norwegian.com, Flybe, KLM, Lufthansa, Air France and SAS.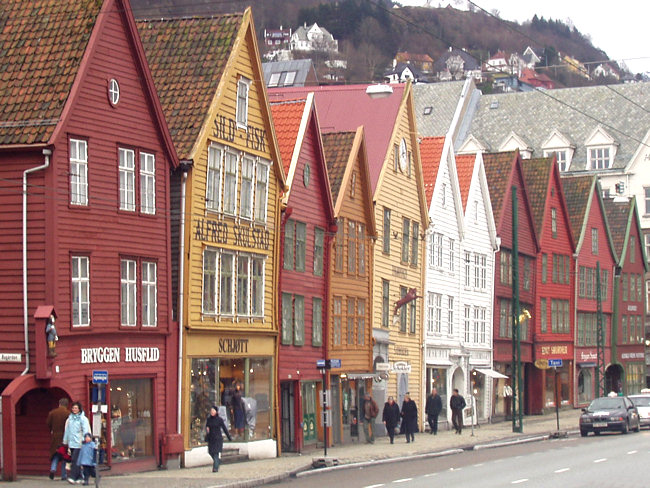 On the following pages I will provide you with some Bergen tourist information to make your weekend city break a more interesting stay. I went to Bergen in the Winter, Because the coast of Norway is warmed by the Gulf Stream the winters are not as cold as those of its neighbour Sweden. It rarely goes below -5°C.
The photograph below shows the old merchant warehouse along the harbour of Byggen Street. The traditional red and yellow colours that are found throughout Scandinavia are a result of the mining industry. A by-product was a pigmentation used to make cheap paint. Who says every thing connected with heavy industry is bad?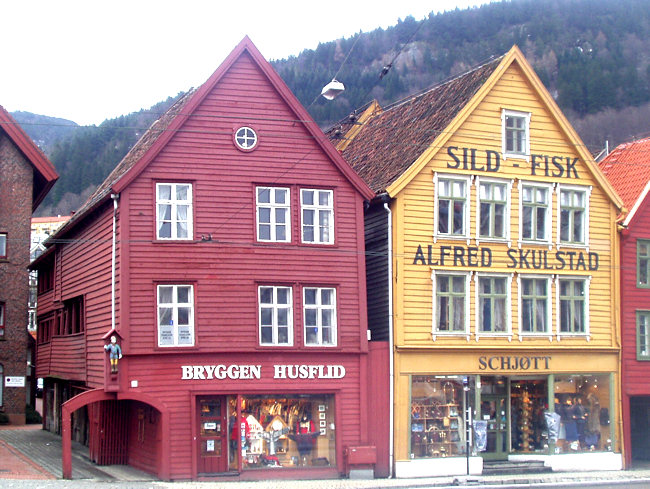 Bergen airport is called Flesland and is only 18km (11 miles) away from the harbour. It normally takes 30 minutes to drive to Bergen Harbour. If there is a group of you then take a taxi an share the cost. If not then the airport bus is the cheapest option. The drive into town goes past a number of pretty fjords and lakes so keep your eyes open. No sleeping on the coach
Bergen Hotel Location Advice
There are a lot of hotels to choose from in Bergen. Look for ones with old style charm. Prices can very a lot. Try to find accommodation around the old harbour. The southern section of the harbour is a peninsular of land that juts out into the fjord. Bergen Zoo and Aquarium is at the tip. This is the part of the city that contains a lot of pretty cobbled streets full of clapper board houses, many of which have been turned into hotels and B&Bs. This would be my preferred location to find somewhere to stay. If you have problems climbing hills then then try somewhere to the north of the harbour.
Travel books